Boondi raita is a spiced yogurt with boondi or fried chickpea balls. Boondi raita is easily my favorite raita. The cool flavors and soft boondi are refreshing and flavorful enough to be a meal on its own. 
Why You Should Make Boondi Raita
If you haven't had boondi raita before, you have to try it. I make it every time I make bhajiya or pakora. I always just make a little extra batter and drop it into my frying oil when I'm done making my bhajiya. Later on in the day, or perhaps the next day, I will whip together a bowl of boondi raita.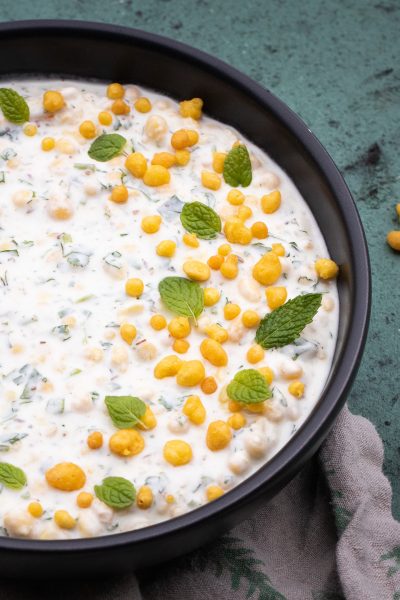 About the Ingredients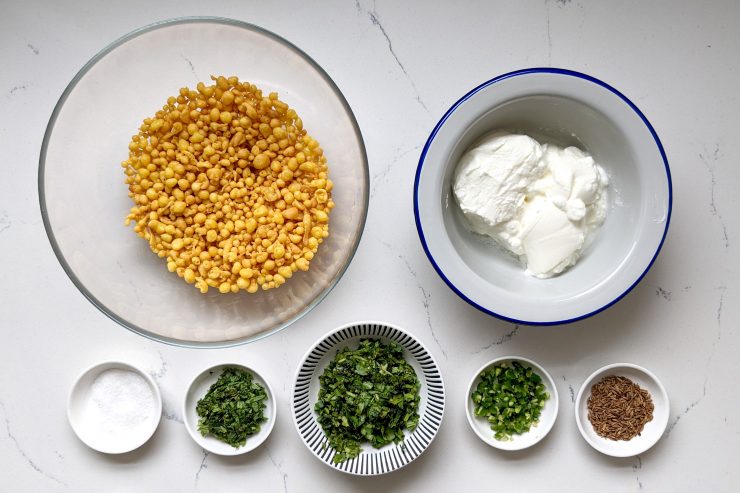 Boondi
If you aren't one to make bhajiya and don't want to set out to make boondi yourself, you can always buy it from an Indian market. Boondi is a common snack food in India. They are either eaten on their own or added to various snacks and snack mixes, like bhel and chevda.
That said, I always make my own boondi. See this post for instruction on how to make boondi.
The Yogurt
I use greek yogurt because I think raita should be made thick. Indian yogurt, or dahi, is typically only slightly thinner than greek yogurt. Some people like a thinner raita. I think that is because they are used to getting raita from restaurants and restaurants often thin out their raita to save money.
For a thinner raita, you can use a thinner yogurt. You can also add water toward then end of the recipe in order to thin out the raita to your liking.
About This Recipe
This is a recipe I make often. It is based on a family recipe that I have been making since I was a teenager. Any time my mom made bhajiyas, I insisted on her making some extra for boondi that we could have either that same day or the next day for lunch.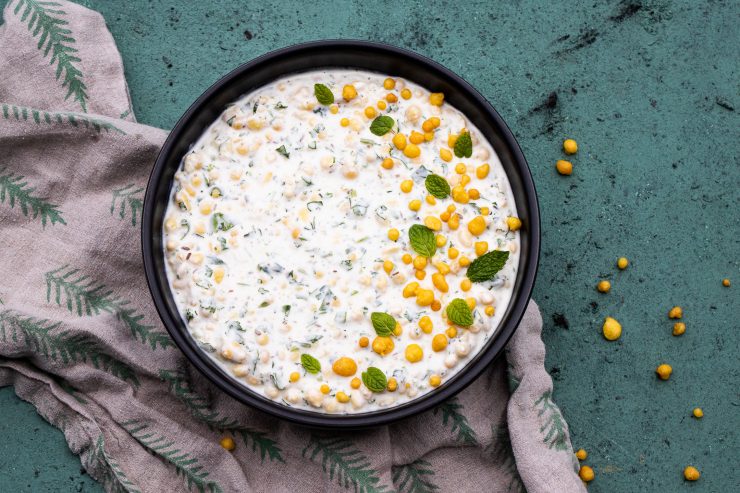 Typically when I make boondi for raita, I don't bother making the perfectly round balls. When I am making these for myself, I just drip the batter off of a fork into the frying oil. The "boondi" made this way are usually elongated and irregularly shaped, but it's the taste I love.
In order to get the perfect rounds, I had to thin my usual batter a little bit with water, and then run it through a spoon with holes in it. I experimented with a number of different devices: my jharo (frying spatula), a slotted spoon, and even a hand-grater. They all worked just as well. The important thing is having the right consistency for the batter so that it drips smoothly through the holes of your spoon.
Recipe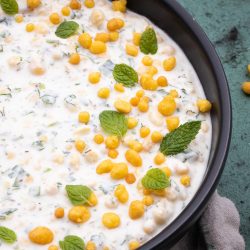 Boondi Raita
Boondi raita is a spiced yogurt with boondi or fried chickpea balls.
Ingredients
1

cup

greek yogurt

2

heaping Tbsp chopped cilantro

1

tsp

chopped mint

optional

1

Tbsp

chopped green chili

or to taste

1

tsp

toasted cumin seeds

1

tsp

salt

or to taste

1

cup

fried boondi

2

cups

water
Instructions
Put boondi in a bowl and soak for 30 minutes in 2 cups of water.

Drain the water and gently squeeze out as much of the remaining water from the boondi as you can.

Whisk yogurt until smooth.

Coarsely grind toasted cumin in a mortar and pestle.

To the yogurt, stir in cumin, salt, green chili, mint, and cilantro.

Add the boondi. Stir to combine.

Garnish with mint and cilantro.
Nutrition
Calories:
150
kcal
Carbohydrates:
20
g
Protein:
12
g
Fat:
2
g
Saturated Fat:
0.3
g
Polyunsaturated Fat:
1
g
Monounsaturated Fat:
1
g
Trans Fat:
0.003
g
Cholesterol:
3
mg
Sodium:
638
mg
Potassium:
335
mg
Fiber:
3
g
Sugar:
5
g
Vitamin A:
35
IU
Vitamin C:
1
mg
Calcium:
78
mg
Iron:
2
mg
Cooking Tips and Variations
Make sure to soak the boondi long enough so that it becomes soft. And squeeze out all of the water, so you don't end up with watery raita.
In my family we always serve thick raita. Add water to get the consistency you prefer.
Some people add sugar to a sweetened raita.
Adjust the amount of chilies to your liking or leave them out.
Add chaat masala, red chili powder, or anything you like to make it your own.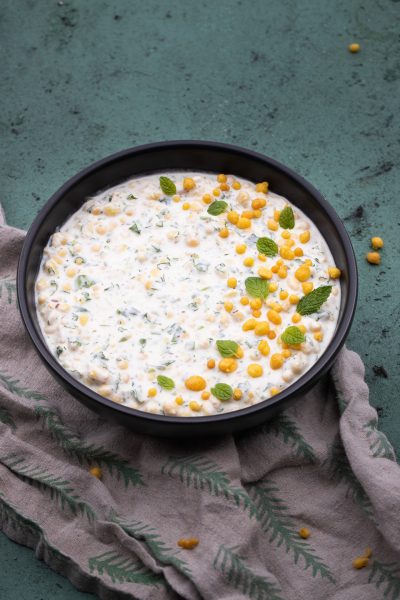 How to Eat Boondi Raita
You can treat boondi raita like a typical raita and serve it alongside a meal. It goes great with rice dishes like chicken tikka biryani or vagharelo bhaat.
I love to make a simple meal out of boondi raita by eating it with roti or paratha. And I am not ashamed to admit I will eat it straight out of a bowl with a spoon!