Tomato Chutney Bruschetta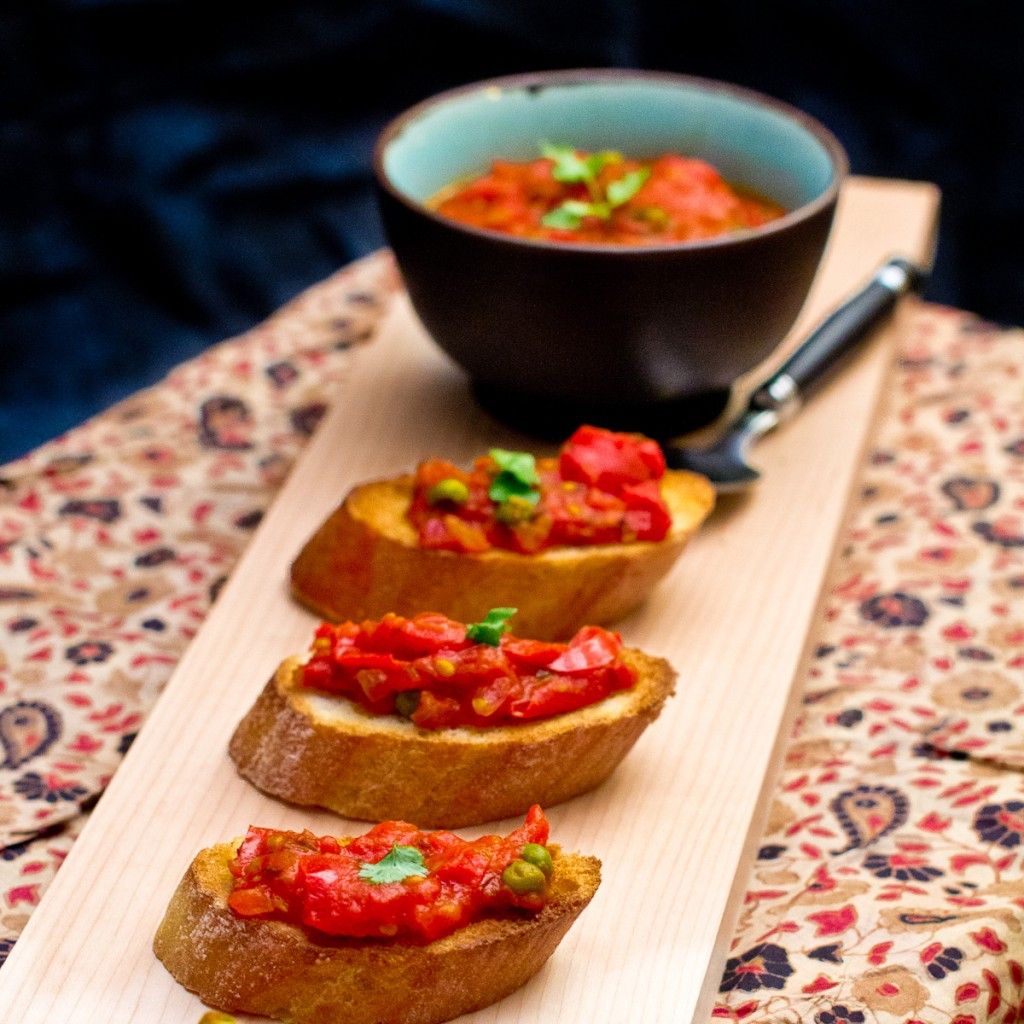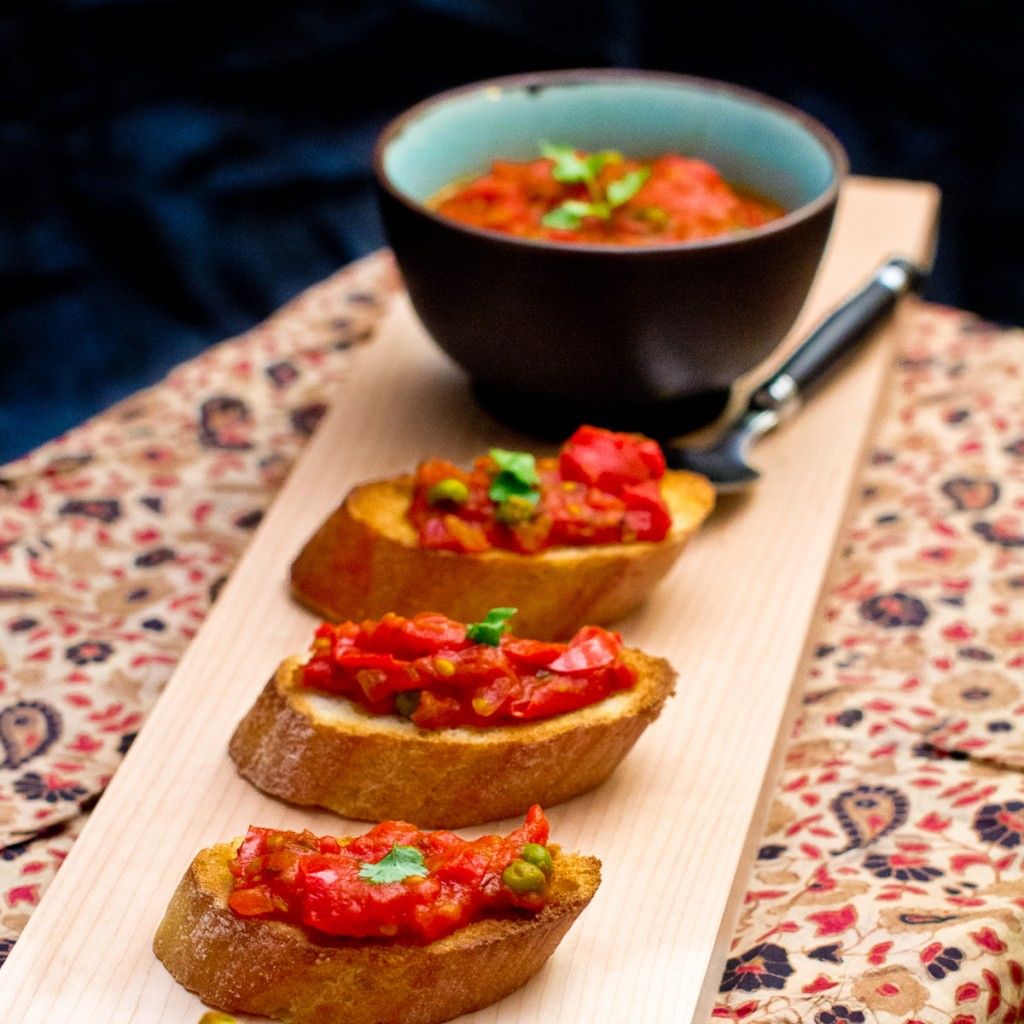 Tomato chutney was a special Sunday treat when I was at boarding school. My friend A, whose parents taught at the school, would let our group of four friends know that mom was making some tomato chutney later. We would quietly sneak up to their place (we had to be sneaky because we weren't allowed to visit teachers in their home even if we were friends with their children — it was just one among hundreds of stupid rules probably made for the hell of it) and waiting for us would be a loaf of bread and the spicy, tangy, tomatoey relish.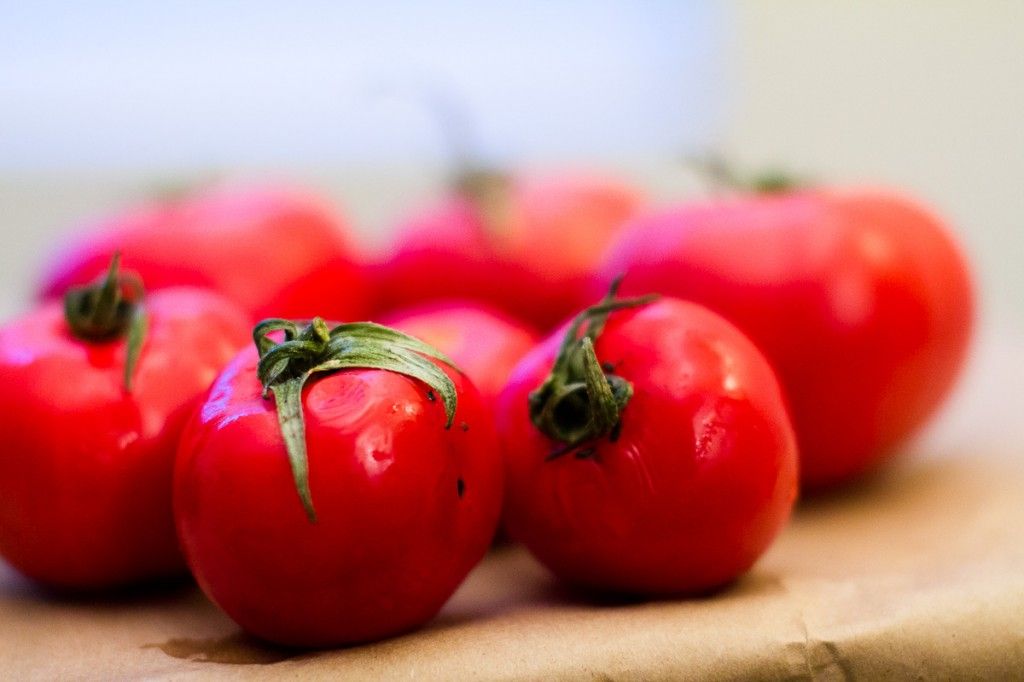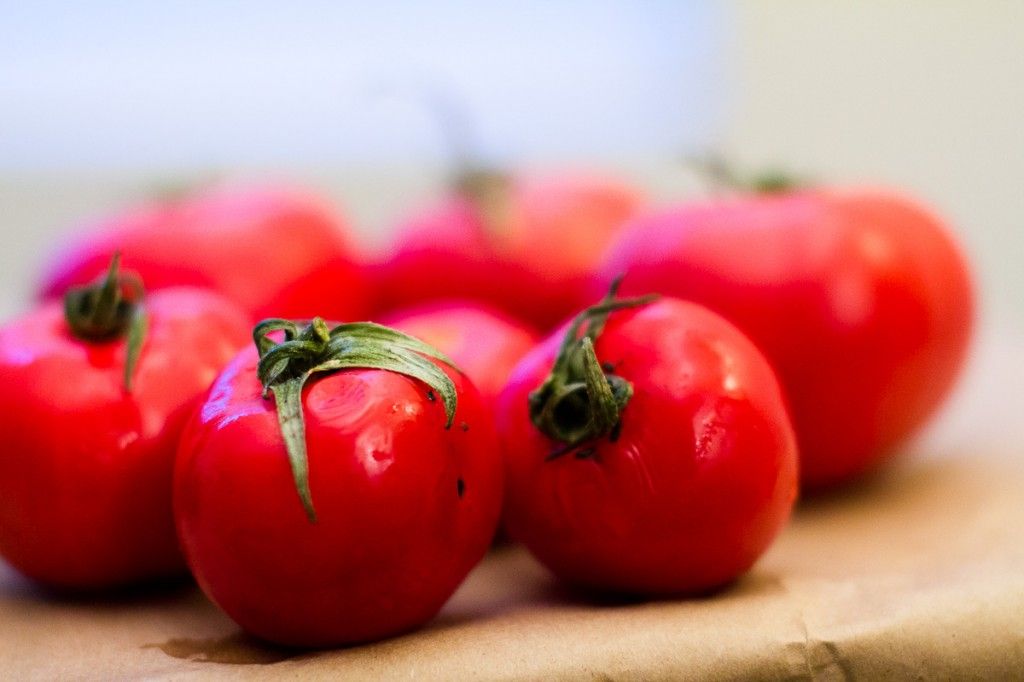 Sometimes the chutney had peas added to it, sometimes there was cilantro.  It didn't matter. It was always delicious!
Scooping giant blobs of the tomatoey goodness with slices of bread until the bowl was licked clean, was perfect Sunday heaven. A's parents were surrogate parents to us and I don't know how I would have made it through boarding school without them.
Her dad whom we lovingly referred to as Apu, always had some snacks and candies for us too. Sunday's spent at A's were the best!
A's mom, taught me how to make that tomato chutney when I was 13 and I have been making it ever since. Every time I'm in a nostalgic mood thinking about my boarding school friends, or when I want to impress friends with a simple but delicious hors d'oeurve, tomato chutney is my go to dish.
I love to turn it into an Indian style bruschetta because the crunchy bread goes perfectly with the rich, jammy texture of the tomatoes.  It was just the thing I was craving after seeing the tomatoes in our first CSA earlier this week.
Tomato Chutney Bruschetta
For Tomato Chutney
Ingredients
1 lb fresh whole tomatoes, roughly chopped
1/2 medium onion, diced finely
2 tsp oil
1 1/2 tsp cumin
1/2 tsp turmeric
1/4 tsp chili powder (or more)
1 green chili (optional)
handful of frozen peas (optional)
salt to taste
Instructions
Heat oil until nice and hot.
Toss in the cumin (it should sizzle).
Toss in onions, green chilies and a pinch of salt. Cook until softened and translucent.
Toss in tomatoes and spices. Stir.
Cook until reduced a little. About 5 to 8 minutes.
Toss in the peas. Cook for another minute.
Garnish with cilantro.
For Bruschetta
Ingredients
1/2 loaf french baguette (double the tomato chutney recipe if using whole baugette)
1 tbsp olive oil
Instructions
Preheat oven to 375 degrees.
Slice the baguette into 1/2 inch slices.
Brush with olive oil.
Toast bread slices for about 8 minutes, until golden brown.
Scoop a couple of spoonfuls of tomato chutney onto each slice and garnish with cilantro.
Notes:

Prep time: 5 mins
Cook time: 15 mins
Total time: 20 mins
Serves: 4