Savory Zucchini Pancakes with Sesame Seeds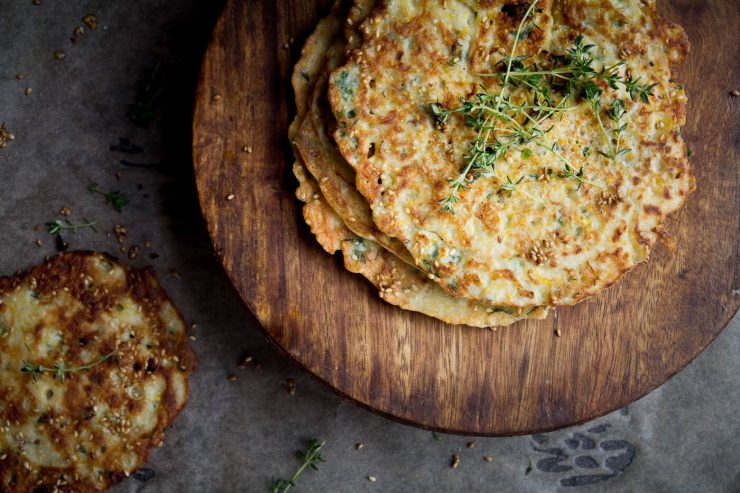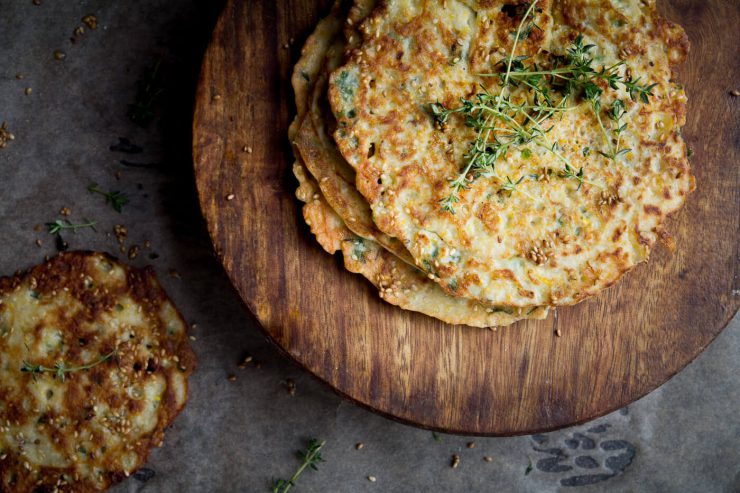 Cinny, our cat, gave us a couple of heart attacks this week. It's been pretty warm in San Diego and since we don't have an AC in our apartment, we've been leaving the doors open – of course our screen doors were closed, or so we thought! We search around the house in a panic and there is no sign of Cinny. Finally we shook her treats and just made a ton of noise. We hoped she was hungry for treats. Soon we hear a meow from outside the front door. Mind you this is an exclusively indoor cat. The only outdoor time she's ever had in the entire decade she's been alive has been on a balcony.
A couple of days later, she managed to escape again. We let her out on the balcony and the next thing we know she's meowing at the front door. So scary! No more unsupervised balcony visits for Cinny.
Steve and I had not been dating long when we adopted Cinny. She turns ten in October and I can't believe we've had this nine pound beer loving, shadow chasing ball of crazy for a decade. We were living on opposite sides of the country, me in Washington, D.C. and him in Southern California – it wasn't easy. One day I get a call from Steve and he asks me what I thought about him moving in with me. Of course I said yes!
So Steve tells his parents that he's moving across country and packs up his car. Two days after we discuss the move, Steve sets out to drive across country solo. Armed with a giant bag of pistachios, a loaf of bread, a pallet of diet Coke and a pound or so of Jordan almonds he drove all the way across the country with only one stop.

He arrived bright and early in the morning three days later. We went out for donuts but for some reason ended up at Petsmart beforehand. Last Chance Cat Rescue happened to be having an adoption event. We stopped to look at the little kittens. A little four month old kitten reached out through her cage and wouldn't let go of Steve's finger. She choose him and we didn't have any choice but to take her home.
She turns ten this September. I can't believe it's been that long!
Now that you know all about our oldest baby, here's a recipe for savory zucchini pancakes with sesame seeds. This recipe tastes a little like the traditional handvo, a famous Gujarati dish but only takes a fraction of the time to cook.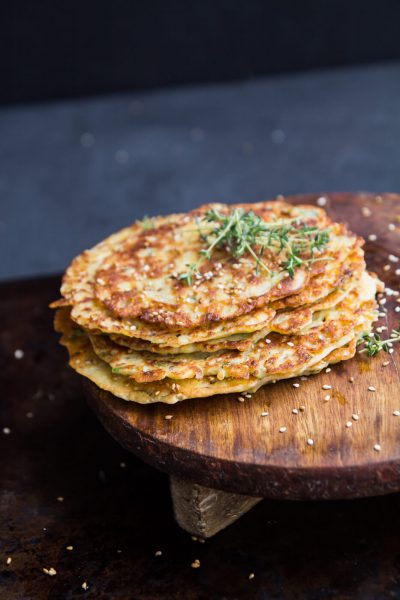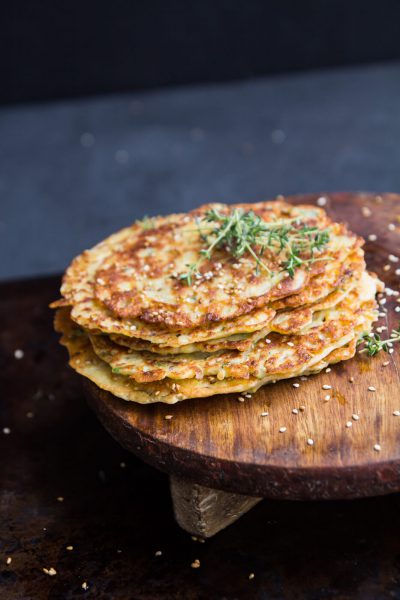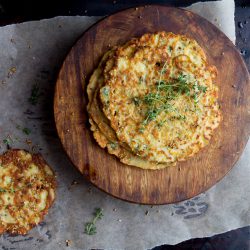 Ingredients
1

cup

grated zucchini

1

tsp

ginger

grated

1

green chili

chopped (or to taste if you like your food less spicy)

2

tsp

fresh thyme

roughly chopped

1/2

tsp

cumin seeds

1/2

cup

corn meal

3/4

cup

All-Purpose flour

1/4

cup

brown rice flour

1

egg

beaten

salt

to taste

3

tbsp

oil

1

tbsp

sesame seeds
Instructions
Combine the first nine (all except the oil and ingredients in a medium sized bowl. Add water a little at a time until the mixture forms the consistency of pancake batter (usually about 1/2 to 1 cup of water).

Heat a cast iron pan with a splash of oil over medium heat. When the oil shimmers, add a couple pinches of sesame seeds and pour about a quarter cup of the batter over the oil and sesame seeds. Spread out the batter a little to form a pancake.

Let cook until the first side is golden brown. Flip the pancake and cook the other side for a little bit.
Nutrition
Calories:
333
kcal
|
Carbohydrates:
44
g
|
Protein:
8
g
|
Fat:
14
g
|
Saturated Fat:
2
g
|
Polyunsaturated Fat:
4
g
|
Monounsaturated Fat:
8
g
|
Trans Fat:
1
g
|
Cholesterol:
41
mg
|
Sodium:
61
mg
|
Potassium:
309
mg
|
Fiber:
4
g
|
Sugar:
2
g
|
Vitamin A:
229
IU
|
Vitamin C:
14
mg
|
Calcium:
47
mg
|
Iron:
3
mg