I made my curried vegetable mixture with potatoes, leeks, fava beans and mushrooms. I stirred in the beets at the end so that they wouldn't turn the whole mixture pink. I added some tangerine juice to the egg wash thinking it would add a touch of sweetness.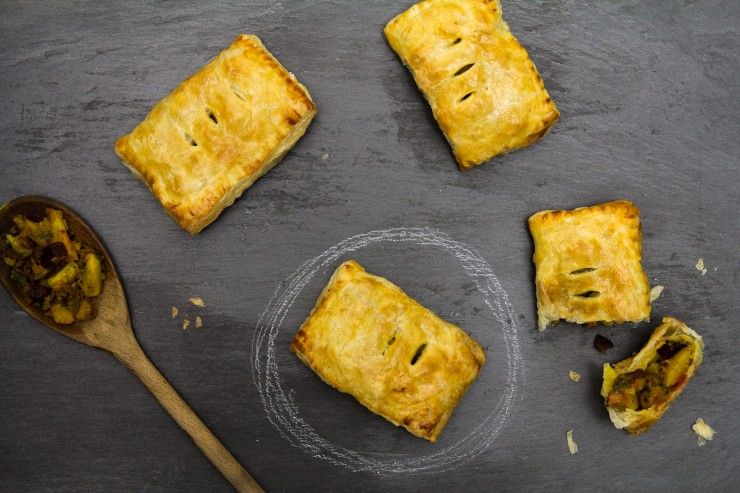 Although I did not taste any tangerine, the color came out beautifully golden brown and caramelized.
My blogger friends Barbara Cooks and The Seaside Baker coordinated a challenge with Melissa's Produce. Everyone who wanted to participate got a handful of ingredients in the mail from their farm. The challenge was to use 3 to 4 items from the box plus 2 to 3 items of your own choosing to create a dish and blog about it.
I thought about making a quinoa pilaf and about making a mixed vegetable korma but my mind kept going back to curry puffs. Curry puffs are delicious little packets of puff pastry usually filled with a curried potato mixture. They are available in pretty much every corner bakery in India, each with their own take on these flaky bites of goodness.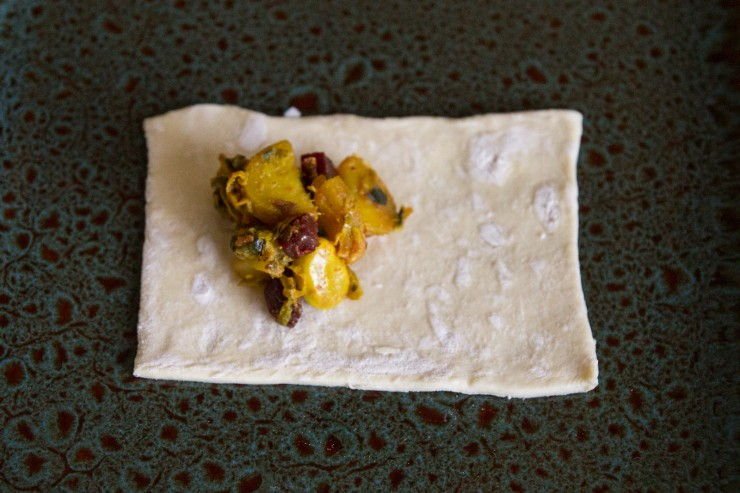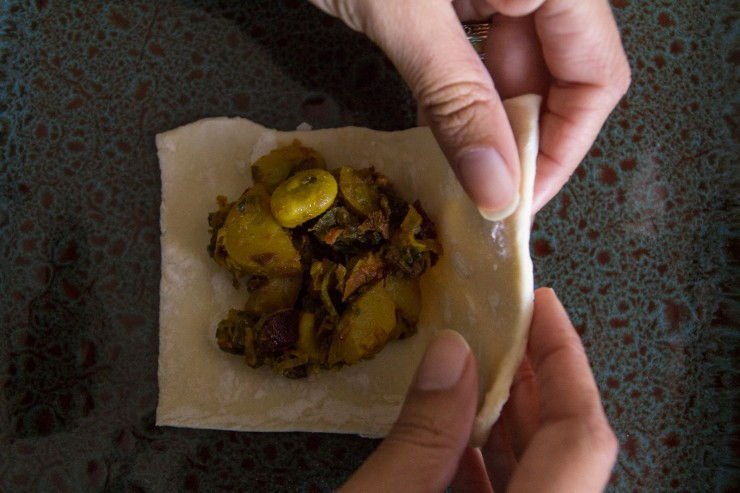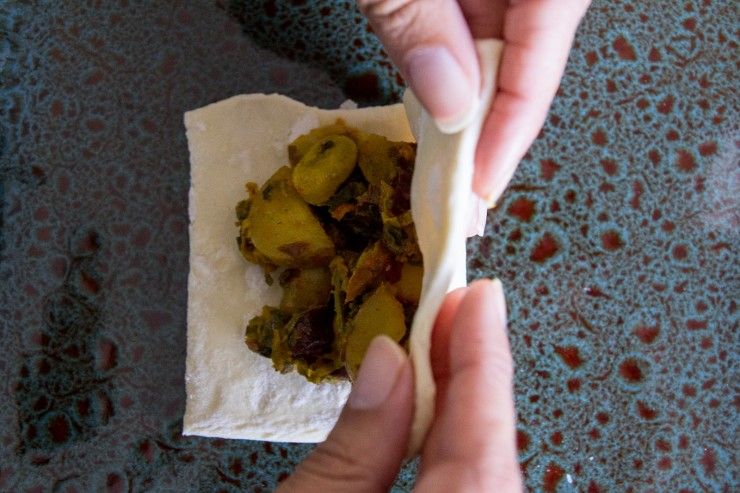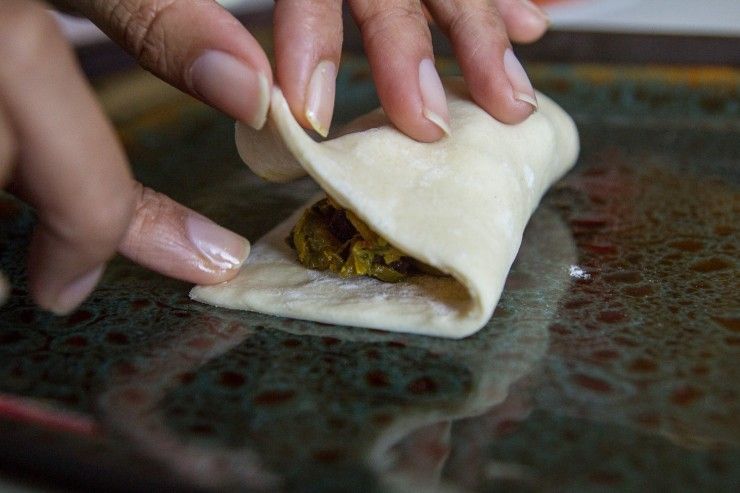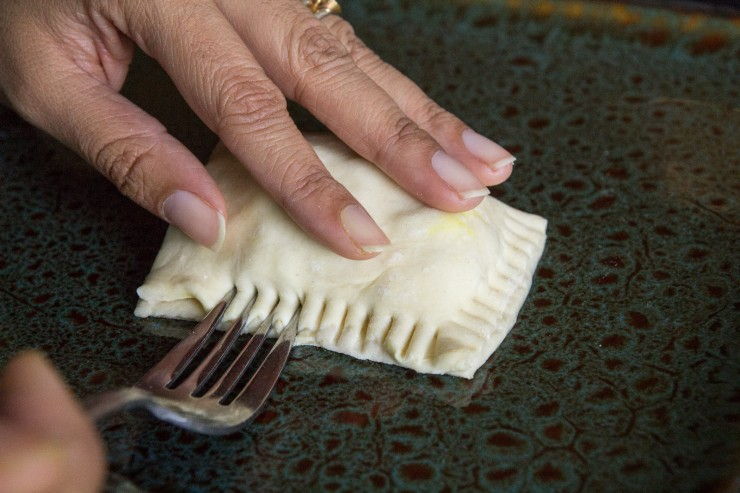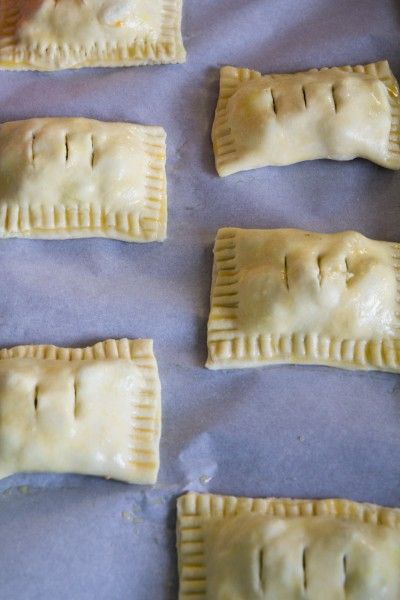 I think I ended up using more than 3 other ingredients if I count all the spices separately. But in Indian cooking chili powder, turmeric and garam masala are basics, kind of like salt and pepper, so I think I'm okay!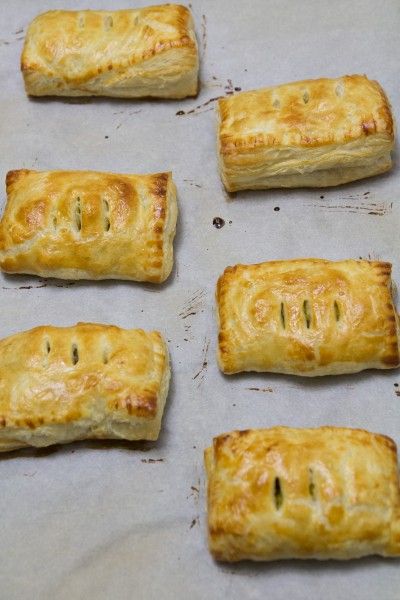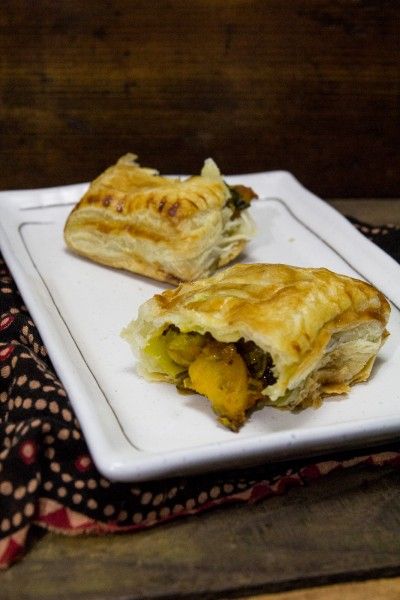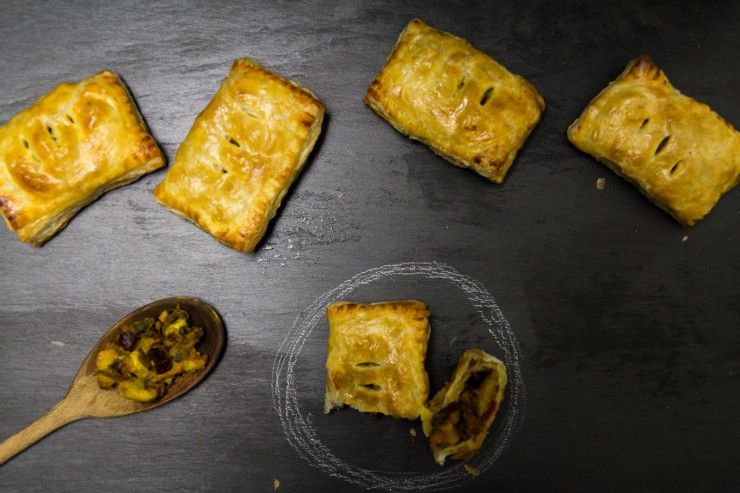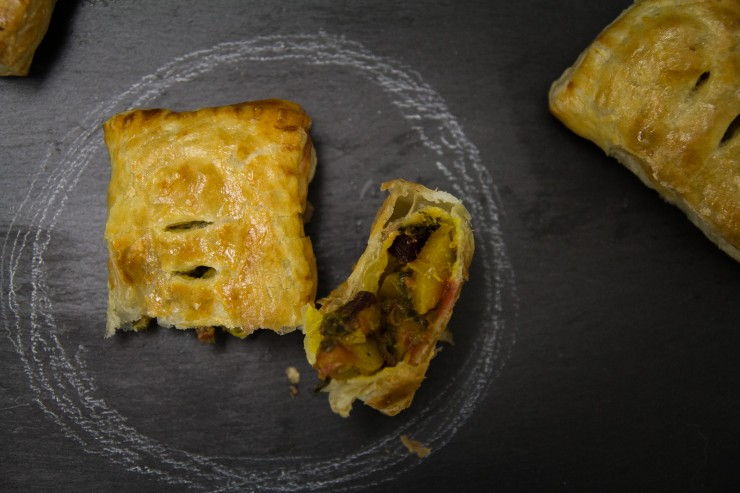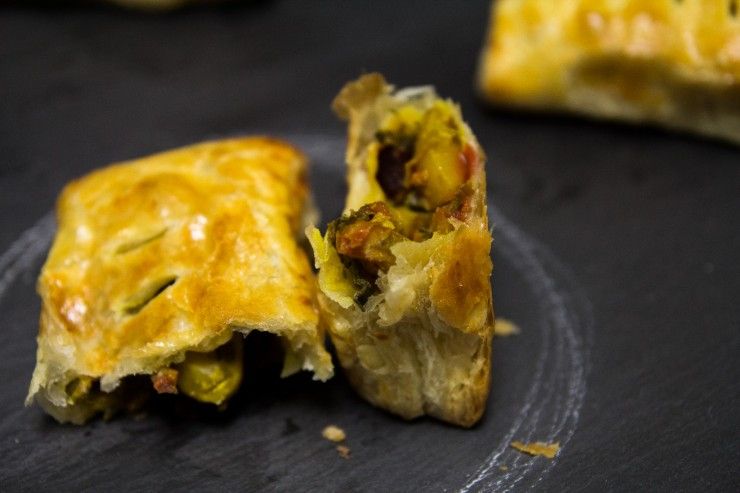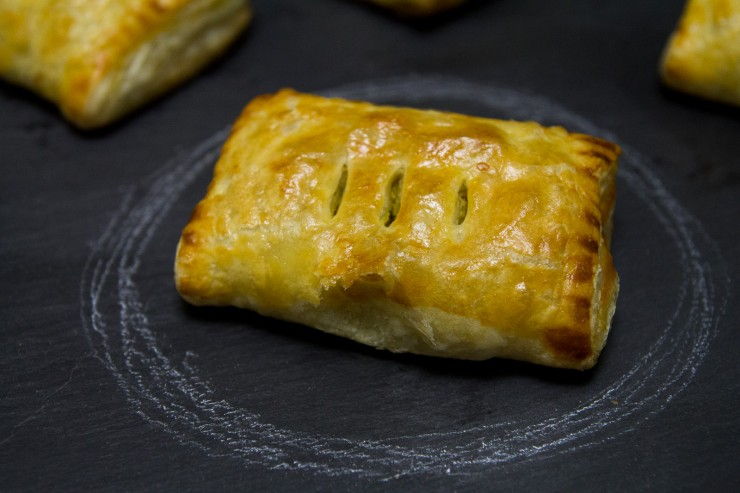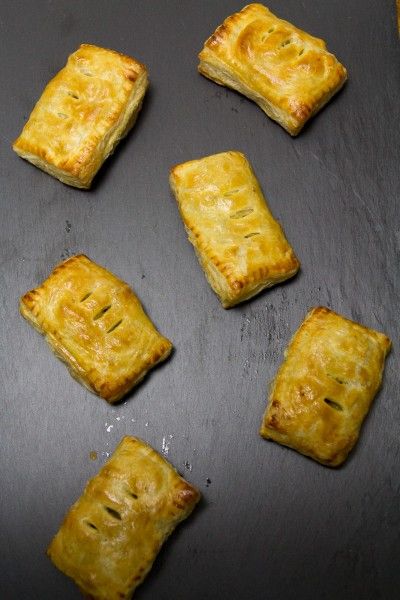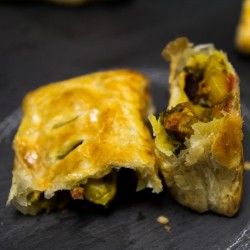 Mixed Vegetable Curry Puffs
Delicious little packets of puff pastry usually filled with a curried potato mixture
Ingredients
½

lb

potatoes

cut into 1/4 inch pieces (I used little Dutch yellow potatoes)

1 ½

cups

cleaned and thinly sliced leeks

½

cup

cooked fava beans

¼

cup

dried chanterelle mushrooms

⅓

cup

beets

chopped (about 1 small beet)

2

tbsp

oil or ghee

½

tsp

turmeric

½

tsp

chili powder

¼

tsp

garam masala

½

tsp

salt

½

tbsp

lemon juice

2

sheets of puff pastry

a 17.9 oz package, thawed

1

egg

juice of 1 tangerine
Instructions
Soak the mushrooms in 3/4 cup of luke warm water. Set aside. Soak for 30 to 60 minutes.

Heat the oil or ghee in a wide saute pan over medium heat. Add the leeks and cook until soft. About 10 minutes. Stir every few minutes.

Add the potatoes, chili powder, turmeric, garam masala and salt. Add 1/2 cup water. Stir. Cover and cook for 15 minutes, until the potatoes are soft. Stir every 5 minutes to make sure the vegetables are not sticking to the pan. If it gets really dry, add a little more water.

While the potatoes are cooking. Chop the mushrooms. Toss out any parts that are still woody or tough. Set aside.

Once the potatoes are cooked, add the fava beans and chopped mushrooms. Stir. Cover and cook for 5 more minutes.

Add the beets. Stir gently and cook for two more minutes. Turn off heat and add the lemon juice. Stir gently again and let the mixture cool.

Preheat oven to 400 degrees Fahrenheit.

Cut each sheet of puff pastry into 6 even pieces but cutting into thirds lengthwise and into half width-wise.

Place 2 tablespoons of filling on to a section of pastry. Brush the edges of the dough with water to help it seal and fold into half. Press the edges together with a fork.

Cut a few vent holes in the top crust of the pastry.

Whisk together the egg and the tangerine juice and brush onto each pastry. Coating it with a thin layer of egg and juice mixture.

Transfer the pastries onto a parchment lined baking sheet.

Bake for 15 to 18 minutes until golden brown and flaky.

Serve warm.
Notes
You can make half and freeze the filling, or even make the whole thing and freeze them after you make them.
Nutrition
Serving:
1
g
Calories:
270
kcal
Carbohydrates:
22
g
Protein:
4
g
Fat:
18
g
Saturated Fat:
6
g
Polyunsaturated Fat:
2
g
Monounsaturated Fat:
10
g
Trans Fat:
1
g
Cholesterol:
20
mg
Sodium:
211
mg
Potassium:
91
mg
Fiber:
1
g
Sugar:
1
g
Vitamin A:
233
IU
Vitamin C:
2
mg
Calcium:
17
mg
Iron:
2
mg