This weekend I celebrated Holi in the US for the first time. You know how there are those things that you always want to do but somehow it just never works out? For years I've completely missed Holi, each time realizing days later that I had overlooked it yet again!

This year, I was thrilled to be able to smear color all over Steve's face and cover his hair in patches of green and yellow!
In the US, Holi celebrations are usually held in a park or at the beach on a weekend closest to the actual day. This year, CRY San Diego, the local chapter of a child rights advocacy organization did a fantastic job of not only organizing and hosting the event but of promoting it online – making it impossible for me to forget.
In India, Holi is celebrated in a way that you can't miss it. It's actually a two part celebration starting with a bonfire on the eve of Holi followed by a celebration with colors the next day.
The story goes that there was once an evil king who tried to kill his very pious son Pralhad for praying to Lord Vishnu. After several unsuccessful attempts, he enlisted the help of his sister, Holika, who had a special cloth that would protect her from fire (some versions of the story indicate that Holika was granted a boon that made her immune to fire).
A large bonfire was built with Holika sitting in the middle with Pralhad on her lap. As the fire began to rage a divine wind blew Holika's cloth away. At the end when the fire had died down, miraculously Pralhad was still alive and well and Holika had perished. On the next day the people rejoiced that good had triumphed over evil in a celebration of colors.
In India, Holi celebrations are impossible to escape. People start preparing days beforehand. Millions of water balloons are bought across the country. I know of people who would get large tubs of water balloons filled with colored water and set them up on their balconies. As soon as some poor unwitting target happened to walk by– a splash and scream, as color-filled water balloons reigned down upon them.
By the time the target looks up to identify the culprit, there is no one left in sight. Somehow these people always had the good sense to duck. Full disclosure here, my brother and I may have participated in this activity. We never added color to our water though so at least that's something!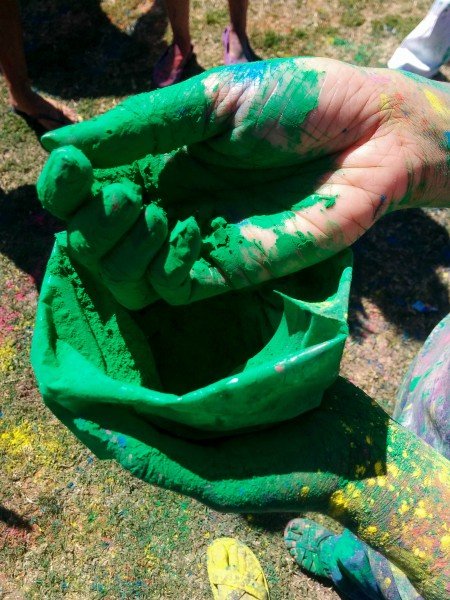 If you're ever visiting India even in the days before Holi, remember not to wear nice clothes! If you don't want to get attacked with color, avoid residential neighborhoods entirely because there is always that one bored kid (or adult) who spends their days practicing their water balloon throwing and aiming all day long.
On the eve of Holi, the community comes together and lights a huge bonfire. The whole community gathers around, many people bring whole coconuts to toss in the fire. The coconuts are allowed to roast then are pulled out and shared among the spectators. There is nothing quite like the flavor of a warm fire-roasted coconut eaten as the bonfire rages.
The next morning, it's time to celebrate "Dhureti," – the time to play with colors. People start visiting each other early in the day with "gulal," a colored powder, and rub some on each other's faces. People serve sweets like malpuda or ghoogra and it's a happy occasion all around. "Happy Holi!" they say to each other, as they share sweets and smear color on friends and strangers alike. In the U.S. the celebrations are confined to a park or a small stretch of beach. Holi cannot be contained in India. It happens all over the streets, no one can escape the colorful chaos. It is so much fun!