Bombay Halwa (Karachi Halwa)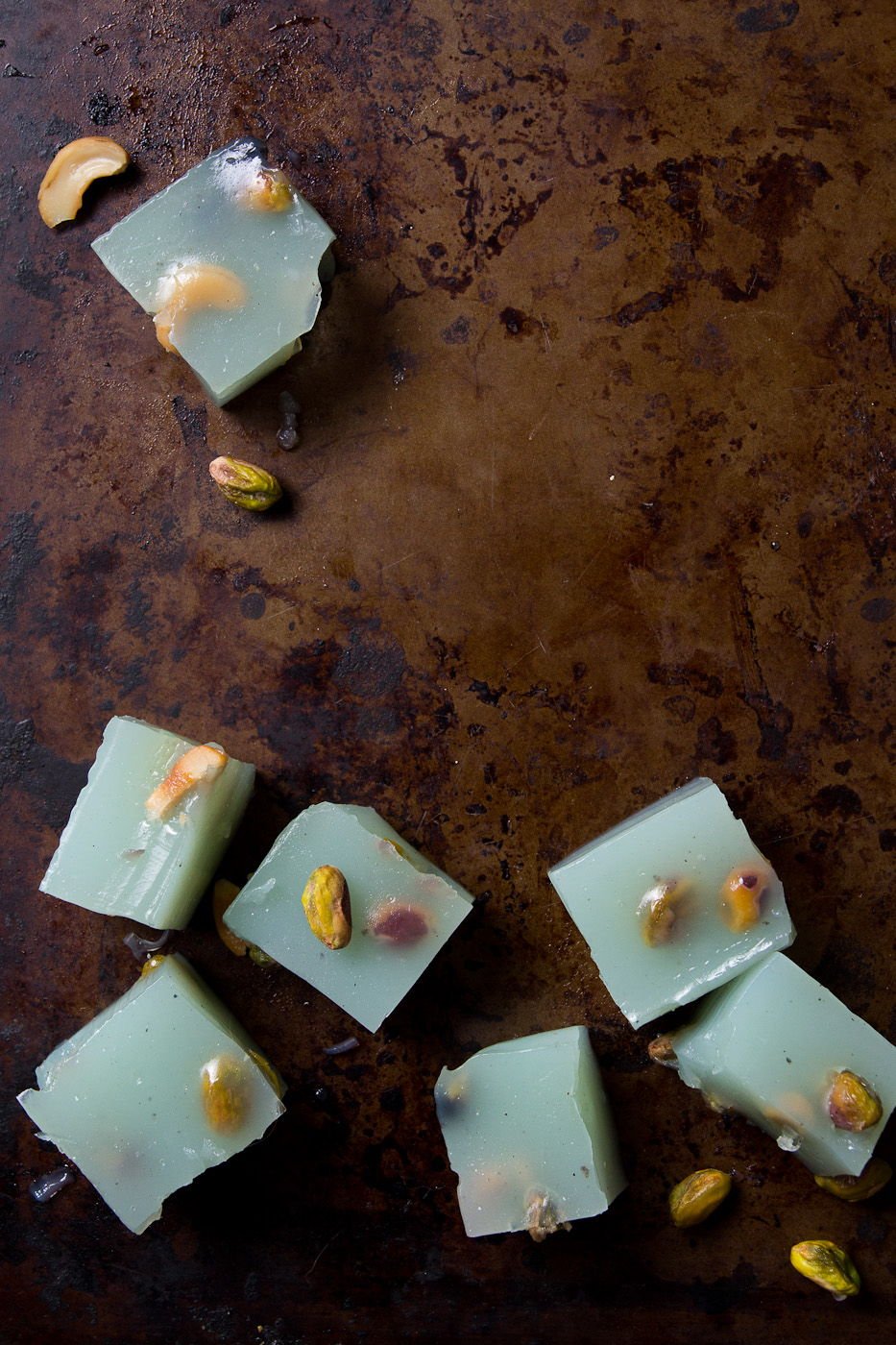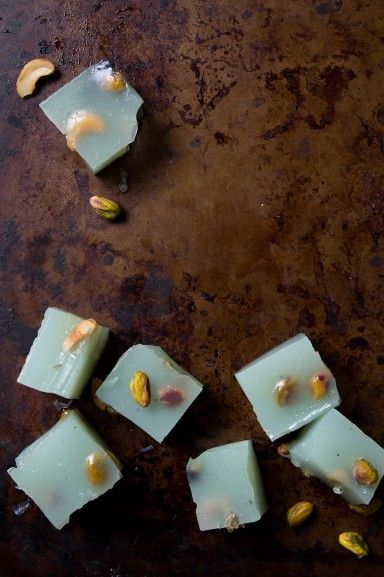 It's national pistachio day! How exciting is that? Pistachios are wind pollinated as opposed to bee pollinated. Did you know that it take only one male tree to pollinate up to 30 female trees?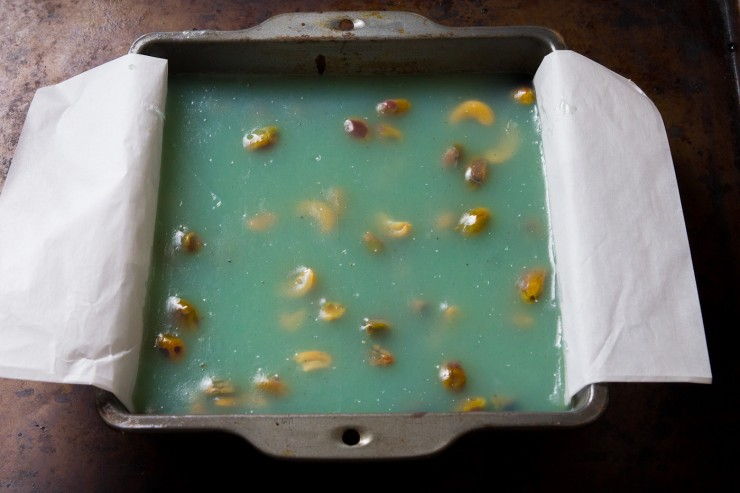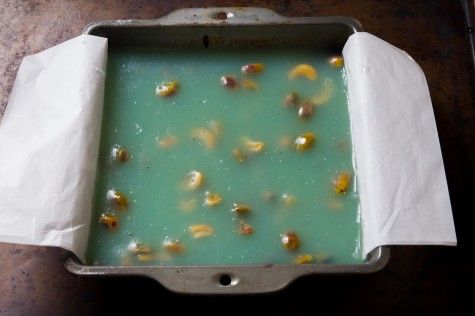 We eat a lot of pistachios at home. We add them to smoothies, cookies and salads. Even our dog, Xaria, loves pistachios. When we eat shelled pistachios, we toss her the ones that don't have have an opening and she neatly separates the shell and eats the nut. She's a little smarty!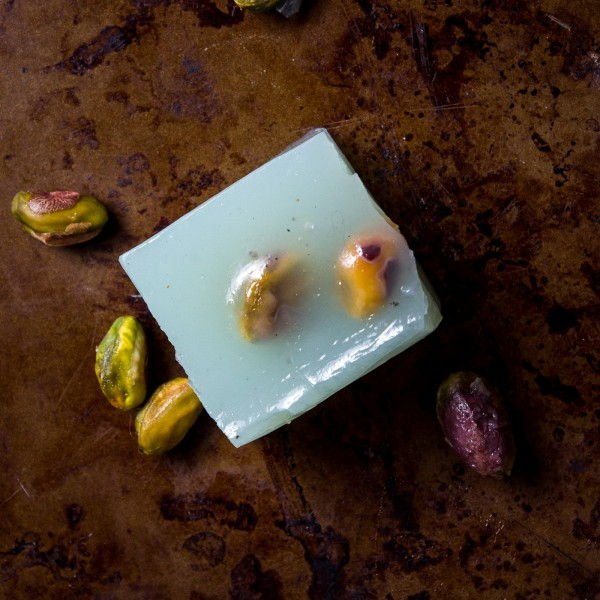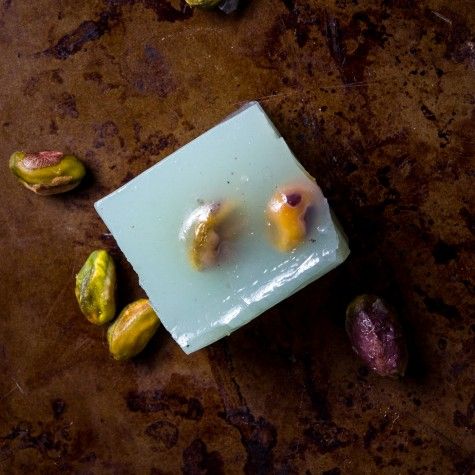 So when we were approached by Clare from California Farm Water to do a post for national pistachio day, we agreed immediately! She sent us some pistachios from Setton Farms and a fact sheet about growing pistachios in California.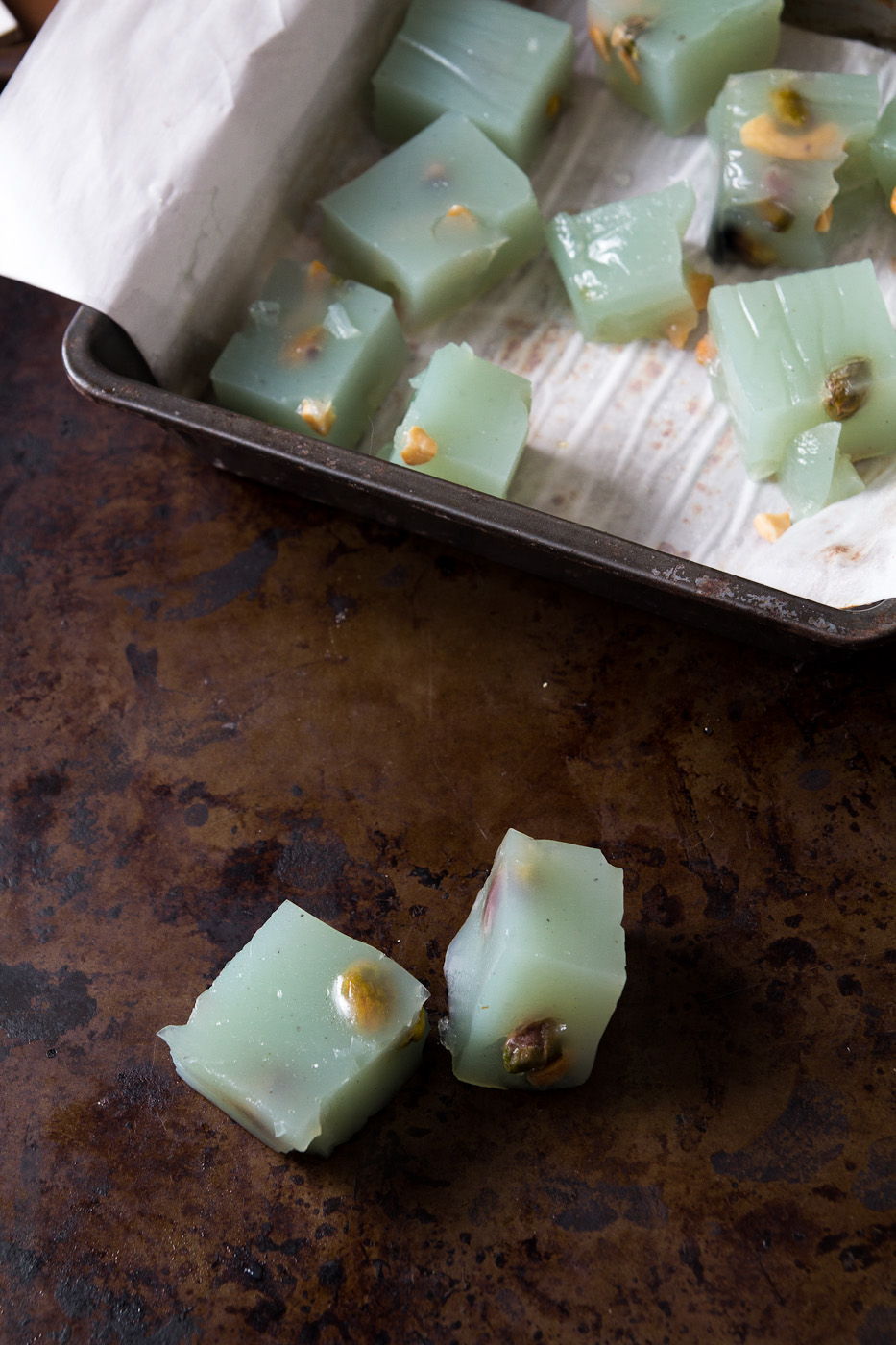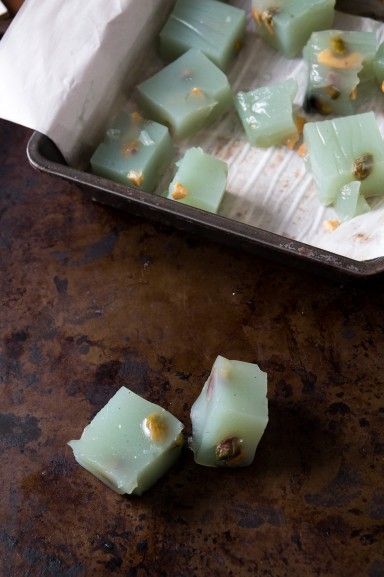 I wanted to make something special to celebrate this day. Pistachio is such a popular nut in India that there are countless recipes I could have made. But I thought back to my childhood, as I often do, and remembered how much fun it was to eat Bombay halwa (it's also known as Karachi halwa). It's just like squares of dense jello with nuts suspended in the middle. It's super delicious, playful and easy to make. It's even gluten free!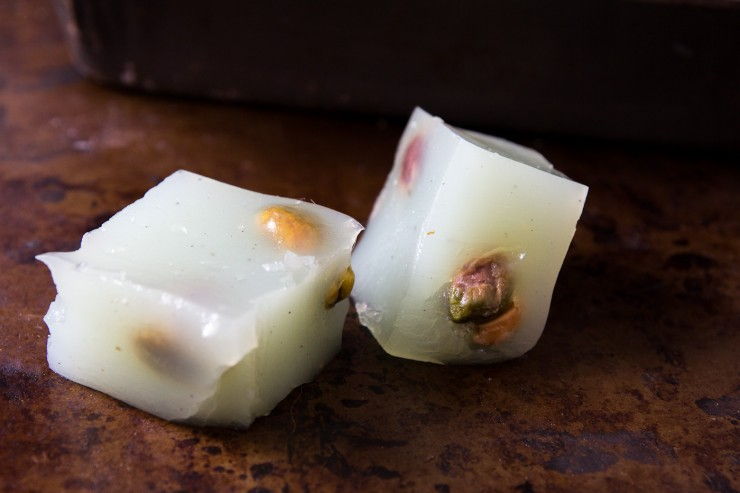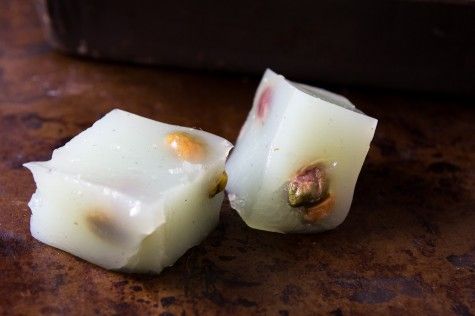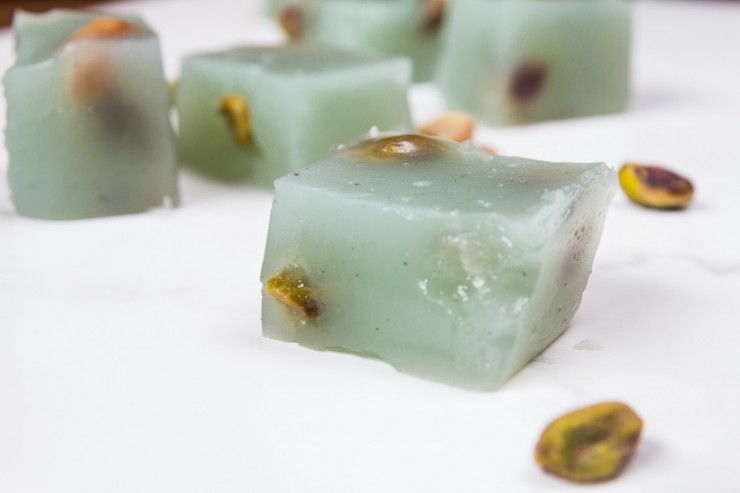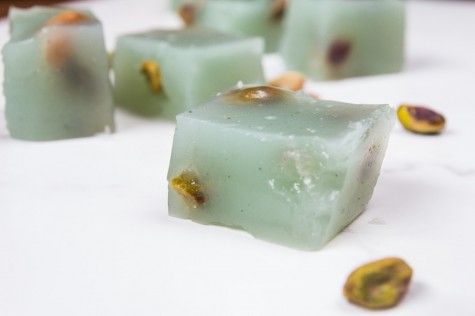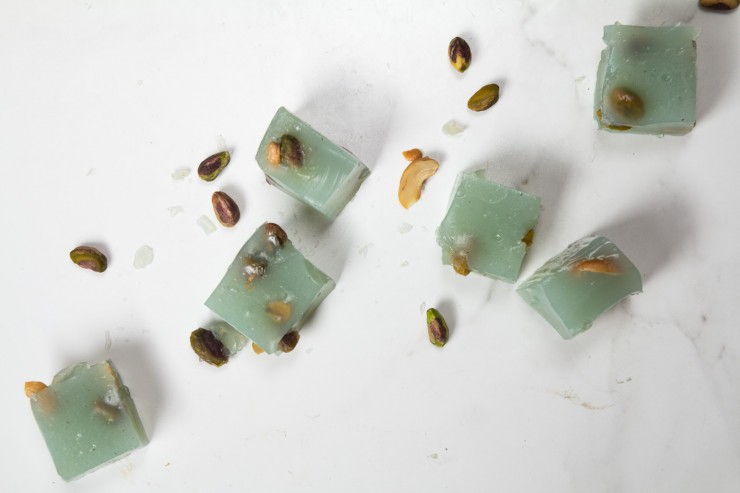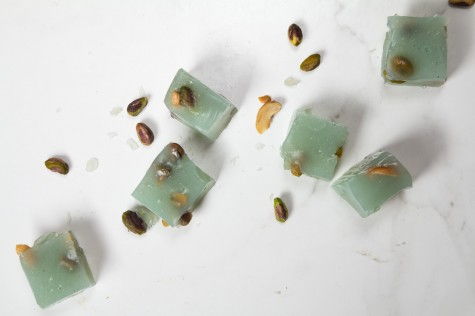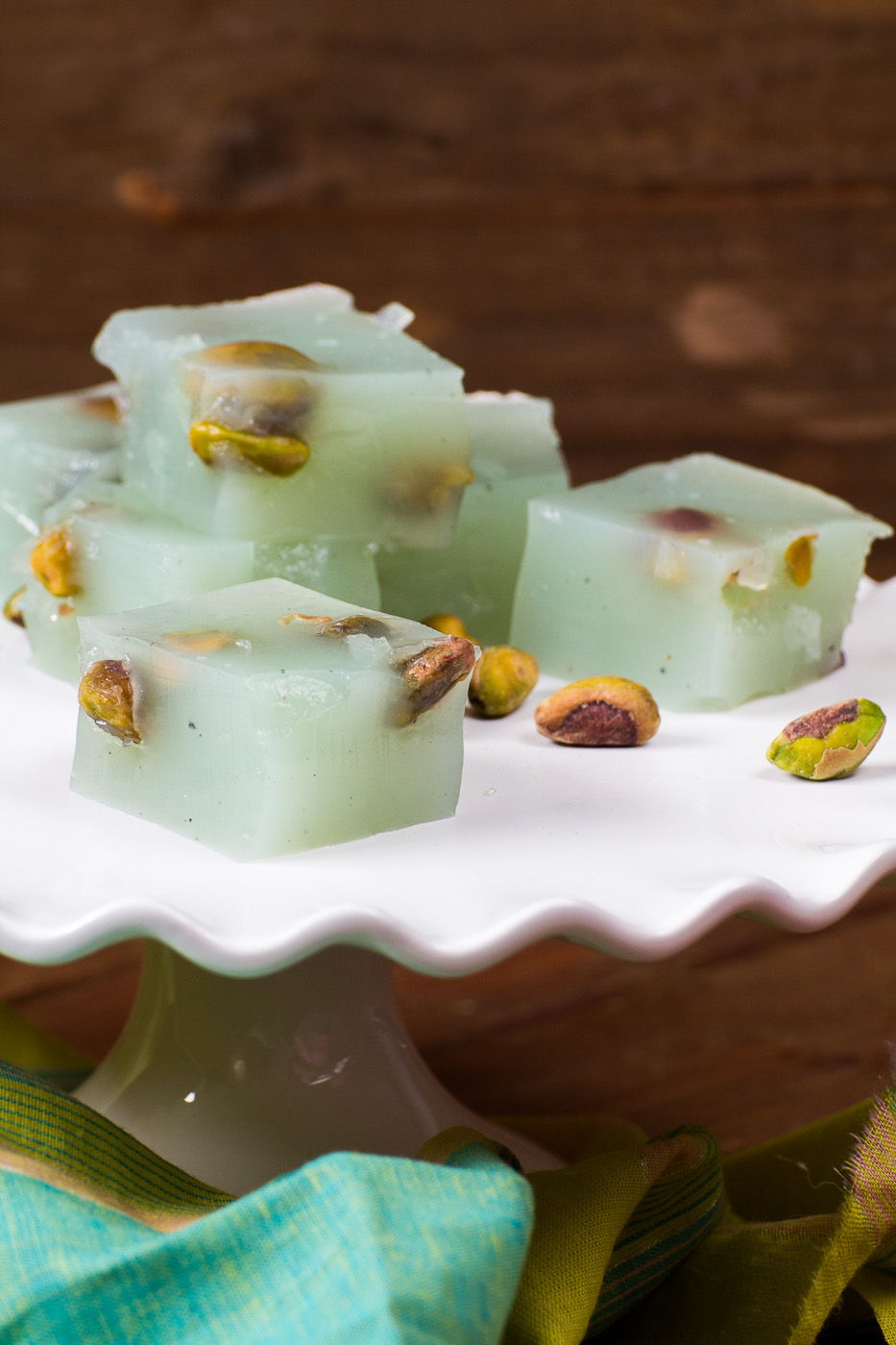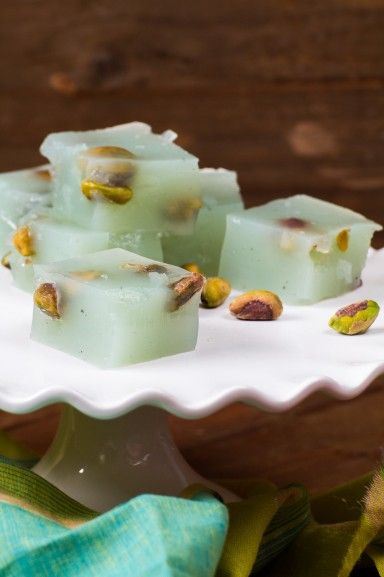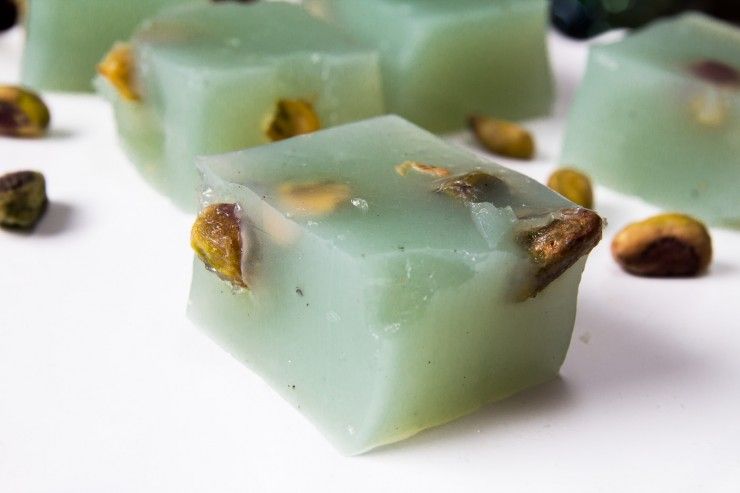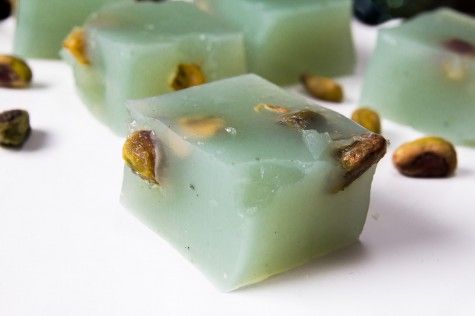 Bombay Halwa (Karachi Halwa)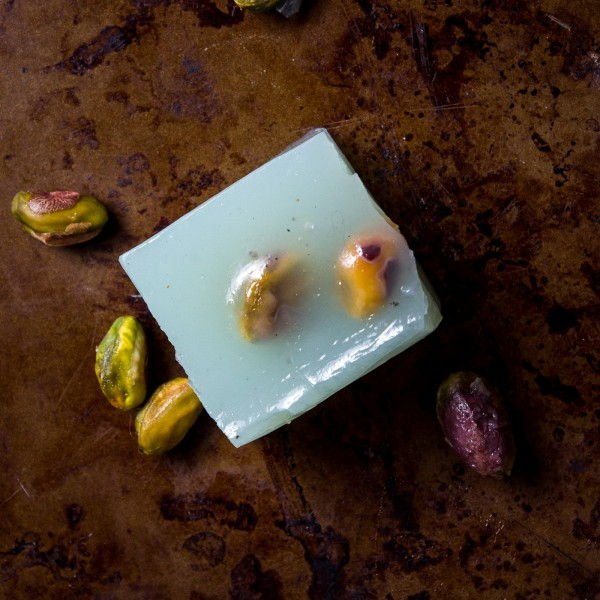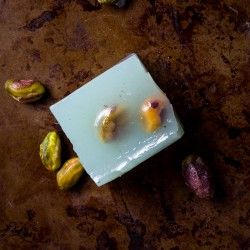 Prep time: 15 min
Cook time: 45 min
Total time: 1 hrs
Yields 25 squares
Ingredients
1 1/4 cups sugar
1/2 cup arrowroot starch (also known as arrowroot powder or arrowroot flour)
1 tsp lemon juice
1 tbsp ghee plus a little extra for greasing the pan (butter or Earth Balance work too)
1/8 tsp ground cardamom
1/4 cup pistachios
10 cashews, cut into half lengthwise
10 to 12 drops liquid chlorophyll
Instructions
Smear a 8×8 inch square pan with ghee and set aside. (You can also make a parchment sling if you like but it's not necessary)
In a wide saucepan, combine the sugar with 1 1/2 cups of water. Bring to a boil and stir, making sure that the sugar is completely dissolved.
Turn off the heat. Sprinkle the arrowroot starch into the mixture, a little at a time, whisking as you go along to avoid lumps. Whisk until the arrowroot starch is well incorporated and lump free.
Add 2 cups of water (room temperature) and whisk well.
Turn the heat back on to medium. Let the mixture cook but make sure to stir continuously. (At this point I switch to a silicon spatula for the stirring because it find it easier than using a whisk.) Cook for about 10 minutes until the mixture thickens to the consistency of jelly.
Add the lemon juice and continue to stir. Let cook for another 5 minutes.
When the mixture starts to get stick to the sides of the pan, add the ghee. Cook for another 10 minutes until the ghee is well incorporated and the mixture has thickened further.
Add the ground cardamom (make sure to stir this in well because it tends to clump), pistachios, cashews and the chlorophyll.
Stir until everything is well combined. It will be the consistency of thick gel.
Transfer the gel to the greased pan. Let cool on a wire rack for at least 2 hours until set.
Then flip onto a cutting board and cut into 25 equal squares but cutting 5 rows lengthwise and 5 width-wise.
Store in the refrigerator for up to a week or a room temperature for 2 days.
Notes
Traditionally Bombay halwa is brightly colored. But I hate using food coloring if I can help it so I experimented with using chlorophyll. The final color turned out to be more grey than I wanted but I don't mind it.
Feel free to use food coloring instead if you prefer.
Nutrition Info

| | | | |
| --- | --- | --- | --- |
| Serving Size | 1 square | Sodium | 4mg |
| Calories | 71 | Trans Fat | 0g |
| Carbohydrates | 13g | Fat | 2g |
| Protein | 0g | Cholesterol | 1g |