One of my favorite spring time meals is steamed artichokes. They're so simple to make and so much fun to eat. I love peeling each scale, dipping it in sauce and scraping the flesh with my teeth…yummy!
I almost always make a yogurt sauce to dip the artichokes in. The yogurt sauce has very little fat and is far healthier than the butter or mayonnaise based sauces that artichokes are normally served with.
I am really looking forward to this weekend! We're celebrating Steve's birthday at a local brewery and I'll be participating in this year's San Diego Food Blogger Bake Sale to benefit Share Our Strength's No Kid Hungry Campaign.
There will be lots of other San Diego food bloggers at the bake sale. I haven't had a chance to meet many local bloggers so I am especially excited to meet others who are passionate about food and sample their special treats. If you live in the San Diego area, come out to say hello and buy some delicious treats to help support a great cause.
Obviously, I'll be doing tons of baking for this weekend. Cupcakes for Steve's party, my caramel chili popcorn, and another special treat for the bake sale. Knowing that we'll be indulging in lots of sweet stuff this weekend, we're trying to eat healthy all week.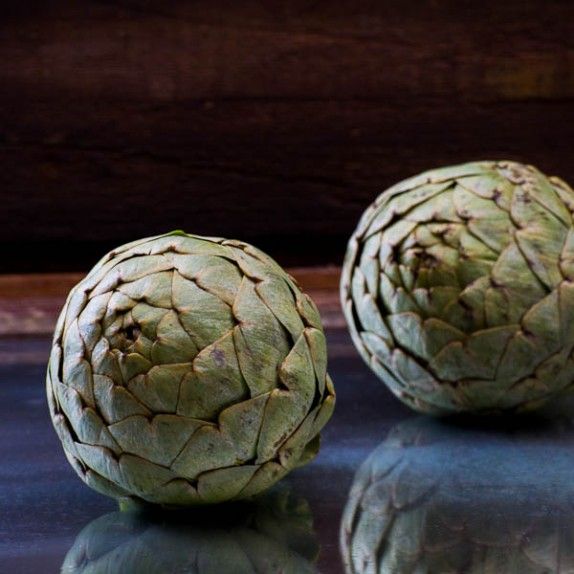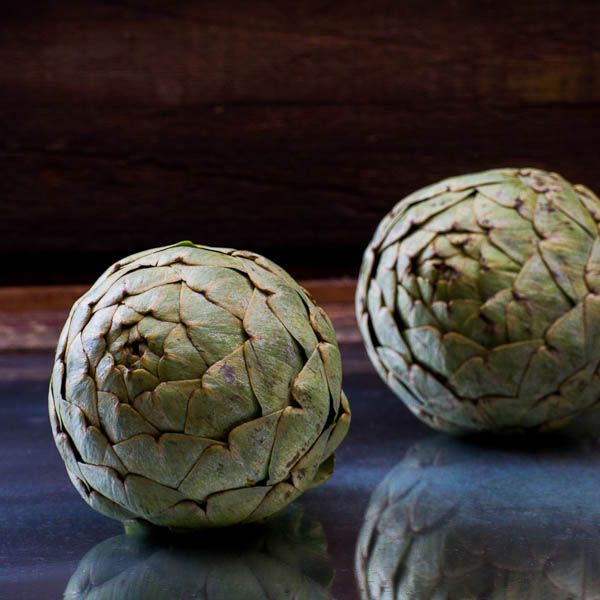 P.S. I love this black and white that Steve took of the artichokes!
I did this spring inspired post for this month's spring photography challenge at Junglefrog.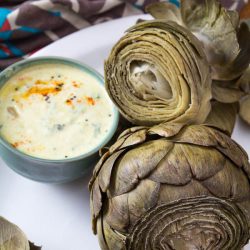 Steamed Artichokes with Curried Yogurt Dip
Artichokes featuring a curried yogurt dip
Ingredients
For the Curried Yogurt Dip
¾

cup

yogurt

use soy yogurt to keep it vegan

½

tbsp

oil

½

tsp

mustard seeds

I use black but any color will do

⅛

tsp

turmeric

⅛

tsp

chili powder

use more or less based on how spicy you want it

½

tsp

ground cumin

3

tbsp

fresh lemon juice

½

tsp

salt

2

tbsp

chopped cilantro
For the Steamed Artichokes
2

whole globe artichokes

fresh

half lemon

optional
Instructions
For the Curried Yogurt Dip Instructions
Measure out the yogurt in a small bowl. Whisk until smooth.

Heat oil in a small pan.

When the oil begins to shimmer, add in the mustard seeds. Let cook for 15 seconds.

Turn off heat and add in turmeric, chili powder and cumin. Stir for 10 seconds or so until the spices are fragrant.

Pour the spiced oil into the yogurt.

Add the salt, lemon juice and cilantro. Stir.

Keep refrigerated until ready to serve.
Instructions For the Steamed Artichokes
Rinse the artichokes with water.

Cut off about 1 to 1 1/2 inches from the top of each artichoke.

You can rub the top of the artichoke with lemon if you want. This will help keep it green. I usually skip this step though because I'm lazy.

Steam (both electric and stove top steamers work fine) for 25 to 45 minutes depending on how big the artichokes are. I had medium sized ones and they were cooked in 30 minutes.

I test it by sticking a toothpick into the bottom. If it goes through without any resistance, the artichokes are cooked.

Serve warm with curried yogurt dip.
Nutrition
Serving:
1
g
Calories:
159
kcal
Carbohydrates:
20
g
Protein:
8
g
Fat:
7
g
Saturated Fat:
2
g
Polyunsaturated Fat:
1
g
Monounsaturated Fat:
3
g
Trans Fat:
1
g
Cholesterol:
12
mg
Sodium:
747
mg
Potassium:
661
mg
Fiber:
7
g
Sugar:
6
g
Vitamin A:
180
IU
Vitamin C:
24
mg
Calcium:
177
mg
Iron:
2
mg