Sholay opens to a train arriving at a station leading to a scene of two men riding on horseback across a rocky landscape that could easily be the old American Southwest. Interspersed with the horseback riding are shots of of a village that could also be from that time and place, but for an architectural embellishment here or there that points more specifically to India.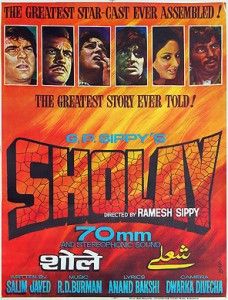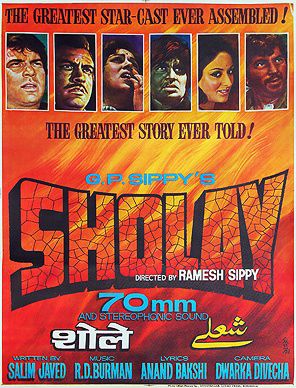 These two men come to meet Thakur, who is wrapped in a shawl much like Clint Eastwood's in The Good, The Bad and the Ugly. Thakur was nearly always wrapped in this shawl to the extent that it became irritating to me until it proved to be of great significance later in the film.
Thakur has enlisted the help of two criminals to take down a man who has terrorized his village, dacoit, Gabbar Singh. (Dacoit is a word I just learned that describes an Indian bandit). While this scenario is a common theme in American Westerns, even to the point of being satirized in the Steve Martin film Three Amigos!, here Sippy was able to base the character on a real-life, contemporary bandit who would cut-off the ears and nose of any policeman who pursued him.
Sholay is considered by many to be India's greatest film. It has a certain weight to it, given by the ambitious cinematography and rich soundtrack. The soundtrack was scored by R. D. Burman, widely considered to be the greatest Bollywood composer. The most successful songs from the soundtrack are "Mehbooba Mehbooba" and "Yeh Dosti Hum Nahin", but all of the songs became very well known. Puja was surprised to learn the song, "Mehbooba Mehbooba" was based on a Greek pop song, "Say You Love Me," because it is such a well known Indian song. But the practice of borrowing from hit songs elsewhere in the world was common because the big studios wanted to be sure every song would become a hit in order to maximize their profits.
Imitation is rife throughout Sholay, borrowing largely from Sergeo Leone's Dollars trilogy, John Sturges' The Magnificent Seven and a number of other American films. The real heart of the movie, I feel, came from Butch Cassidy and The Sundance Kid. The references to Butch Cassidy that I caught were not so blatant, but mainly captured the spirit in the deep male friendship and love the two leads had for each other.
But to harp on the imitations is really unfair. There is a deep tradition of borrowing in Indian films, but there is also that same tradition in Westerns in general. Sergeo Leone's A Fistful of Dollars was so close of a rip-off of Akira Kurosawa's Yojimbo that he lost the movie rights to Kurosawa in Japan. And The Magnificent Seven was merely an authorized remake of Kurosawa's Seven Samurai.
Sholay is a movie that was made to be big. It was shot in 35mm and blown up to 70mm, a practice in the 1970s reserved for the most prestigious of films even in the wealthier American cinema scene. More significant, however, was the collection of people making the film. This was only Ramesh Sippy's third film, but he was the son of G. P. Sippy, who was very powerful in Bollywood and acted as Producer on Sholay as well.
Even though it was only Ramesh Sippy's third film, he had already proven himself with two very successful films, Andaz and Seeta Aur Geeta. On top of that, he was to carry a star cast, Dharmedra and Amitabh Bachchan were already two of the biggest stars in Bollywood. It features an item number by Helen (see Junglee), the most popular dancer of the time. But I found Sanjeev Kumar's portrayal of Thakur to be the most compelling in the film.
I also enjoyed the female lead, Basanti (Hema Malini). Basanti is a bit of an innocent country girl, but she's got a rough side to her as well. She makes a living driving a horse-drawn carriage. That's risky business out in the sticks where she travels with no protection. But she is never cowering or afraid. In fact, at one point, it is on her to rescue Veeru, which she does by dancing on glass.
Sholay is not without it's flaws. In fact, there are many. To pick them apart is to spoil the fun of a good Western. The run-time is very long, clocking in at over 3 hours, so it is no surprise that the film drags at times. But I never felt like the film was stalling or that anything was superfluous, with the exception of the prison scene.
In an attempt at farcical comedy, Veeru and Jai had themselves arrested in order to collect a ransom on themselves. Why wouldn't you, if you were a great criminal and believed no prison could hold you? But the scenes within the prison were drastically unfunny. The warden was a Hitler-type character, short and with a Hitler-stache. He played it for over-the-top slapstick that was pure cringe and no laugh.
I can't help but wonder if the film was shot basically in order, and didn't find it's groove until Veeru and Jai reached the town they were tasked to save. Or perhaps Sippy felt a need to stick in a backstory but just couldn't get interested in it himself.
Sholay was also marred by a certain amount of censorship. When it was completed and shown to the Censor Board, they objected to the original ending, which I won't say in the interest of protecting a spoiler, but they objected to the original act of vengeance. Sippy was forced to reshoot the ending of the film. The new ending itself isn't so bad, it's actually very in line with the moralism American film audiences are used to. But he included some dialogue that sounded forced and unnecessary. I also feel some of the violence that was removed throughout the film introduced some awkward jump cuts.
Despite the Indian government's Censor Board, the movie was a great success. It is perhaps the most well-known and most quoted of all Bollywood movies. It has a certain weight and grandiosity to it that is difficult to explain. It is the sort of weight that comes from a film that is made confidently and takes the viewer on a journey. I think it is that Butch Cassidy and the Sundance Kid buddy-film vibe that it really gets right above all else, that has driven Veeru and Jai inescapably deep into India's cultural-consciousness. Bollywood movies would continue to draw inspiration from and to imitate Sholay for many years to come.