Laccha paratha is a luxurious, flaky, layered paratha, well worth the extra effort and patience. Your guests will be impressed by the presentation and care of this unique flatbread.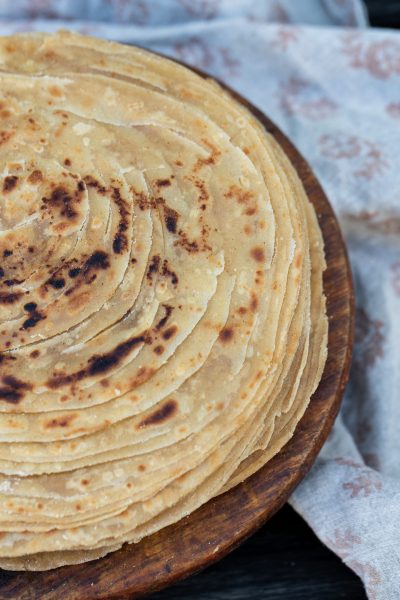 Why Make this Recipe
This flatbread uses whole wheat and is dairy-free (although you can use ghee if you want).
The layers are a really fun change from the regular paratha and a fun way to impress family or guests.
Our Tests
There is a global shortage of atta, or chapati flour, this year due to the war in Ukraine. Atta is a special kind of whole wheat flour that is milled very finely and is almost entirely produced in India, but is holding on to all of its flour for domestic sales. So I thought it would be a good idea to compare the bread made with atta versus regular whole wheat flour.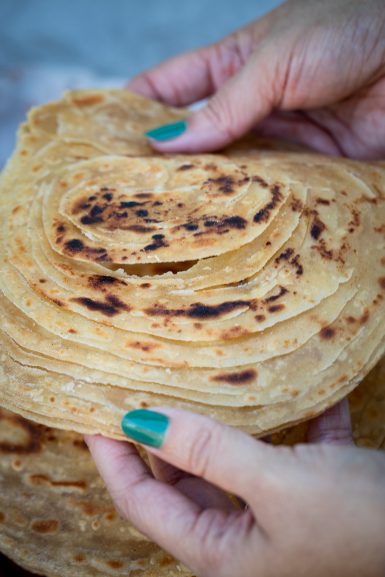 There was a noticeable difference between the atta and the whole wheat flour. The wheat germ was much more visible and altered the texture of the paratha. We had a clear preference for the laccha parathas made with atta, but the whole wheat flour version was not bad. In sum, if that's all you have, it will do.
We also test it with water versus milk. I've always made this recipe with water, but I found a number of recipes call for milk. We found little to no difference between the milk and water versions, except the parathas with milk in them browned a little better.
Serving Laccha Paratha
In a meal, laccha paratha serves the same purpose as other paratha or roti. They are great for eating any kind of shaak, or eaten with some pickle, chutney, or yogurt.
Since these are a north Indian flatbread, in a meal, I would serve them with a north Indian shaak like kala chana or paneer makhani.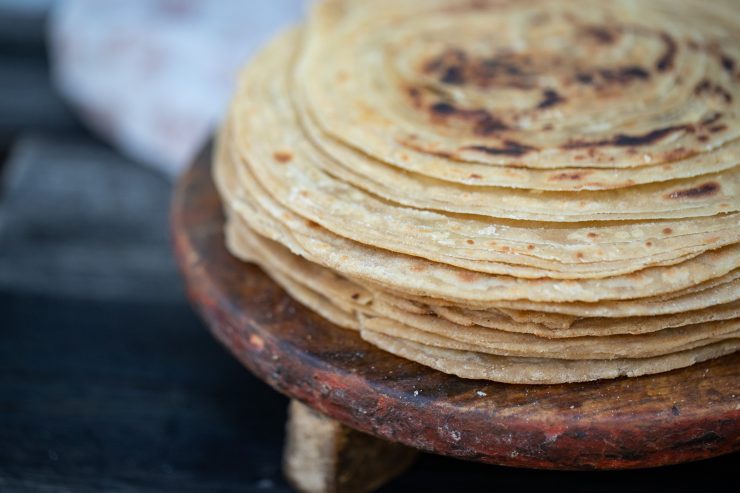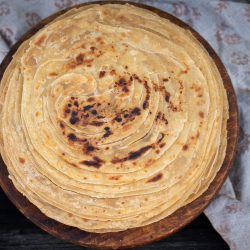 Homemade Laccha Paratha
Laccha paratha is a luxurious, flaky, layered paratha, well worth the extra effort and patience. Your guests will be impressed by the presentation and care of this unique flatbread.
Ingredients
For the Dough
2

cups

atta or chapati flour

finely ground whole wheat flour

¾

tsp

salt

or to taste

1

Tbsp

neutral oil or ghee

1

cup

warm water
For Rolling Out the Dough
¾

cup

atta or chapati flour

⅓

cup

oil or ghee
Instructions
Forming the Dough
In a large bowl, combine the atta and salt. Mix well. Then add the oil or ghee. Incorporate the fat into the flour, breaking up the little granules that form until the dough forms a sandy texture

Add water, about ¼ cup at a time, and knead to form a soft dough, adding more water as you go. After your dough has formed, shape it into a smooth log. Brush the dough log with oil or ghee. Cover and let rest for at least 20 minutes.

Once the dough has rested, divide the dough log into 8 equal sections. Roll each section into a ball and press between your palms to form a puck. Cover the pucks and work with one puck at a time.

Prepare your work surface by putting ¾ cup of dry flour in a wide bowl or plate and your remaining ghee or oil in a bowl. This will make it easy to dip the dough as you are rolling. Apply the oil when needed.
Rolling Out the Dough
Dip a puck into dry flour and roll into a thin round, approximately 9 inches (23 cm) in diameter. Add ½ tsp of oil to the center of the circle and use your fingers to spread it around in a thin layer. If you need a bit more oil, dip the tips of your fingers in the bowl of oil and apply to any remaining dry sections.

Reach into the bowl of dry flour and grab a pinch of flour. Top the oil with a sprinkle of dry flour.

Now start folding the circle into an accordion fold or pleats by folding in ½ inch of dough from the top and folding the same amount out. Repeat the process until the entire circle is folded into a strip. Now roll the strip into a spiral and tuck the end into the edge and press down so it won't unravel. Flatten with your palm into a puck.

Add a bit of dry flour to each side and roll into an 8-inch (20.5 cm) circle. Add as much dry flour as needed to avoid sticking to the surface and the rolling pin.
Cooking
Heat a tava or a cast iron skillet over medium heat. Once hot, lower the heat to medium low. Place the rolled paratha onto the surface. Wait for a few bubbles/blisters to form across the paratha and flip (about 1 minute). Add a tsp of oil or ghee and spread it around with your spatula. Wait for more bubbles to form across the surface and flip again (about 1 minute). If working on a gas stove, raise the heat to high at this point. If using an electric or convection stove, leave the heat level unchanged but it will take a bit longer for the paratha to get the golden brown color – approximately 2 to 3 minutes).

Press gently with your spatula and encourage the bubbles to grow and cook for about 30 seconds. Flip again to ensure there are golden brown spots on both sides. Cook for a few more seconds if needed. Reduce the heat back to medium low before adding the next paratha.
Nutrition
Serving:
1
paratha
Calories:
221
kcal
Carbohydrates:
30
g
Protein:
5
g
Fat:
10
g
Saturated Fat:
5
g
Polyunsaturated Fat:
1
g
Monounsaturated Fat:
3
g
Trans Fat:
0.01
g
Cholesterol:
19
mg
Sodium:
220
mg
Potassium:
150
mg
Fiber:
4
g
Sugar:
0.2
g
Vitamin A:
4
IU
Calcium:
15
mg
Iron:
1
mg
Tips
Accordion Folding
The main technique to get this recipe to work is accordion folding. That is, folding your dough over, back and forth, like an accordion. It's pretty forgiving, but can be tricky to get it to stay together when you are finished folding. You have to tuck the end into the spiral and push it together so that it stays together as a round so you can roll it out after.
I recommend watching this part of the video closely to see the technique.
Other Tips:
After your roll your dough out the first time, you need to put oil across the full surface. It has to be a very thin layer of oil because if you use too much your accordion folds will not stay together as your roll out. I use 1/2 tsp of oil and use my fingers to spread it around because I can control that better than with a brush. Then if I need a little extra I'll dip the tips of my fingers into the oil and brush the dough with them.
Use as much dry flour as you need to make sure it doesn't stick as you are rolling.
Warm water makes the dough softer and makes it easier to work.
Variations
Use milk if you prefer. Milk didn't make a flavor difference, just a slight change in texture and better browning
Use ghee if you prefer
Some people add garlic chutney or cilantro paste. You can add any kind of flavors you want. Add them after rolling it the first time, before the accordion fold.