The wind was still blowing violently in the morning when we set out for home after our Mt. Whitney and Death Valley trip. It was early in the morning and our attempt at finding breakfast was unsuccessful as the only cafe in town hadn't opened yet. We decided we would find breakfast along the way. It would be a long drive, 250 miles to Pasadena to pick up Xaria (our dog), and then another 130 to San Diego.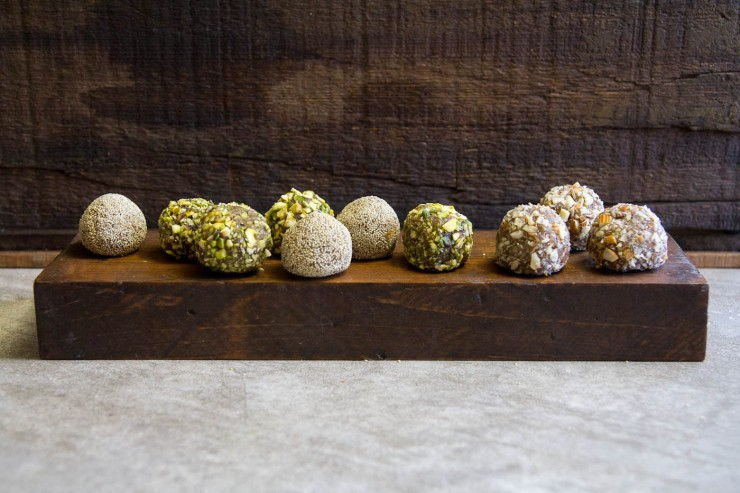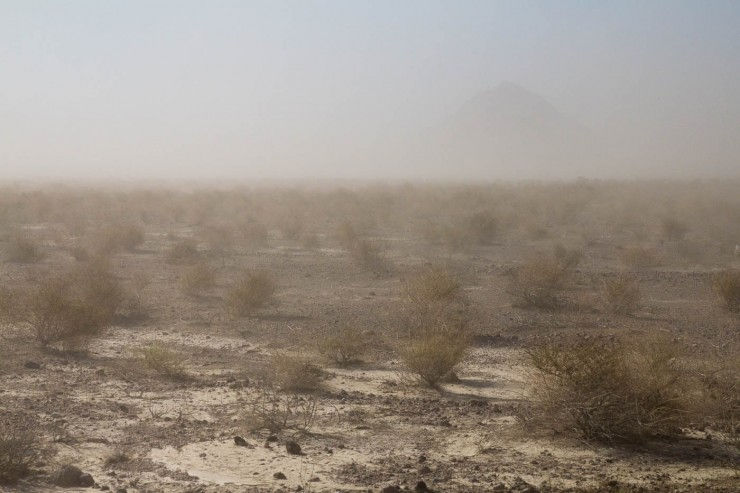 After driving for about an hour, we had still not come across a place to grab breakfast. I was hungry and had Steve pull over to grab some bread we had in the car. Bad idea! As soon as I opened my door, the wind picked it up. It really felt like the wind was going to dislodge the door. It took all my strength to get it to close again. Steve climbed over the back seat to get the bread. Alas the butter was in the cooler, buried in the trunk, so we ate plain bread. We were so hungry, the plain, dry bread tasted amazing!
A little while later, we noticed a sign that said "China Ranch Date Farm, 7 mi." Dates sounded amazing at this point, so we turned and followed the sign. After seven miles of that road, driving through the small town of Tecopa, we reached another sign that said "China Ranch Date Farm, 2 mi." with an arrow to the right. "Should we keep going?" I asked Steve. He was a lot more optimistic than me and he was the driver, so we kept on.
After a mile on that road, the pavement went away. There were no palm trees in sight, only vast, endless fields of sandy hills. It was a little unnerving and I started to doubt the existance of the said date farm. Steve was determined though, and he didn't think this dirt road was as bad as the one we had skipped in Death Valley – we kept on. It was downhill and windy but the dirt was pretty firm and only mildly rocky. As we descended toward the ranch, walls of dirt and wind-carved sandstone surrounded us. Steve said that he felt like he was in Egypt. The surroundings reminded him of the landscapes from Indiana Jones and the Last Crusade.
Suddenly, the sandy hills opened up and a beautiful oasis of dates stood before us. It was beautiful!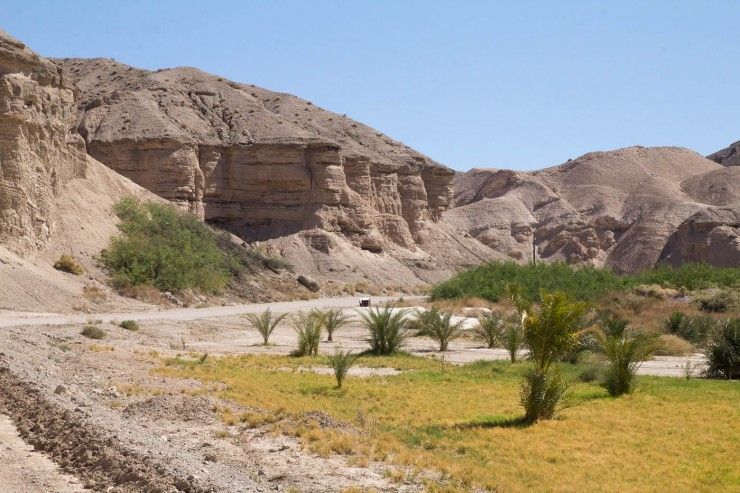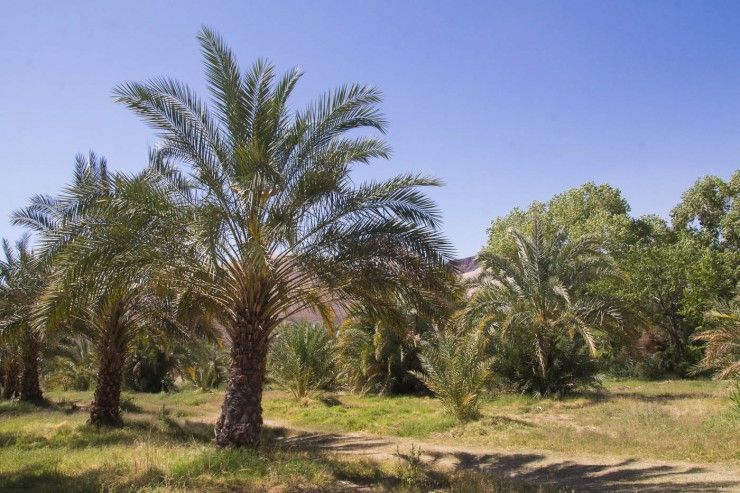 As we approached the actual farm, to our right was a mine, perhaps gold or silver. There was a plaque at the entrance explaining the origins of the date farm. A Chinese miner had started the farm. According to China Ranch, his name was either Quon Sing or Ah Foo. In his honor it became known as China Ranch. At some point, he vanished. Perhaps he was killed, or perhaps he chose to abandon this desert life.
There was a sign for the gift shop and the date shakes ahead. My belly was already really happy! We went in and ordered our date shake right away. It was made of rich vanilla ice cream with date bits mixed in. We talked to the guy manning the ranch as he made our shake. I asked him what kind of dates they use for the shake, he said they make it from a puree of all of the different kinds of dates, the ones they can't sell whole because they don't look perfect. The milkshake was very good. Steve and I laughed that this was our third milkshake of the weekend, after having had none for three years.
After chatting for a bit, Steve asked the guy how people get their groceries out here. He said they go to the market in Pahrump, 45 miles away, or often Las Vegas where they have three Trader Joe's, 84 miles away. "It's nice to not have the temptation to get, say Taco Bell at 2 am," he said. "You really have to plan your meals." Can you imagine having to drive 84 miles for a Trader Joe's? I like my city life, thank you very much!
He was a really friendly guy. They had samples of all of their date varieties. They had Deglets, Halawy, Khadrawi, Honey, and some proprietary hybrids with their own branding. No Medjools though. He said the Saudi Air Force had been training nearby in the winter and bought them out. Guys would come in and buy 50 pound cases of Medjools. Years ago, when we lived in Arlington, we had learned that you know the Pentagon is up to something when there are suddenly a lot of late night pizza orders. Around here you know the Saudi's are in town when the dates start flying off the shelves.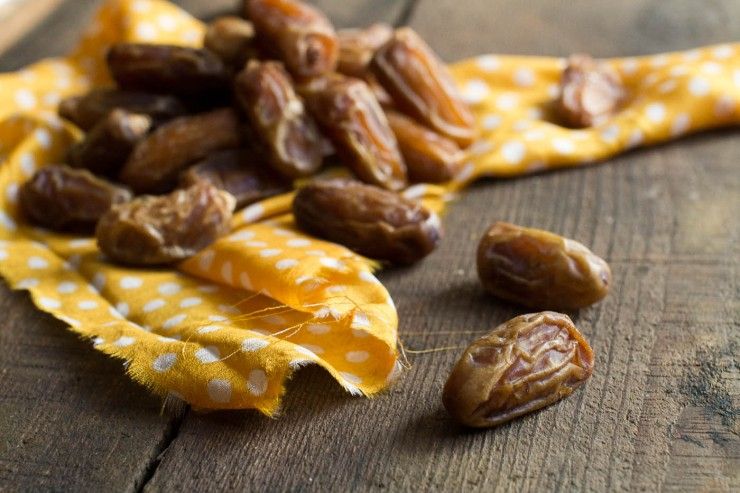 We went out back to check out the date palm plantation. It was really moderate in size. I've been to a few in the Palm Desert area that were much larger. But this is a beautiful oasis tucked into the desert, fed by a small horseshoe shaped stream. There is also a hike around there that we didn't take.
From there we went on to Baker where we joined with Las Vegas traffic. Having driven hundreds of miles of highway and passing only a handful of cars, this was the moment our trip felt like it was over. We could feel the familiar day to day stresses returning to us, physically, as our bodies tensed up to the state that feels more natural. The end of our getaway.
We came home with a bag of delicious Halawy dates and I had to make halwa. My mom would make a version of this with mawa (milk reduced to a crumbly cheese like texture in a big iron pot). In India you can buy mawa already prepared by sweet shops. But since mawa is so hard to find in the US, I've taken to substituting mascarpone cheese for it. Mascarpone is not a perfect substitute, but it has a very similar milky flavor and works really well in Indian sweets.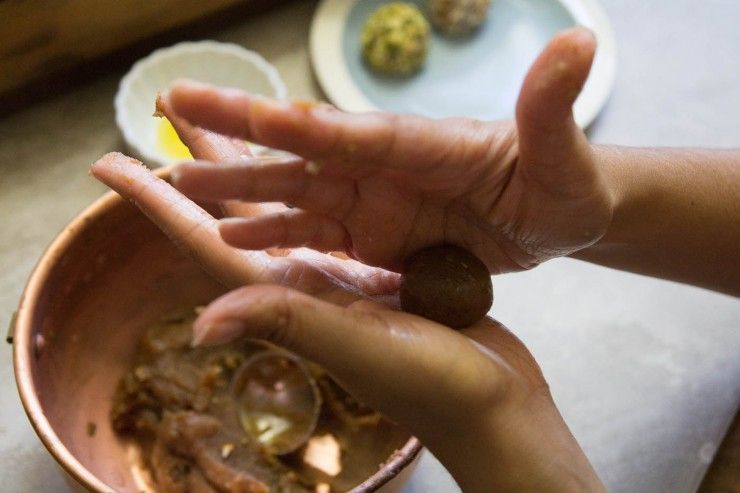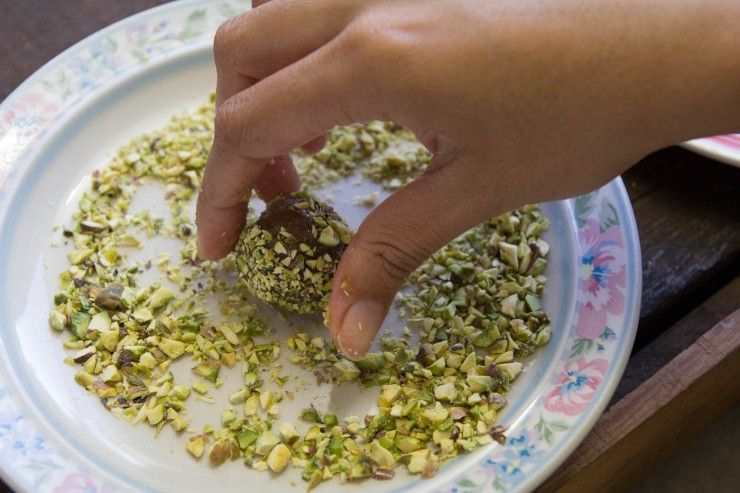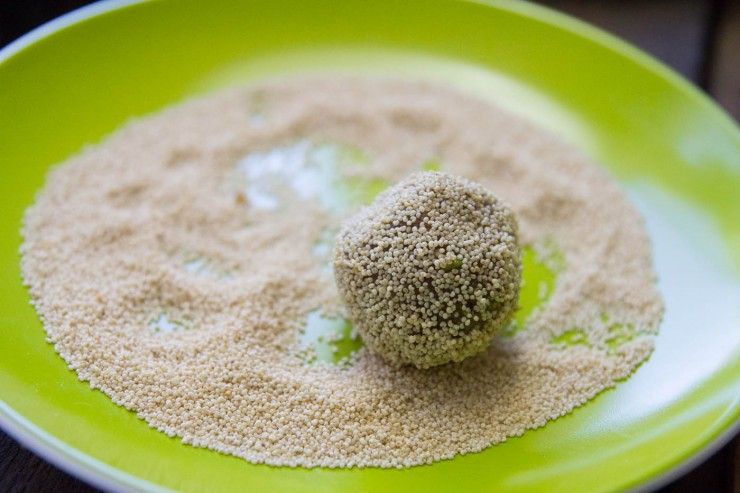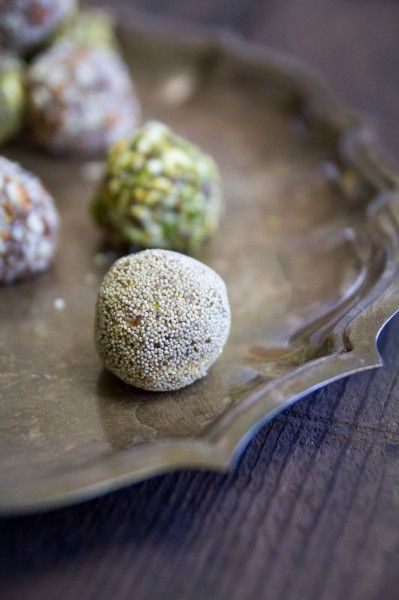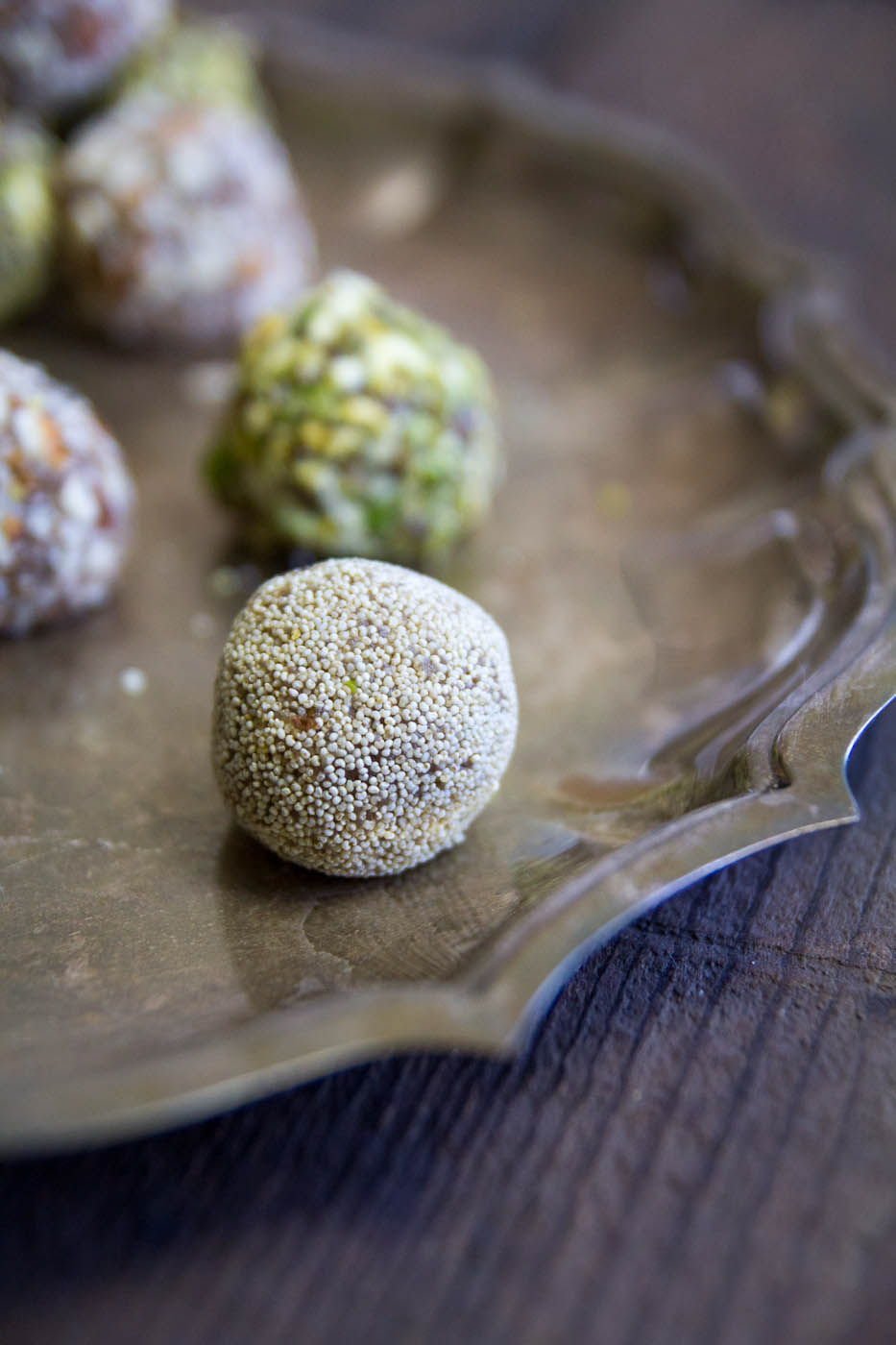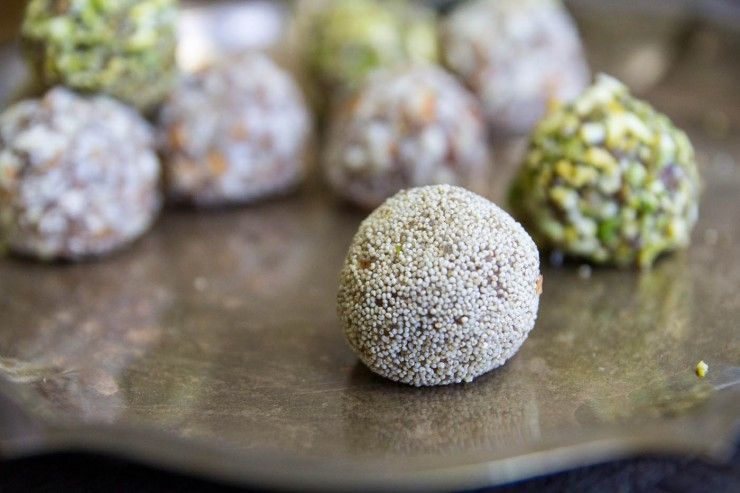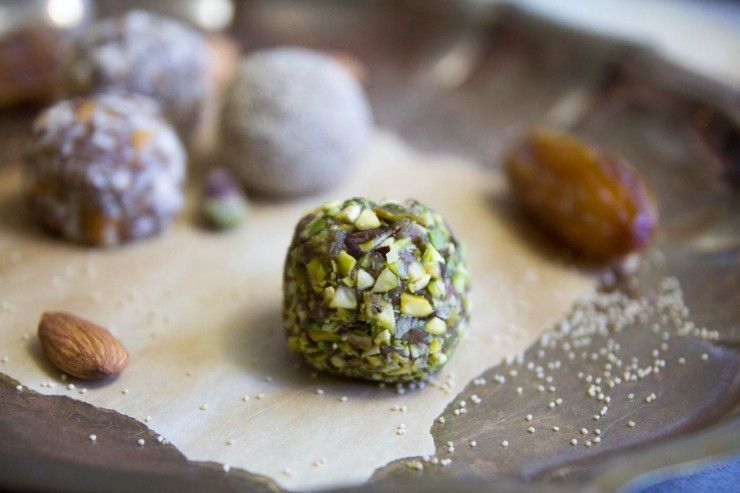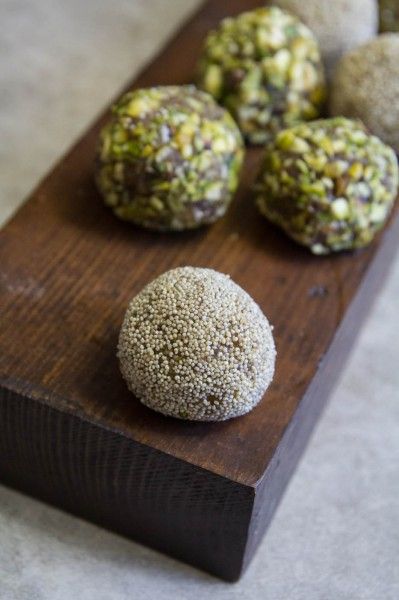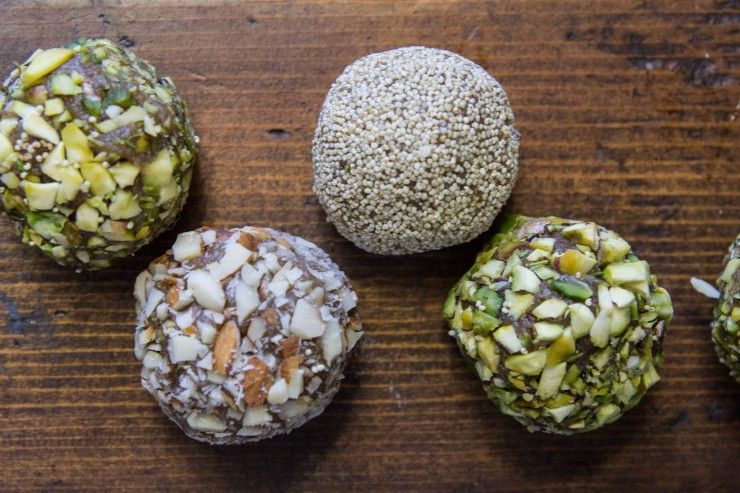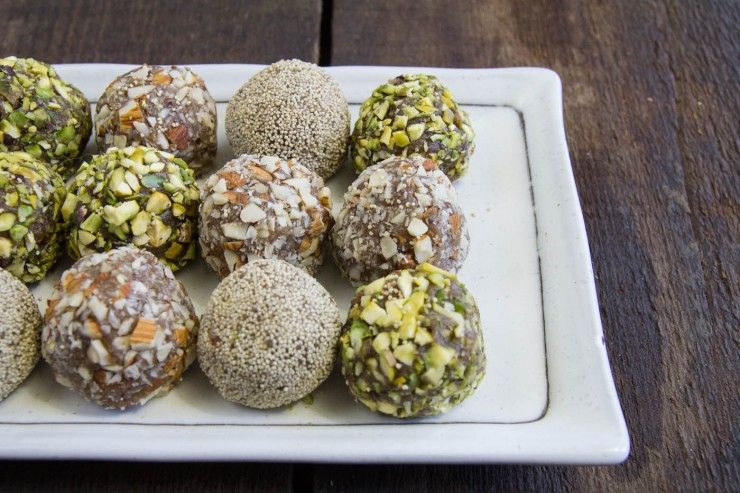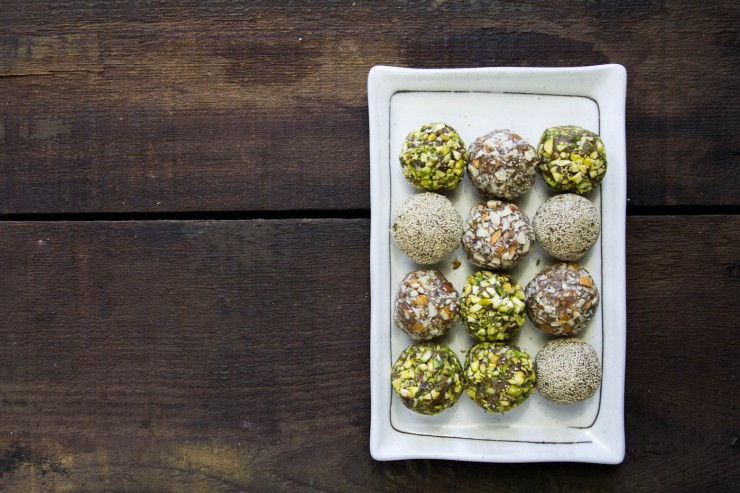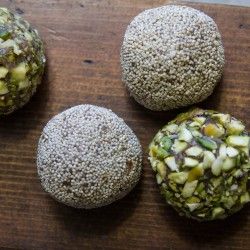 Date Halwa (Khajur no Halvo)
Soft, sweet date balls with nuts and Indian flavors
Ingredients
1

cup

dates

pitted

⅓

cup

warm milk

I used whole milk

½

cup

almond flour

2

tsp

ghee plus more for rolling out the date balls

½

tsp

ground cardamom

¼

tsp

freshly grated nutmeg

pinch

of salt

pinch

of saffron

¼

cup

mascarpone cheese

¾

cup

pistachios

chopped (or nuts of your choice – I used equal parts pistachios, almonds and white poppy seeds)
Instructions
Soak the dates in the warm milk. Let soak for at least one hour.

Puree the dates and milk in the blender.

Heat a heavy bottomed pan and add the almond flour. Toast until fragrant. Make sure to stir continuously so that the almond flour does not burn.

Add the ghee and pureed dates.

Stir and cook over medium high heat until thickened, about 10 minutes.

Add the salt, saffron, cardamom, nutmeg and mascarpone cheese.

Stir and cook for 5 more minutes until the edges are starting to pull away from the pan. Let cool for about 15 minutes.

Transfer the date mixture to a bowl and refrigerate for about an hour or more.

Once the mixture is cold, dip your hands in some ghee and smear it over your palms (this will help the date mixture not stick when you're rolling it into balls)

Scoop out 1 tablespoon of date mixture at a time and roll into balls.

Roll the date balls over the chopped nuts.

Keep the date halwa refrigerated.
Nutrition
Serving:
1
g
Calories:
137
kcal
Carbohydrates:
13
g
Protein:
3
g
Fat:
9
g
Saturated Fat:
3
g
Polyunsaturated Fat:
1
g
Monounsaturated Fat:
2
g
Cholesterol:
7
mg
Sodium:
6
mg
Potassium:
169
mg
Fiber:
2
g
Sugar:
9
g
Vitamin A:
110
IU
Vitamin C:
1
mg
Calcium:
37
mg
Iron:
1
mg