My favorite chili oil is more of a Mexican-style chili oil than Asian. A simple combination of dried red chilies, a little carom seed for herby-thyme flavor, salt, and a little bit of acid. It comes together in this really warm and subtly spicy chili oil that is very simple and delicious. It is chili-forward, not complicated by onions or garlic, so it really keeps the emphasis on the flavor of the chili.
About this Recipe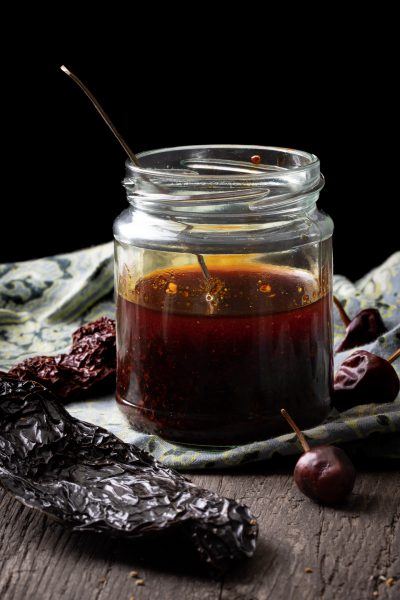 This is a chili oil recipe that I have been perfecting for at least 3 years. I tend to whip up a new batch of it every couple of weeks. It's inspired by a Mexican-style salsa macha which I've modified and adapted to make my own with a combination of Indian and Mexican ingredients.
It's based on a chili oil that I had at Tacos 1986 near my home, shortly before I moved away. I initially tried to recreate theirs, but soon went in my own direction with it.
I use this chili oil often when I want to add some flavor to tacos, burritos, or eggs. I especially love it for my Indian fusion tacos. I will often experiment with ingredients I have lying around to put together a quick taco. This sauce is my go-to secret weapon to bring the dish together.
When making this recipe, don't cook the chili too long. Turn the heat off when the chili starts sizzling. It will continue to cook after you remove the heat, so you don't want it to sit for very long and burn the chili.
Ingredients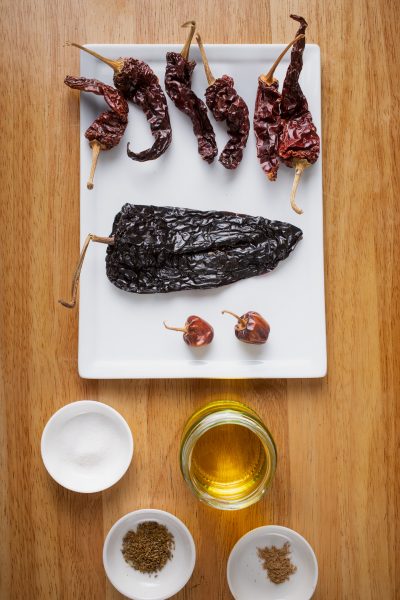 Oil – avocado oil or any neutral oil works great.
Chilies – Kashmiri and Mexican chilies. Kashmiri is a quintessential Indian chili. It is mild and fruity and gives it a nice color. I also use boriya marcha, which are small, spicy chilies that provide heat. And I use a pasilla chili to give it a robust flavor and depth that only pasilla has.
Carom seeds – also known as ajwain or ajmo, add an herby thyme flavor
Amchoor – green mango powder adds some acid to the oil.
Variations
Garlic: many Mexican chili oils include garlic or onions
Seeds: sesame seeds, pepitas, or a nut can be used to give it a nutty flavor
Try other types of dried chili. Mixing up the chili will definitely alter the taste profile since they are the main source of flavor.
Acid: you can use vinegar or citric acid, more amchoor, or even tamarind paste for a more acidic. flavor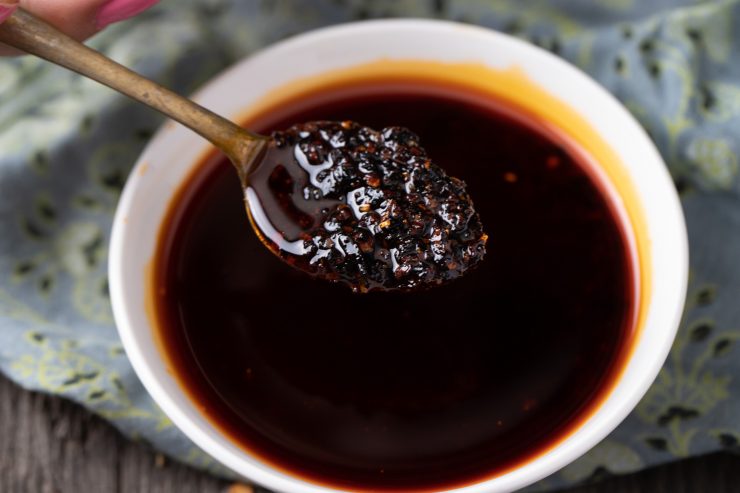 Refrigerating
It's a good idea to keep this in the refrigerator. A combination of oil and acid will act as a preservative, but if the acid content isn't high enough, it can be unsafe to leave at room temperature. Why risk it? The refrigerator will also help this condiment retain its flavor for longer.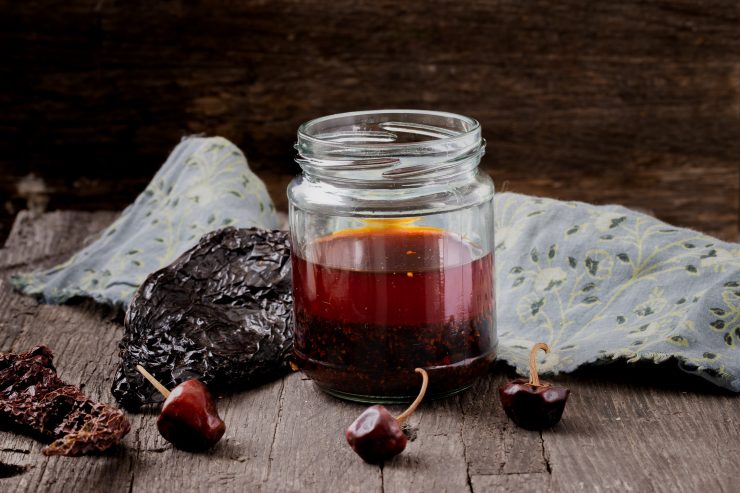 Recipe
Homemade Chili Oil
A simple combination of dried red chilies, a little carom seed for herby-thyme flavor, salt, and a little bit of acid.
Ingredients
6

Kashmiri chilies

dried

1

pasilla chili

1-2

boriya chilies

or other spicy chilies

¼

tsp

ajmo

carom seed

½

tsp

salt

or to taste

⅛

tsp

amchoor

⅓

cup

neutral oil

like avocado
Instructions
Deseed the chilies by removing the stems and shaking or scraping the seeds out. Use gloves if you are sensitive to capsaicin. Break the chilies up into 1/2 inch-sized pieces.

Coarsely grind the chilies and carom seeds using a spice grinder or mortar and pestle. I use a coffee grinder that is reserved just for spices.

Heat the oil in a small pan. Add the chili mixture and salt. Stir well and watch the oil closely. When the oil starts to bubble around the edges, add the amchoor. Stir and remove from heat. Let cool. The chilies will continue to crisp in the hot oil.

Transfer to a jar and store in the refrigerator.
Nutrition
Calories:
43
kcal
Carbohydrates:
0.3
g
Protein:
0.1
g
Fat:
5
g
Saturated Fat:
0.3
g
Polyunsaturated Fat:
1
g
Monounsaturated Fat:
3
g
Trans Fat:
0.02
g
Sodium:
73
mg
Potassium:
10
mg
Fiber:
0.1
g
Sugar:
0.01
g
Vitamin A:
156
IU
Vitamin C:
0.03
mg
Calcium:
0.5
mg
Iron:
0.04
mg