All we had to cook with on our trip was a bit of coal and a fire pit with grates over it. I'm not even sure we used the fire pit correctly, it was a little different than the ones I'm used to. But with some effort, we got enough heat to cook with and even to boil water for coffee in a saucepan we brought with us.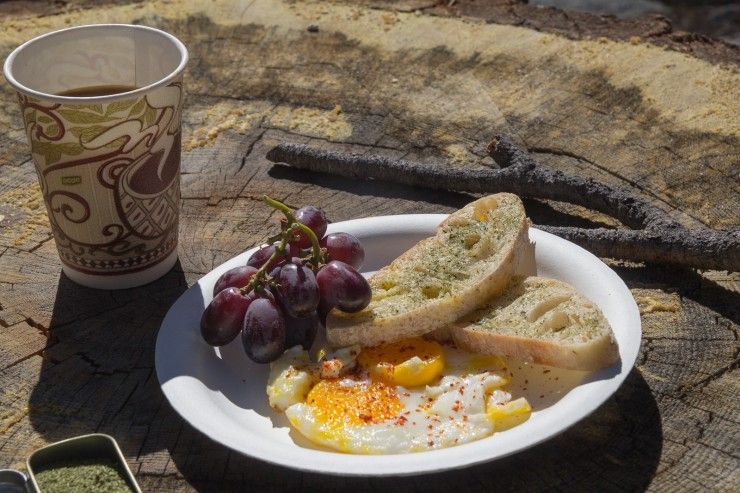 Puja decided to make a very simple breakfast, you have to go simple when you're camping. So she buttered some bread, wrapped it in foil and heated it over the campfire. The foil was to protect the bread from picking up too much of the flavor of smoke. She also cooked us some eggs.
To make it interesting, she sprinkled chili powder over the eggs and powdered fenugreek leaves over the buttered toast. Fenugreek is not the most familiar ingredient in the U.S. but it is pretty common in Indian recipes. You've probably been eating it without realizing it though, on your pancakes and waffles.
Since it is slightly bitter, it doesn't taste a whole lot like maple syrup, but fenugreek is where the flavor for your "maple flavor" table syrup comes from. This was one of the rare times that I ate fenugreek and could actually taste the similarity between fenugreek and table syrup. Adding the fenugreek worked well, it made the old, simple classics of eggs and toast new again.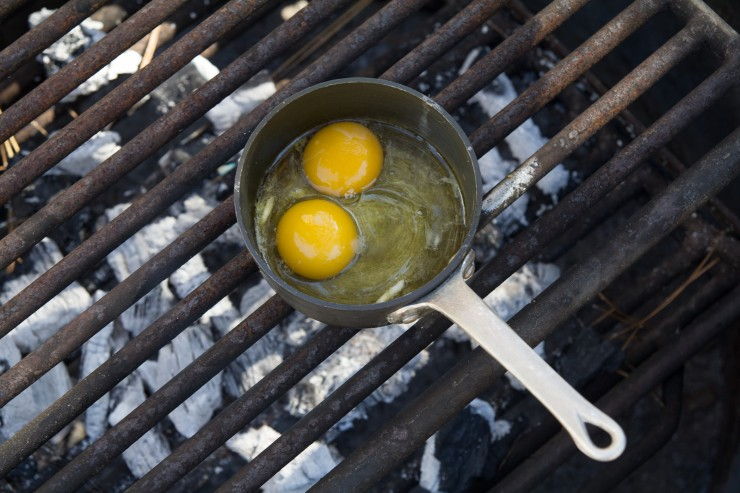 Fenugreek Toast
A simple way to elevate camp food by adding some spice
Ingredients
2

slices

of bread

ciabatta

1

tbsp

butter

1

pinch

dried fenugreek leaves

powdered
Instructions
Spread the butter on the bread

Sprinkle the fenugreek over the buttered bread.

Wrap the bread in foil.

Place on the grill for 5 to 10 minutes.
Notes
The bread gets deliciously soft in the middle and slightly crunchy on the edges.
Nutrition
Calories:
127
kcal
Carbohydrates:
13
g
Protein:
3
g
Fat:
7
g
Saturated Fat:
4
g
Polyunsaturated Fat:
1
g
Monounsaturated Fat:
2
g
Trans Fat:
0.2
g
Cholesterol:
15
mg
Sodium:
177
mg
Potassium:
41
mg
Fiber:
1
g
Sugar:
2
g
Vitamin A:
175
IU
Vitamin C:
0.1
mg
Calcium:
37
mg
Iron:
1
mg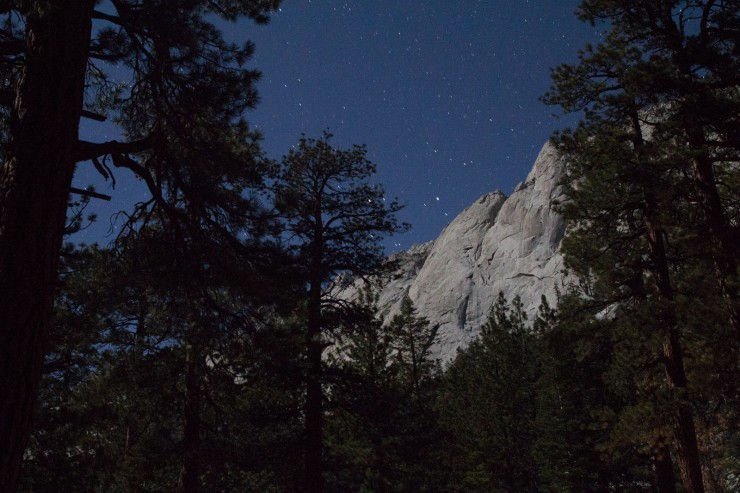 One of my most eye-opening experiences after college was driving across the country. I've always been drawn to the beauty of nature and her landscapes, but the two thousand mile drive taught me something about what this California native had once taken for granted.
It turns out, California does not have a monopoly on beauty. This became apparent within the first day. As Puja and I drove east, through the Mojave desert, across Arizona and into New Mexico where we stayed for the night.
I had been to the desert many times in my life before, but I really saw it for the first time on that drive. Even while we were still in California, I was impressed by the vast open landscapes. (So vast and open that I almost got a speeding ticket before crossing the border in Arizona, somehow escaping with just a warning!)
In time, the Joshua Tree's of the Mojave trickled out and Arizona's desert had a distinctly different feel than California's. We stopped in a couple of places to examine the countryside. There were many canyons, boulders and flowers in bloom.
We drove through the Petrified Forest and the Painted Desert. New Mexico's desert had a completely different feel too. With natural orange and red rock sculptures decorating the highway. We drove through mountains watching the temperature gauge in my car decrease and decrease to as low as 18 degrees in September.
Having said California does not have a monopoly on beauty, I would still argue she probably has the greatest number of truly beautiful and unique sites. This is due, in part, to her large length which spans multiple lines of latitude, and also to the meeting of the continental shelves which formed the Sierra Nevada mountains as well as the great Death Valley.
I first experienced the Sierra Nevada mountains when I was 11. My grandfather got married in Yosemite Valley to a woman who spent many of her childhood summers there, and returned nearly every year of her life. There is no describing the awe one experiences upon the first sight of the great granite walls of Yosemite valley, the wondrous domes and their glacier sliced brethren the half domes, and the sheer granite towers rising as high as 3,000 feet.
Yosemite must also be where I fell in love with photography. I had a cheap film point-and-shoot camera. Every click of the shutter probably cost about a quarter, whether it came out good or not. But a blind man can do well shooting in Yosemite (perhaps even better than 11 year old me). I was too in love with everything I saw, and had not learned that wonderful art of restraint.
I turned 33 last Saturday. For my birthday I wanted to satisfy a long-held craving– to see Mt. Whitney and Death Valley, the highest and lowest places in the lower 48. At first I thought we would go to Sequoia National Park, which contains Mt. Whitney, but it turns out you can't see Whitney from that side of the range.
The park is built on the west side of the Sierra Nevadas because that is where the worlds largest trees grow, the Giant Sequoias. But Whitney is situated to the east. So Puja and I camped in an area of the Inyo National Forest, at a place called "Whitney Portal."
Whitney Portal is a part of a group of campgrounds where many Mt. Whitney climbers camp out while acclimating themselves to the great elevation before beginning their ascent on foot.

It was nighttime when we finally made it up there, so we didn't get to appreciate where we were until the sun rose up in the morning. There we found ourselves in a smaller version of Yosemite Valley. We camped next to large redwood pines and a cool stream formed from the melting snow of the surrounding mountains.
Despite the 80 degree weather of the daytime, around us were mountains containing snow and ice, even small glaciers.
We were aware of the black bears in the area, and our tent was set about 20 feet from the stream. There was a nice pathway between our tent and the river that I suspected would be a nice run for the black bears to go down to go about fishing or bathing, or whatever it is they do in the water.
My suspicions were confirmed in the morning, when the camp host went from site to site asking if anyone had seen bears. "#15, just down a short ways from you, saw the little one," he told us. Too bad Puja and I had slept through whatever chance we had had to see him.
We watched the many squirrels and birds around us while having breakfast. One squirrel we saw caused us to get a small talking to by the host because we left our site a bit vulnerable to bears when we went down to take pictures.
We didn't feel we had gone so far away, but he said he had called to us and we didn't hear him. Leaving food out where the bears can get them is a serious issue because if they get used to humans they will have to be put down (the bears, that is, not the invading humans). But it was truly an embarrassing moment when we returned to the site and saw the state we had left it in, caught up in our photography.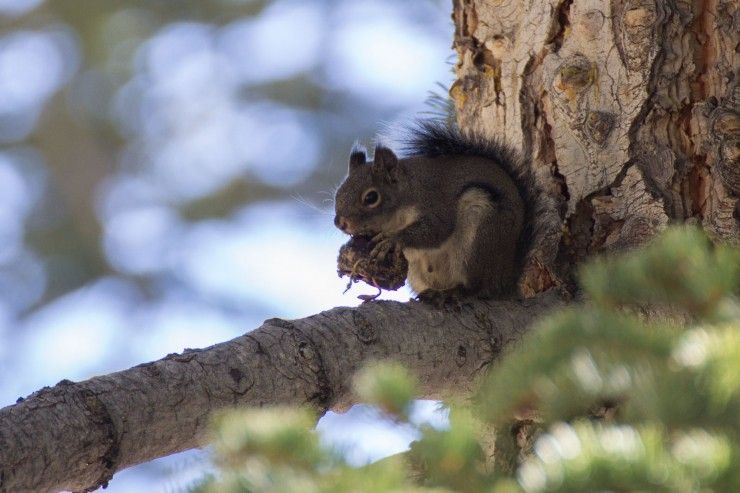 Although more prepared than on our last camping trip, Puja and I had been pretty damn cold during the night. At 3 am I woke up shivering and had to put on more layers of clothes. So we decided we were not prepared enough for the cold of these mountains after all. It must have dropped below freezing, and we decided we would camp elsewhere the next night.
So we packed up all of our stuff and headed out. We saw it was a fortuitous decision when we experienced the great driving distance into Death Valley and figured out we would not have the stomach to return in the same way we went in. Before leaving the campsite for good, we took the road up another quarter mile or so to its end, as close to Whitney as we could get.
There was a hiking trail I would have loved to have gone on, if only we had budgeted more time here. Perhaps one day in the future, or maybe I'll even climb Whitney herself. And down the mountains we went.
See more pictures from our trip on Puja's Instagram feed.