Indian Art Collection at the San Diego Museum of Art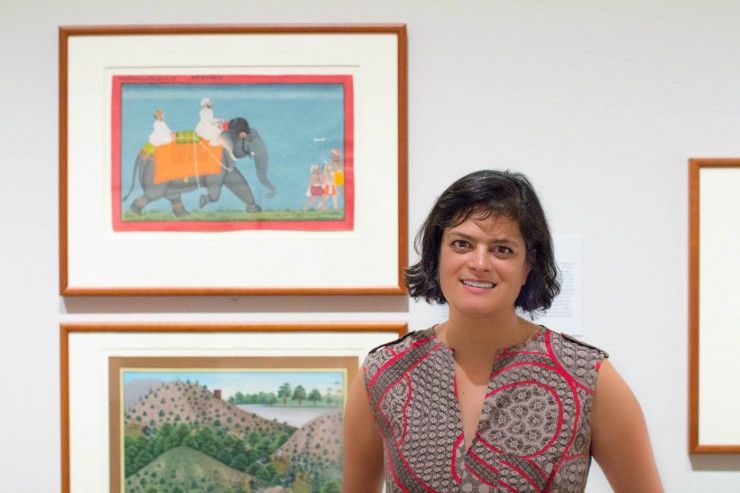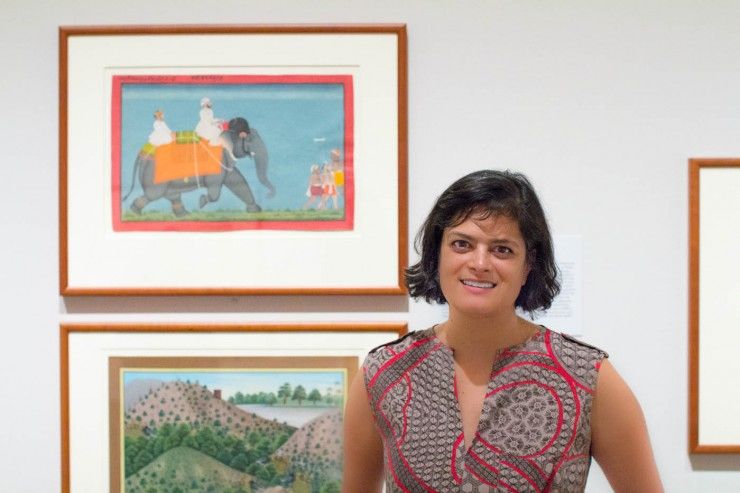 Did you know the San Diego Museum of Art has world-class collection of over 1,400 pieces of Indian Art? Steve and I met with Marika Sardar, the Associate Curator for Southern Asian and Islamic Art at the San Diego Museum of Art. Marika gave us a personal tour of the three galleries of South Asian art that she is in charge of.

Marika previously worked at the Metropolitan Museum of Art where she worked on Islamic Art. That, along with her previous studies of Deccan Art — art from the middle part of India, on the Deccan plateau, made her well suited to take charge of the Indian Art collection in San Diego.
There are many different paintings in the collection, ranging from portraits of Moghul Emporers with their elephants to depictions of scenes from the great epics (such as the Mahabaratha) to regional folk art.
While the San Diego Museum of Art's collection is not the largest collection of Indian Art in the country, what is unique about it is that it is a massive collection donated by one individual, Edwin Binney III, heir to the Crayola crayon fortune. What really makes the Binney collection special is that he did not stick to one area of Indian art but deliberately sought out pieces that would represent all of the different styles and periods of Indian art. The collection covers all of the major regions, schools and courts of painting from the 11th Century to the early 20th century. Edwin Binney began his collection with art from Iran and Turkey in 1958, but when the market for these got too hot, he became interested in Indian art which was much more affordable at the time.
Marika's approach to the San Diego collection is to arrange it chronologically, whereas it was arranged thematically before. The previously red walls of the Indian Art galleries are now a neutral beige and no longer a distraction from the art. Steve and I had not been to the museum in over an year but we both immediately noticed a change in mood as we entered the newly renovated space.
The first gallery we walked through is exclusively sculptures from the 2nd to the 16th centuries. These are organized by the religions that were prevalent in India: Hinduism, Buddhism, Jainism, there are also Buddhist sculptures from Thailand. It was really interesting to see the different interpretations of the same subject by the two cultures. The Thai Buddha sculptures had the signature Thai crown, while the Indian Buddha sculptures were less adorned.
Next we moved on to the Indian painting gallery. The paintings here are from the 13th to the 19th century. It is here that we learned how to look at Indian paintings. I have been looking at Indian paintings all my life but this one conversation with Marika was enlightening.
She showed us a very old painting and explained that it had once been part of a large manuscript. Here they are seen as single paintings, but they were originally part of a series that told a story. Many would have told stories from the great epics. The manuscripts were deconstructed and sold, the many pages of text were likely discarded, while the illustrations were put on the market.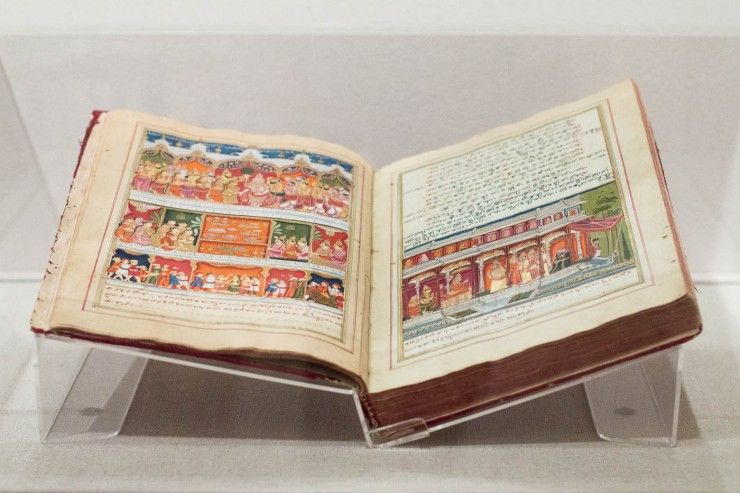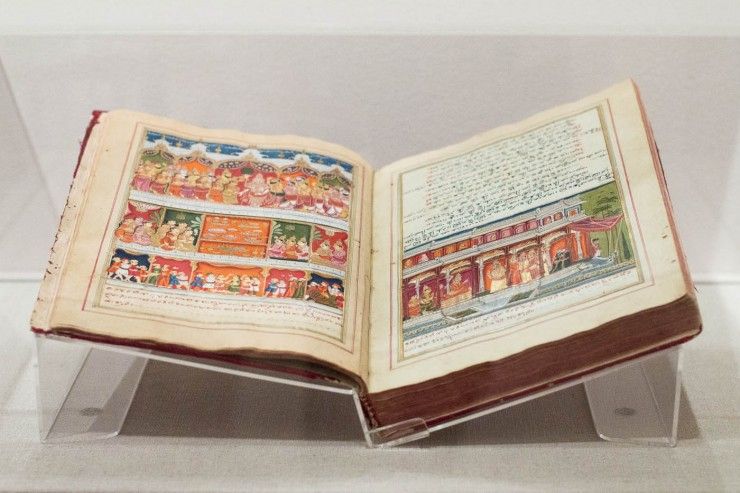 Today, much care goes into the preservation of this artwork. Marika described how this old green paint, usually being copper based, actually eats into the paper. The museum works very closely with conservators who arrest the process– they do not try to restore the paintings back to their original condition, but, for example, when the paint is flaking off they inject a glue underneath to keep it in place.
These classic paintings used a different approach to space and volume than Western art. Their convention for how space recedes are different. They use multiple vanishing points and use combinations of perspective. Elements are stacked on top of each other so that whole backgrounds can be seen. In many painting, all of the people are in strict profile which was considered more flattering.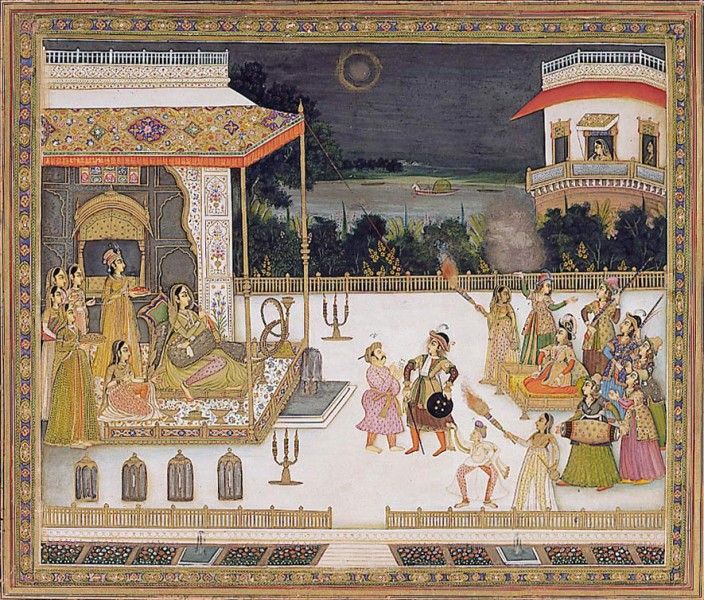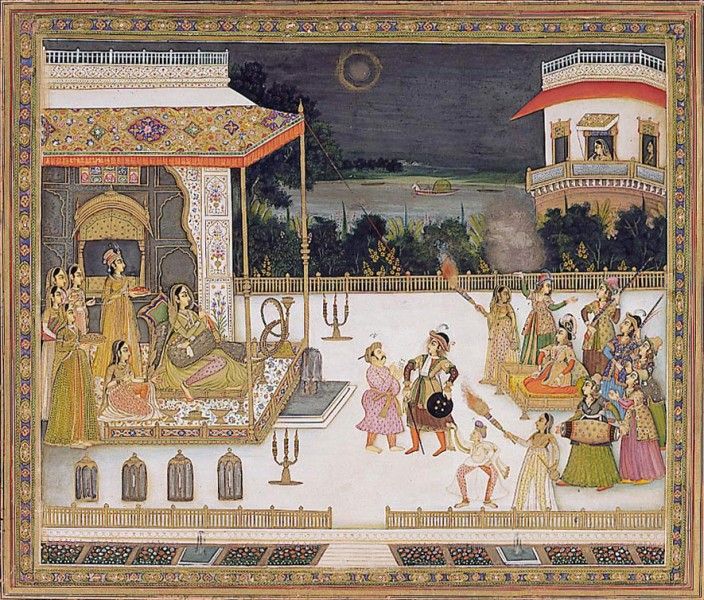 I asked Marika if she had a favorite painting from the ones on display. She pointed to "Sangram Singh II's elephant Madan Murat". This elephant had already caught my eye a number of times as we browsed the exhibit. It dates back to 1725 and is a striking painting with a beautiful, almost translucent blue grey background. I can almost imagine the elephant walking right off the painting.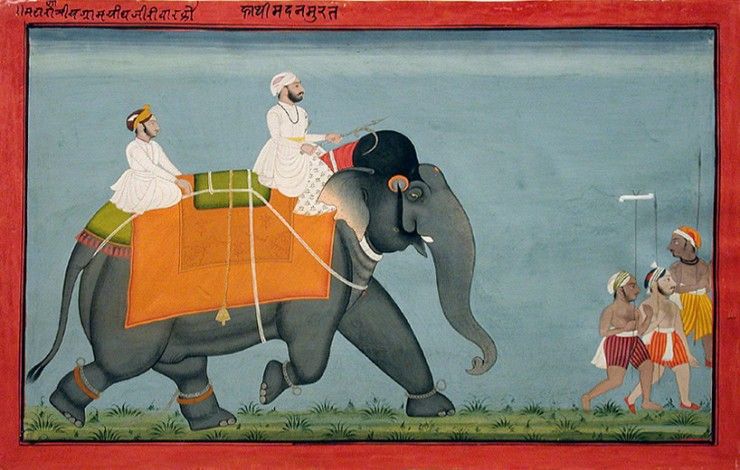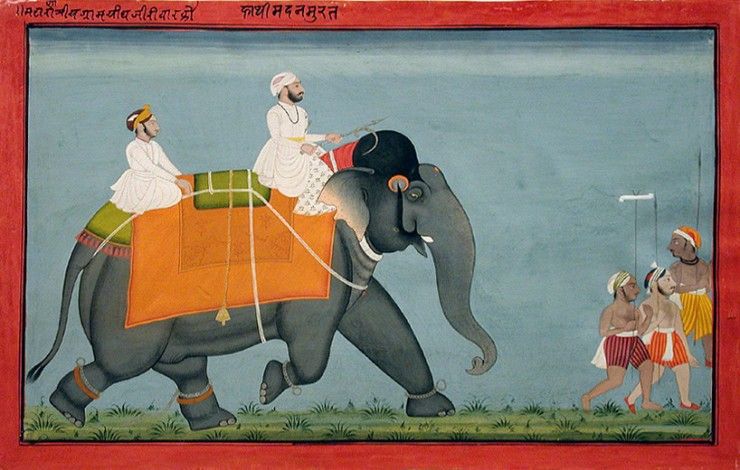 The third gallery is the Persian Art section. Since the museum has relatively few Persian pieces, it is supplemented with pieces from a private collection in La Jolla. They had jewelry boxes made of varnished paper mache with intricate floral patterns. There was also a large tile piece on the wall. This piece was created in the 1920's, but Marika explained that it was in a more ancient style. The 1920's were a time of great interest in Iranian art because the country had just opened up to British and American oil exploration. Everyone was very excited about Iran at the time, Marika explained.
Although I had visited the collection at the San Diego Museum of Art before, I hadn't realized how vast and significant the collection really is. If you find yourself in San Diego, make sure to check out the San Diego Museum of Modern Art and their collection of Indian and South Asian art!
Get Free Tickets to San Diego Museum of Art
After we wrote this post, the San Diego Museum of Art offered us free tickets to giveaway on our blog. We're giving away 3 pairs of tickets! We will contact the winner on Friday, August 22, 2014 and mail them to the winner as quickly as possible since they expire September 9, 2014. With these tickets you can see the whole museum– check out the Indian Art exhibit as well as the current exhibits, "Sorrola and America" and "Robert Henri."
To enter, you can find @indiaphileblog on twitter and retweet our tweet on this giveaway. Or you can share this post on Facebook and leave a comment here to let us know that you did.
Good luck!