Reshmi means silky and is the perfect description for the texture of this delicious kabab. Reshmi kabab has a creaminess and suppleness that it gets not only from the bits of cheese mixed in with the ground meat but also from the onion and ginger that tenderize it.
About this Recipe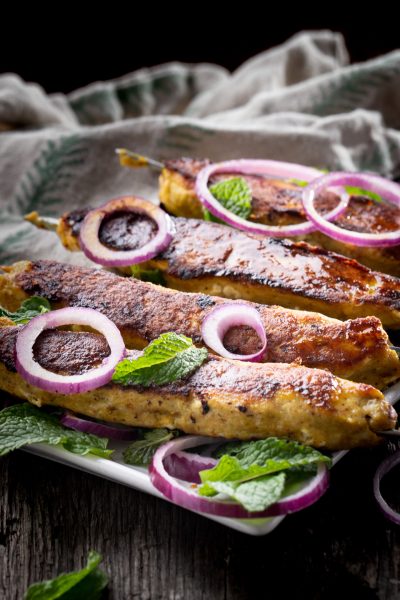 Reshmi kebabs are a popular North Indian dish descended from the version of kabab introduced to India by the Moghuls. These kebabs are one of my favorite foods to serve at a barbeque. The lovely, silky interior contrasted with the soft, silky interior, and of course, the Indian spices, all make for a smash hit whenever I have served them.
I've made this with many kinds of cheese, from mozzarella to Monterrey Jack and Edam (sold as "Baby Bel" in the US). They all work very well, but none, as well as cream cheese. The idea of adding cheese this that the cheese melts into the meat as it cooks, forming a creamy texture. Cream cheese is so silky-soft it is a natural fit, and it gives it just a little bit of tang.
Ingredients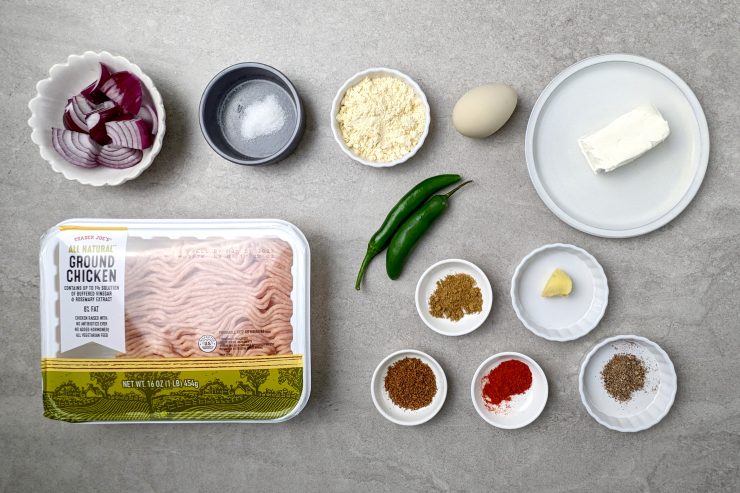 Chicken – use ground chicken to get that silky texture; this makes it a "seekh" kabab instead of a boti kabab.
Cream cheese – you can use any soft, mild cheese. Cream cheese is especially good for this because it gives it that exceptional creamy, silky texture.
Onion – onions are an essential ingredient in seekh kebab because it helps keep it from drying out. It also acts as a tenderizer when mixed inside the meat.
Green chili
Ginger – also acts as a tenderizer on the meat
Chili
Garam masala
Cumin
Turmeric
Black Pepper
Cooking Tips
Freezing
I started making this with other cheeses, but when I first tried it with cream cheese, I had a new problem. The meat became too soft and was difficult to shape on the skewers. You could fix this by adding breadcrumbs which would soak up some moisture and help with the binding, but I didn't want to introduce gluten where it wasn't necessary.
Instead, I chill the meat mixture in the freezer for 15 minutes. This helps it solidify enough to shape onto the kebabs. Once the meat is on the kabab, I chill it again for 15 minutes. This second freezing, I have always found necessary, even with firmer cheeses. It helps to get an excellent shape and good browning on the kebabs before the meat becomes overcooked.
Other Tips:
If using wooden skewers, soak them in water for 30 minutes to prevent burning.
Make sure the cream cheese is fully integrated in the chicken, you don't want large clumps of cream cheese.
Serving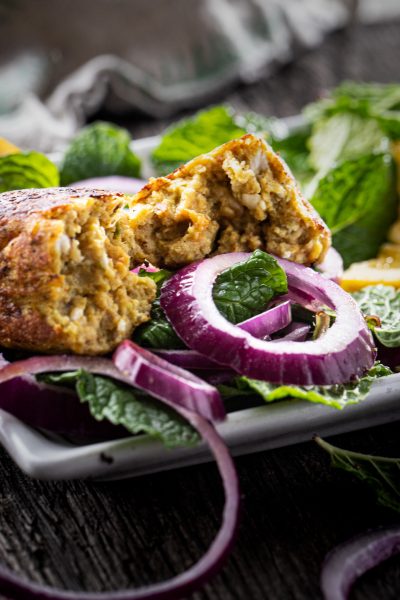 Reshmi kebabs go well with rice and a thick flatbread like naan or kulcha. Serve them with sliced onions, mint chutney, and raita.
Variations
Type of cheese. Any soft, white cheese will work well.
To make it dairy-free, use vegan cheese or soaked and ground cashews
Add garlic
Add 1/4 cup of breadcrumbs to help it hold together better. Breadcrumbs are not traditional but are an alternative way of handling the moisture issue that I use the freezer for.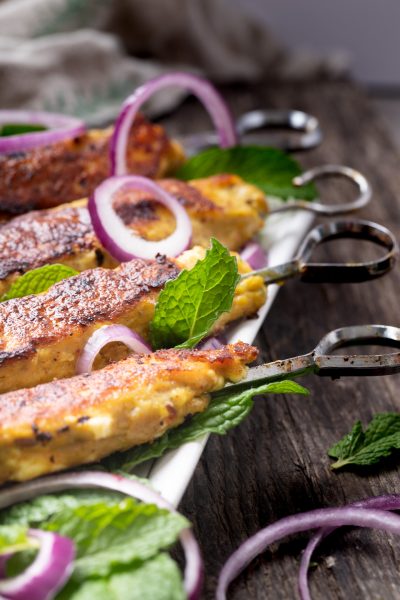 Refrigerating
Reshmi kebabs will keep in the refrigerator for up to 3 days, or you can freeze them for up to 3 months. Reheat in the microwave, or defrost them overnight in the refrigerator and reheat on a grill. Do not refreeze after thawing.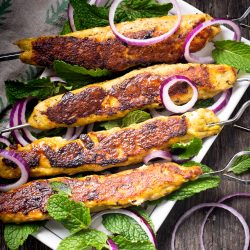 Chicken Reshmi Kebab
Reshmi chicken kabab has a creaminess and suppleness that it gets not only from the bits of cheese mixed in with the ground meat but also from the onion and ginger that tenderize it
Ingredients
1

pound

ground chicken

1

egg

1

tsp

ground cumin

better if you toast whole seeds

½

tsp

black pepper

½

tsp

turmeric powder

½

tsp

Kashmiri chili powder or paprika

½

tsp

garam masala

1

inch

ginger

½

cup

shallot or onion

2

green chilies

less for lower spice

¼

cup

cream cheese ¼ cup mild white cheese like white cheddar or edam

3

tbsp

besan

chickpea flour

salt

to taste
Instructions
Create a paste from ginger, shallot and chilies by blending in a small blender or chopping them finely.

In a bowl, mix the ground meat, cumin, pepper, turmeric, chili powder, garam masala, cream cheese, besan, egg, and the ginger-onion-chili paste. Make sure the ingredients are well combined, and there are no large chunks of cream cheese. Chill the mixture in the freezer for about 15 minutes.

Coat a plate and your hands with oil. Form kebabs with about 3 tablespoons of the meat mixture. Optionally, place on skewers. Put the skewers in the freezer for up to 15 minutes.

Heat a grilling surface. A barbeque or a cast iron grill will work. Make sure your surface is coated in oil. Add the kebabs, and cook to brown on each side, about 3-5 minutes on the first side and 2-3 minutes after flipping. They should reach an internal temperature of 165°F.
Nutrition
Calories:
136
kcal
Carbohydrates:
4
g
Protein:
13
g
Fat:
7
g
Saturated Fat:
3
g
Polyunsaturated Fat:
1
g
Monounsaturated Fat:
3
g
Trans Fat:
1
g
Cholesterol:
76
mg
Sodium:
153
mg
Potassium:
368
mg
Fiber:
1
g
Sugar:
1
g
Vitamin A:
157
IU
Vitamin C:
2
mg
Calcium:
67
mg
Iron:
1
mg
(Originally published May 5, 2022. Major updates March 15, 2023)