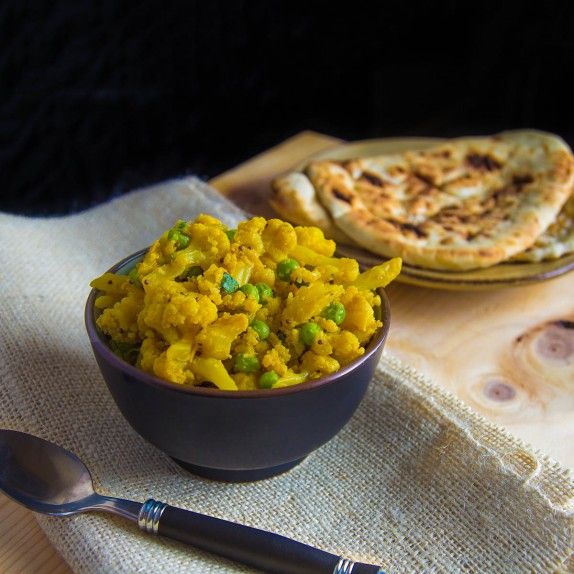 I love easy it is to cook this simple cauliflower curry. It is super healthy and it takes just a few minutes of prep and less than 20 minutes to cook from start to finish. It is a weeknight staple in our house.

Cauliflower and Pea Curry
Ingredients
1 head cauliflower, cut into 1/2 inch wide florets
3/4 cup green peas (I usually use frozen)
1/2 green chili, chopped (or more if you like it spicy)
1 tsp mustard seeds
1 tsp turmeric
1/2 tsp red chili powder
1 tsp oil
1/2 cup water
1/2 tsp salt
cilantro, for garnish
Instructions
In a large skillet, heat oil until it shimmers. Test the oil with a couple of mustard seeds. It's hot enough when the seeds sizzle and splatter.
Toss in all the mustard seeds and green chili. Let cook for about 30 seconds.
Add in the cauliflower, turmeric, salt and chili powder. Stir. Cook for about 1 minute.
Add the water and stir. Cover and cook for about 10 to 15 minutes until the cauliflower has softened. Stir every 3 to 4 minutes.
Add the peas. Cook uncovered for 3 to 4 minutes.
Garnish with cilantro.
Serve with flat bread.
Prep Time:
5 minutes

Cook Time:
20 minutes

Total Time:
25 minutes