Asafoetida is a dried latex powder that comes from the root of an herb plant called ferula. In Ayurvedic medicine, it is considered to be really good for digestion and overall health, often added to beans and lentil dishes to prevent indigestion.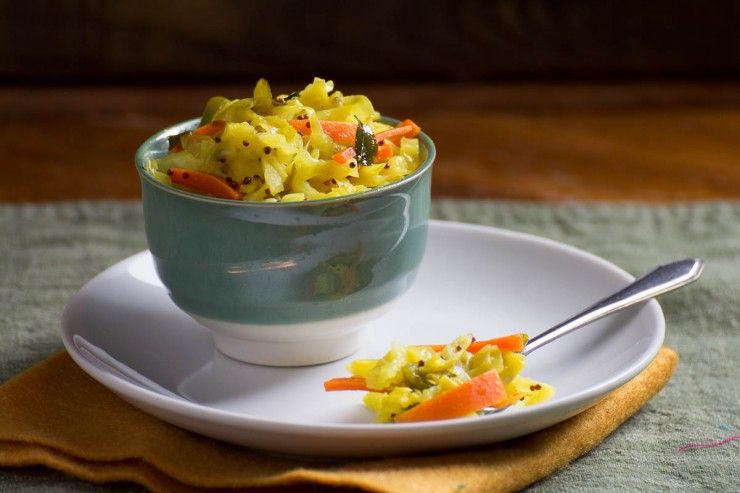 I've always had an uneasy relationship with asafoetida, or hing as we call it in Gujarati. Even though it is traditionally an extremely common ingredient in Indian cooking, I don't often cook with it and when I do, I always use it in extremely tiny quantities (no more than a tiny pinch).
I am not sure whether it's the unpleasant odor that keeps me away or just laziness (avoiding opening yet another container of spices). But few days ago I was flipping through Cooking with My Indian Mother-in-Law
(by Simon Daley and Roshan Hirani), a wonderful cookbook about Gujarati Muslim home cooking, and came across a recipe for cabbage that called for a full half teaspoon of asafoetida.
I wouldn't normally use that much asafoetida in a whole month's worth of cooking! It seemed very unusual to me but I was intrigued. Would the flavor be overpowering? Would the cabbage smell funky?
I decided to be brave and try it.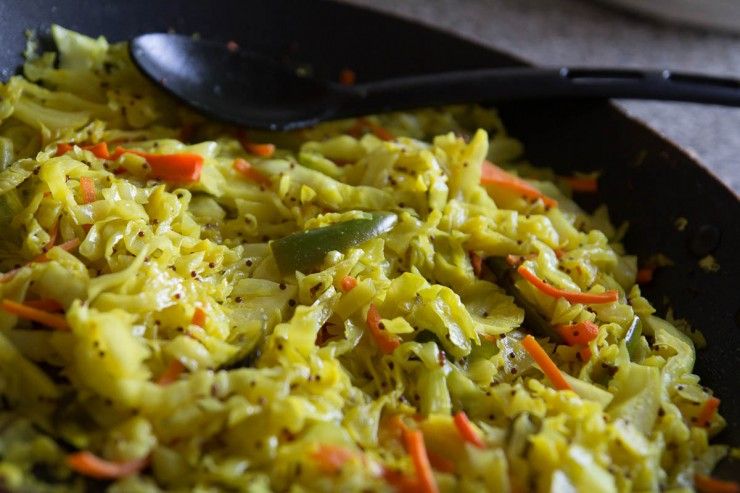 I really liked it. The asafoetida imparts a smooth onion-y flavor that is delicious with the cabbage. Now I feel like I've been missing out on a really interesting ingredient in my spice cabinet.
I'll definitely be experimenting with asafoetida a lot more from now on!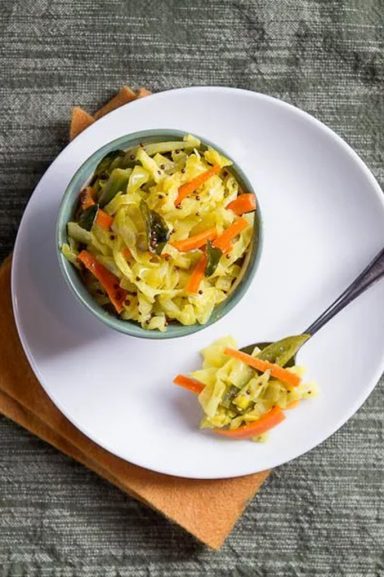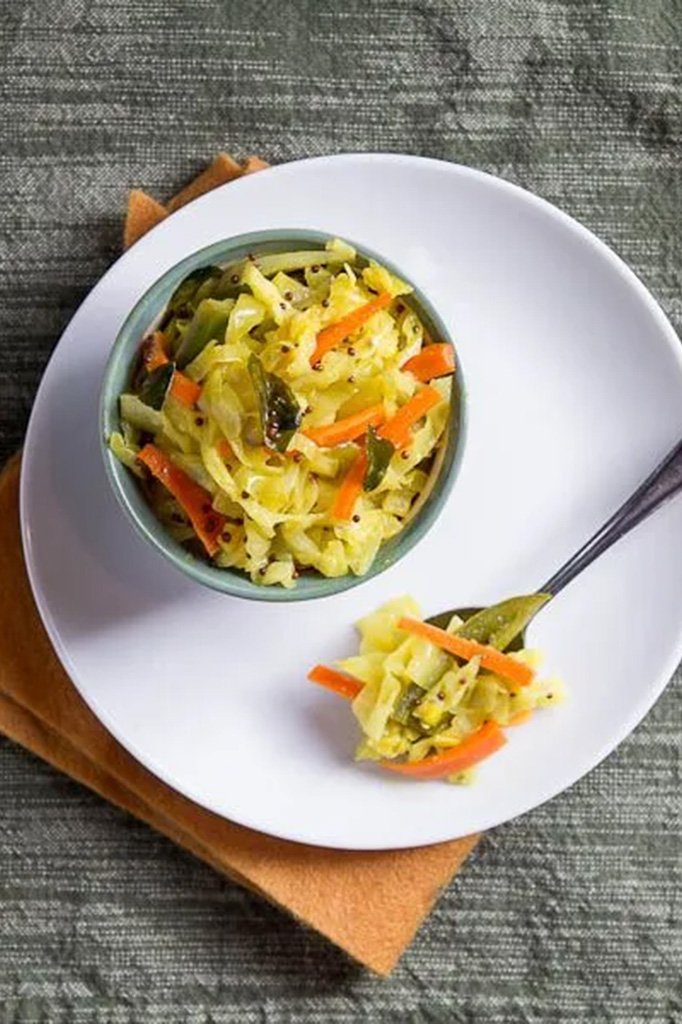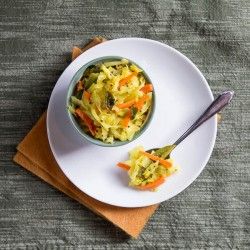 Cabbage Saute with Mustard and Asafoetida (Sambharo)
A cabbage saute that features the unusual flavor of asafoetida
Ingredients
½

cabbage

cut into 1/4 inch slices

1

carrot

cut into thin sticks

1

serrano or jalapeno chili

seeds and veins removed if you don't like it spicy

1

tbsp

oil

½

tsp

mustard seeds

½

tsp

asafoetida

15 to 20

curry leaves

optional, substitute for cilantro if you can't find curry leaves

¼

tsp

turmeric

2

tsp

salt

2

tbsp

lemon juice

freshly squeezed
Instructions
Heat oil in a wide saute pan.

When the oil begins to shimmer, add mustard seeds, asafoetida, green chili, and curry leaves (don't add now if using cilantro, add at the end).

Toss in the cabbage, carrot, turmeric, and salt. Mix well.

Cover and cook for 8 to 10 minutes until the cabbage has softened but still has a crunch.

Cook uncovered until the liquid cooks out.

Turn off heat and add in the lemon juice (and cilantro). Mix well.

Serve hot or cold.
Notes
This recipe is adapted from Cooking with My Indian Mother-in-Law: Mastering the Art of Authentic Home Cooking
Nutrition
Calories:
73
kcal
Carbohydrates:
9
g
Protein:
2
g
Fat:
4
g
Saturated Fat:
1
g
Polyunsaturated Fat:
1
g
Monounsaturated Fat:
2
g
Trans Fat:
1
g
Sodium:
1194
mg
Potassium:
266
mg
Fiber:
4
g
Sugar:
5
g
Vitamin A:
2840
IU
Vitamin C:
125
mg
Calcium:
71
mg
Iron:
1
mg