Eating healthy lunches just got a lot easier for me. Lunch is always such an issue. Over time Steve and I somehow accidentally divided up breakfast and dinner duties. But lunch isn't so simple.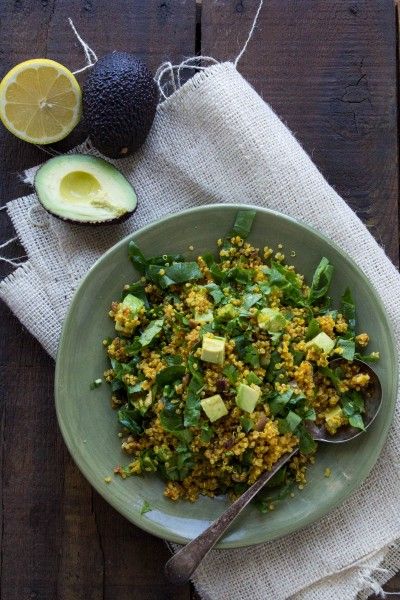 Neither of us has claimed "lunch duty," so it tends to get ignored until the second that I'm hungry. I am always trying to eat healthy but forget to plan ahead and end up eating crap all too often.
In an effort to plan my lunches better I made this quinoa dish. The great thing about it is that you can make the quinoa in a large batch ahead of time and keep it in the fridge. And it was so easy to make. I didn't really think about it too much as I made it.
I started off by just making the quinoa the same way I make this Cauliflower Curry. It tasted pretty good as it is but I found myself chopping up some baby spinach and avocado to add to my bowl.
The flavor of the tomato and cumin in the quinoa goes really well with the fresh spinach and creamy avocado. It is a lovely dish! But my favorite part about it is the concept of mixing in fresh veggies to a precooked batch of grains or seeds.
The simple addition instantly freshens up the dish. I'm sure it's not a new concept and that most of you have already figured it out, but for me, this is new and super exciting!
It means that now I can make a batch of quinoa or any whole grain at the beginning of the week and add in fresh veggies to it when I'm ready to eat. I will be eating a lot better!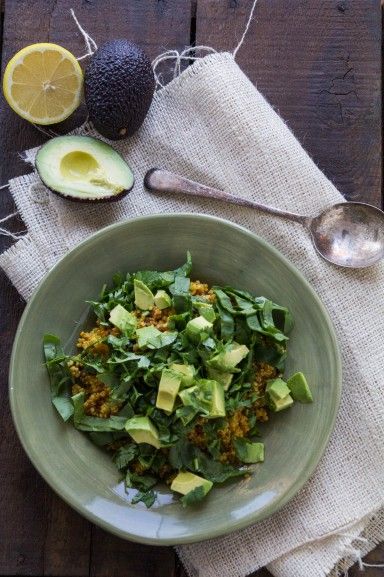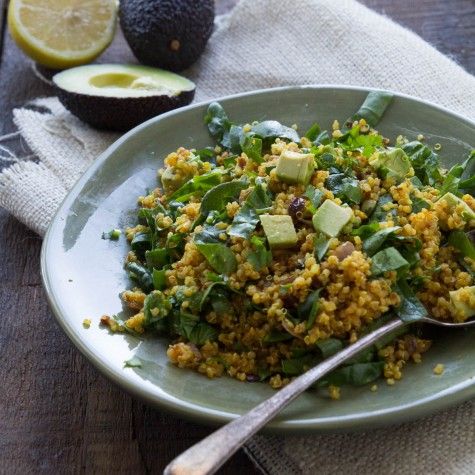 Ingredients
2

cups

cooked quinoa

1

tbsp

oil

1

small onion

finely chopped

2

tomatoes

1

green chili

2

tsp

cumin seeds

¼

tsp

turmeric

½

tsp

salt

or to taste

1 to 2

cups

chopped baby spinach

I like a lot of spinach!

½

cup

chopped cilantro leaves

1 to 2

avocados

chopped and liberally sprinkled with lemon juice

lemon
Instructions
Heat oil in a 12? skillet. Add onions and saute until soft and translucent.

While the onions cook, toss the cumin seeds onto a cast iron pan (or any other kind of pan that is not non-stick will work) and heat over medium high heat until you can smell the fragrance of the seeds. Keep a eye on it and stir often so that the seeds don't burn. **Don't add oil. The point is to dry roast the cumin.

Toss the dry roasted cumin seeds into a blender with the tomatoes and the green chili. Puree and set aside.

When the onions are soft and translucent, add in the tomato puree. Stir and cook until the puree begins to look more like a paste. About 5 minutes.

Add in the turmeric and salt. Stir.

Add in the cooked quinoa. Stir until the quinoa is evenly coated in the spicy tomato mixture and and cook for about 2 minutes.

At this point, you can let the quinoa cool and refrigerate until you're ready to eat.

Add in the chopped spinach, cilantro and avocado when ready to serve.
Notes
If you're like me and want to eat this for lunch in small portions, this is what I do:
I portion out 1/2 cup of quinoa. Toss a big handful of chopped baby spinach leaves (you don't really have to chop them, I like to because I prefer to eat quinoa with a spoon and not a fork).
Liberally sprinkle lemon juice over half a small avocado (I also add salt) and toss into the salad.
Top with cilantro leaves.
Nutrition
Calories:
254
kcal
|
Carbohydrates:
31
g
|
Protein:
6
g
|
Fat:
13
g
|
Saturated Fat:
2
g
|
Polyunsaturated Fat:
3
g
|
Monounsaturated Fat:
8
g
|
Trans Fat:
0.01
g
|
Sodium:
351
mg
|
Potassium:
662
mg
|
Fiber:
8
g
|
Sugar:
4
g
|
Vitamin A:
1442
IU
|
Vitamin C:
20
mg
|
Calcium:
53
mg
|
Iron:
3
mg