Fresno Farm Tour and Recipe for Red Chili Pickle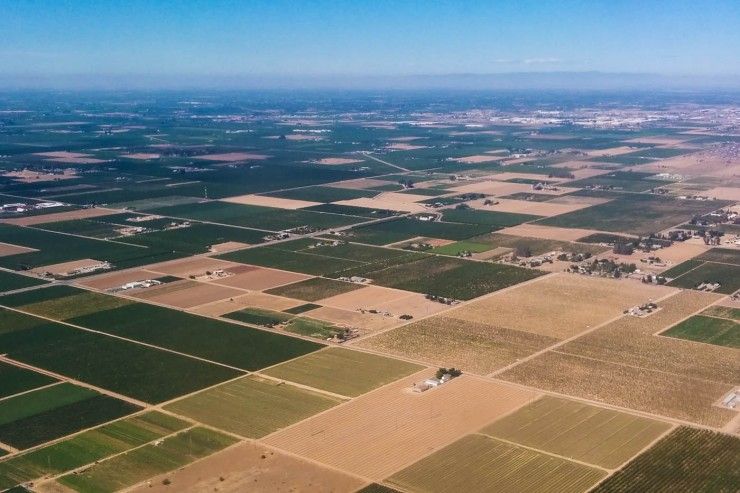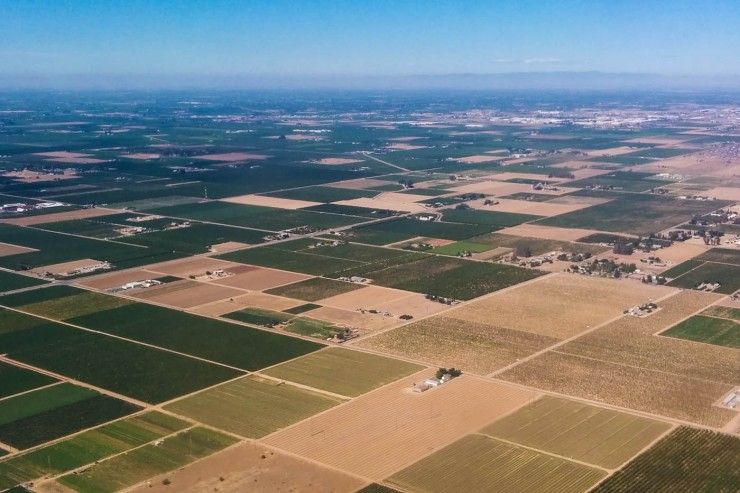 I have a special place in my heart for farms. I spent many of my childhood summers surrounded by mango orchards and farm land. My brother and I would wander through the farm for hours with our dog, Shimbo. We spent hours inventing games, naming trees and including our favorite trees in our games.

So when Farm Water invited me to go on a tour of the farmland in central California, I jumped at the chance. California's San Joaquin Valley produces an amazing 40% of America's fruits and vegetables. I was so excited to see peaches and almonds and melons as they grew.
The Peach Factory
On the first day, we visited a peach freezing and packaging plant. I was amazed at the equipment that goes into these operations. Somehow, I had imagined a simple operation. The reality was anything but. Peaches are meticulously cut, peeled, pitted, chopped and frozen.
This is mostly done by machine, but there are people involved in almost every step. I am amazed at the amount of machinery, labor and effort that goes into every single bag of peaches that can be bought so easily and conveniently from the frozen section of the grocery store.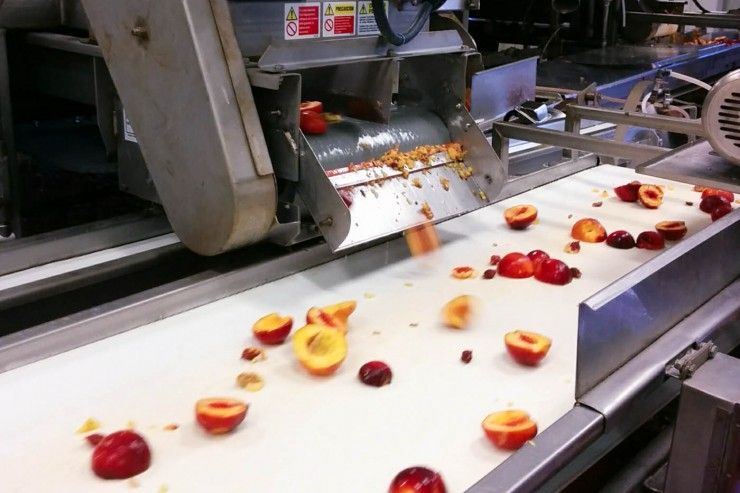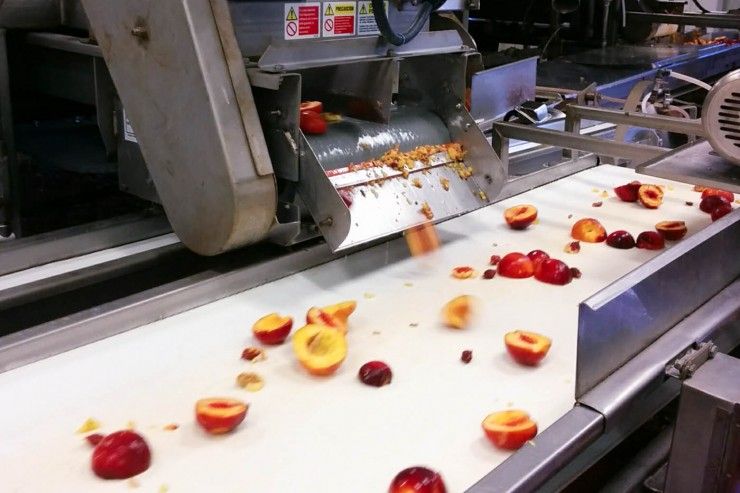 Next we headed over to a little peach stand run by Linda Smittcamp, who owns the Wawona peach factory along with her husband. She sells fresh peaches and all sorts of products made from peaches at her little farm stand. I had some frozen peach pops that were amazing and these little peach pies that I loved so much, I had to fly them back home with me.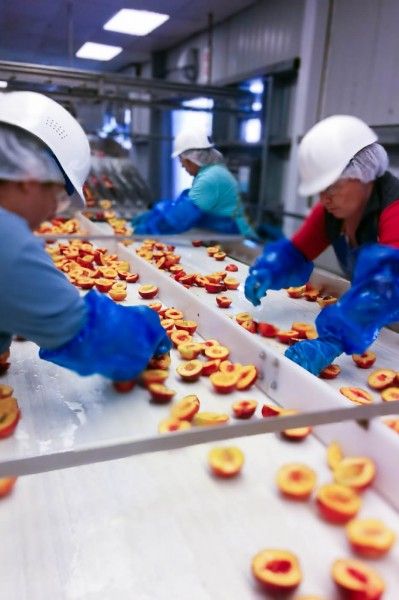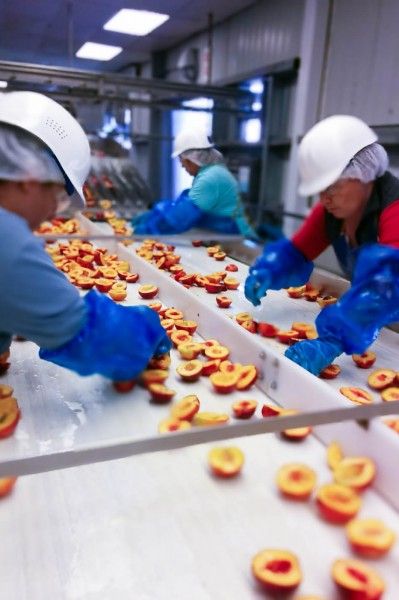 We visited Hudson Farm Store next. Hudson Farms grows many of the peaches that the Wawano peach factory processes. Liz Hudson made us her famous peach cobbler. It was delicious. There I picked up a bunch of chiles to bring home and tasted some Armenian cucumbers and carrots freshly dug from the soil. Amazing!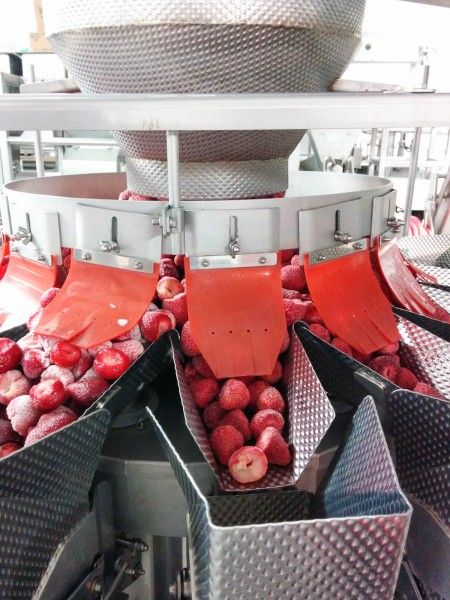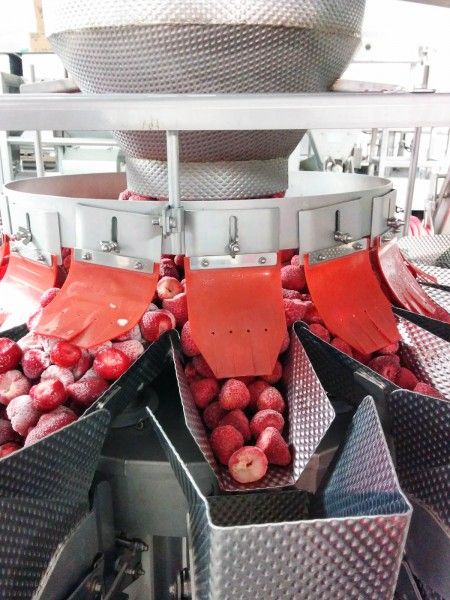 Neem – A Natural Pesticide
On the next day we visited with Joe Del Bosque of Del Bosque Farms. He grows organic melons and his farm was truly inspiring. He mentioned that he uses neem oil, a natural pesticide, to keep bugs away from his melons.
I told him that neem is an Indian plant that I grew up with. He didn't know it was from India and he seemed really interested, so I told him about how we used neem as an antiseptic as well as insecticide. Chewing on neem branches was how Indians brushed their teeth before toothbrushes came along. The antiseptic properties of the neem juice kept decay away. When I was younger I even used a paste made from neem powder as an acne mask.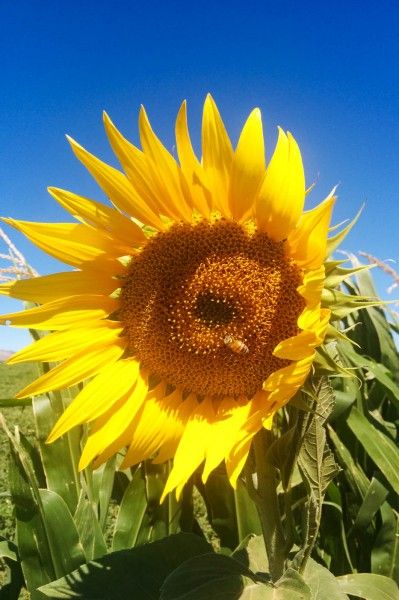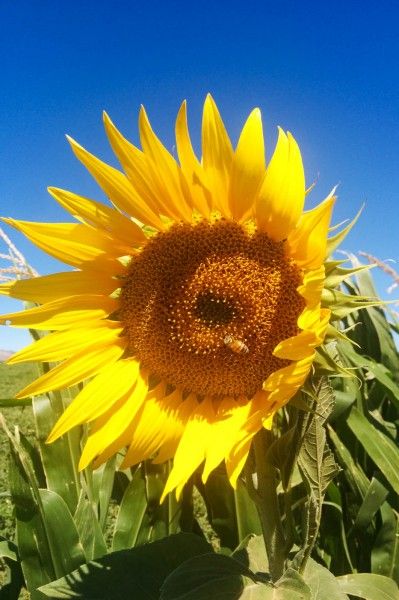 Joe picked a melon from the patch and cut it open for us to taste. It was amazing! He explained how to tell when a cantaloupe is ripe. He told us to make sure the stem came off cleanly, there should be no little bits of stem left in the hole at the bottom of the cantaloupe. And to look for some yellow on the skin. Fuzz is good, as is nice netting. The netting should not be too flat or too open. If the netting is open, the cantaloupe is not sweet. He was also nice enough to give us some delicious cantaloupes to bring home with us. They were so sweet.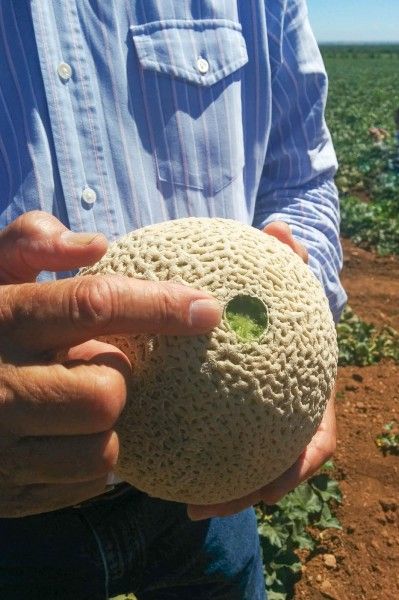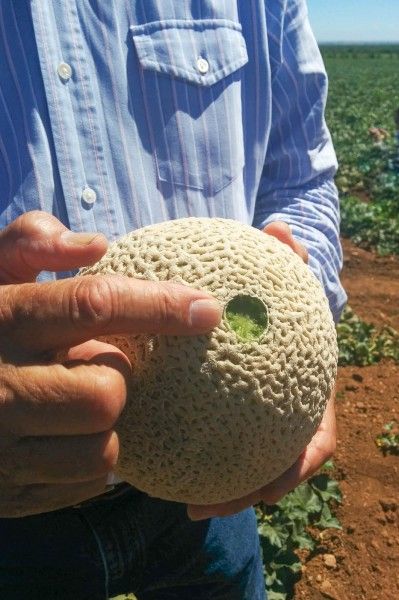 Our last two stops were a tomato farm and an almond orchard. At the tomato farm, they grow tomatoes for canning. I was surprised to learn that these tomatoes are picked by a monster of a machine that picks up the whole plant, root and all and just shakes the tomatoes off their vines. The same machine hauls them away, leaving the stems and leaves behind.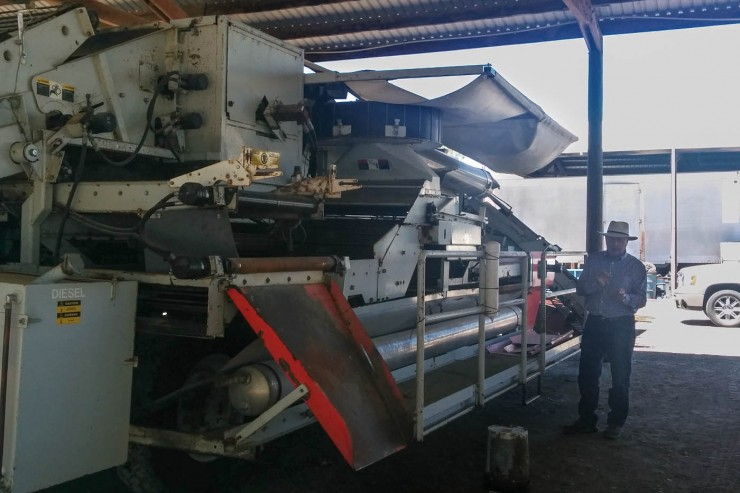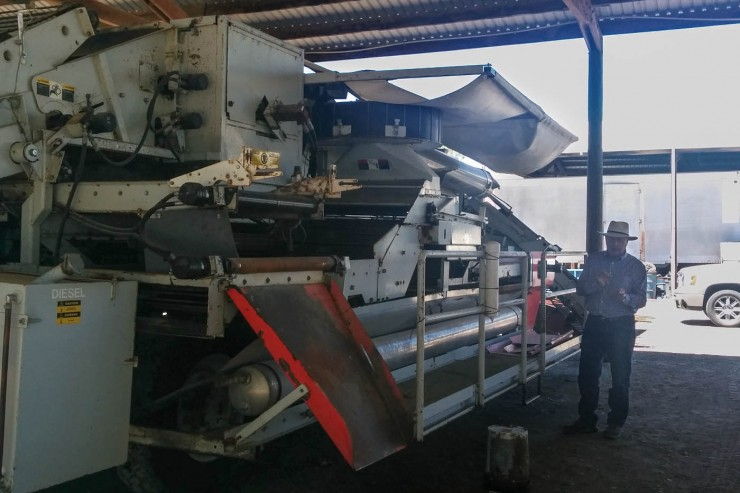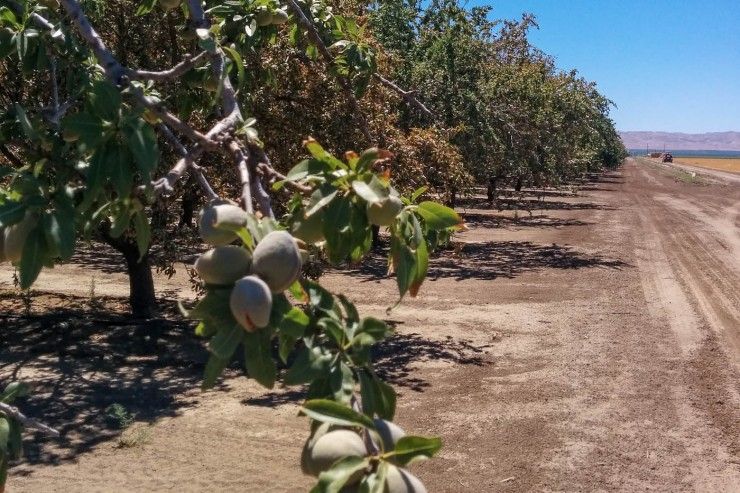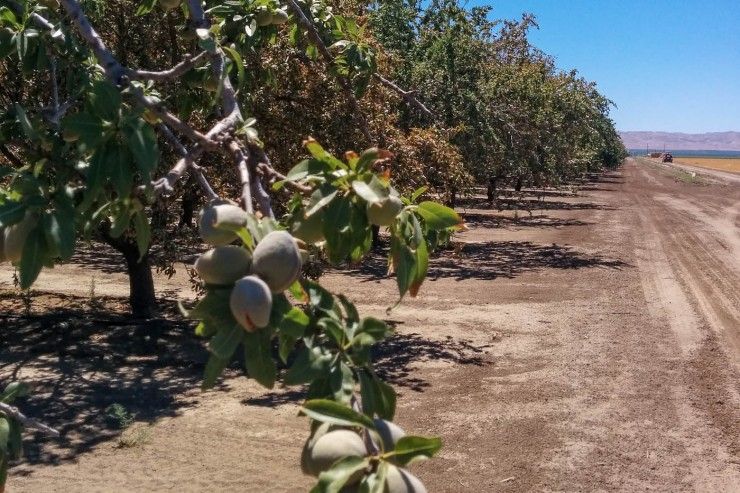 California's Water Shortage
The water shortage was most evident in the almond trees. Many of the trees show great signs of stress with their yellowed leaves.
The farmers have been adapting to the water shortage over the years. On our tour, we were shown many examples of how water efficient these farms are. A number of examples of drip and fallow irrigation were shown to us. Drip irrigation uses tubes, like very long hose with little holes in it that drip water directly over the roots of the plants so the plants absorb the water before it can evaporate. For fallow irrigation, long rows are dug out and flooded with water in a channel. Any water that is not absorbed by the trees ends up in the water table so it is not wasted either.
Many of the farmers are upset because of the protection of the fish, the Delta Smelt, that has led to pumping restrictions on the water out of the Sacramento–San Joaquin River Delta.
The Delta Smelt is what's known as an indicator species. When there are problems with the water, Delta Smelt tend to die off pretty quickly. In the last twenty years, the population of Delta Smelt has dropped significantly. Until the 1980s they were considered relatively abundant in the delta, but by the mid-90's it's numbers were drastically reduced. It was listed as an endangered species by California in 2010. Today they are at risk of extinction because of human activity from urbanization, contamination and water diversion.
Losing the Delta Smelt is not just bad for the Delta Smelt. If the water cannot support this fish, other fish have and will continue to die off as well. This also means the death of many bird species and entire ecosystems. This is the same water that provides two-thirds of California's drinking water. If it is killing the fish, what is it doing to us?
Although the farmers describe the Delta Smelt as responsible for the shortage of water, the impact of the fish is being drastically overstated. The Endangered Species Act does not control pumping operations in the delta. The lack of rain, low storage in reservoirs and low river flows are the main reason water allocations have had to be cut back for the farmers.
Farming is an important activity. But while agriculture has made modern society possible by making food so plentiful, environmental protection is equally important. You only need to look at the conditions of India's rivers and bodies of water to see what happens when industry is allowed to run unchecked without governmental regulation.
The river Yamuna is one of the holiest rivers in India. As the river is closely connected to Lord Krishna. For this reason, Indians have great respect for the river, millions of people pilgrimage to the river every year. But this still isn't enough to protect the river from the poorly regulated environmental damage it incurs from sewage runoff, factory and agricultural runoff, people bathing, washing dishes and laundry along the banks, and from littering and other activities. When I think of the rivers of India, I appreciate the protections we have here. Even though there are many costs involved, we have to always be thinking about the broader effects our activities have on the water and our environment.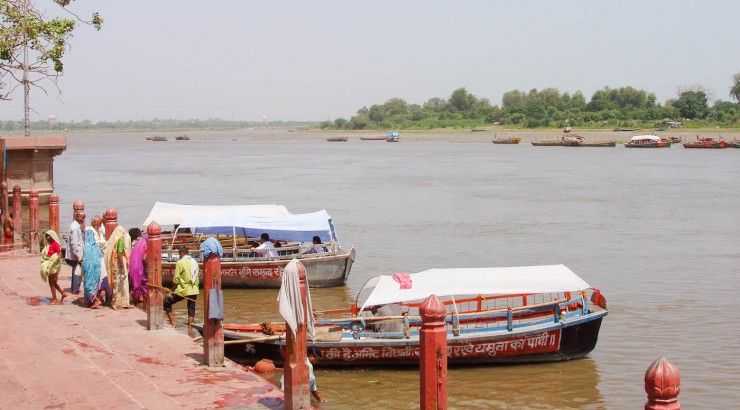 I am so glad to have gone on this tour. I saw firsthand how difficult it is for the farmers in this drought year. It was so eye-opening to talk to individual farmers and see the hard work that goes into growing of our food supply and the pressures and challenges they face as they go about their work. We rely so much on modern agriculture, but at times it seems so very far removed from modern life.
Red Chili Pickle ((Lal Marcha nu Athanu)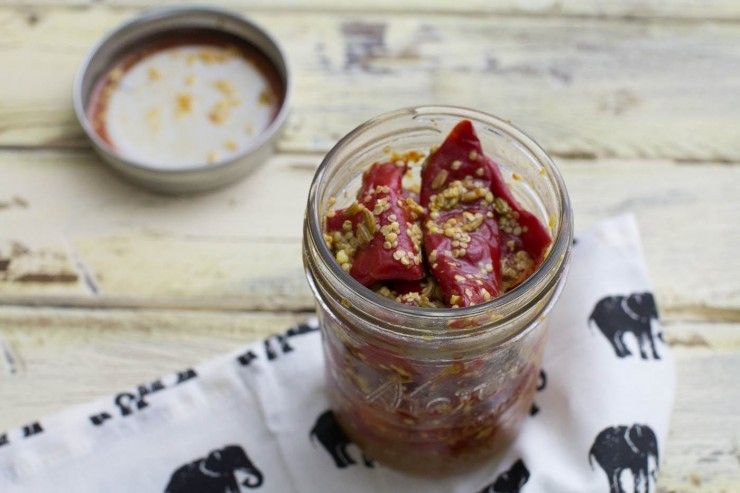 I picked up these wonderful Italian red peppers from Fresno State's Farm Store. I thought they were really cool looking. I decided to make a pickle out of them.
My family pickles chilies all the time. There are many different ways to pickle chilies, and you can do this with any kind of red chili you have on hand. I grew up with pickled chilies as part of pretty much every meal. You can eat them with just about anything, or simply eat them with some plain rotli or paratha.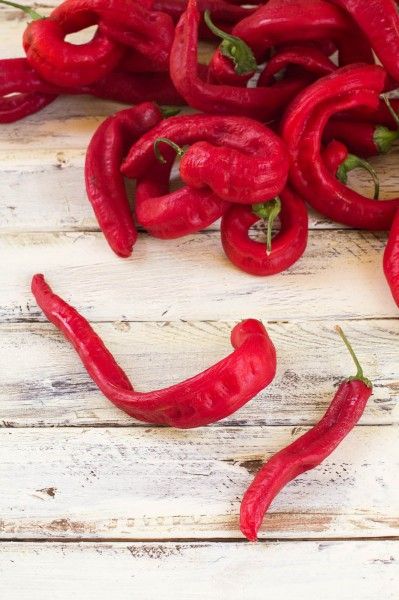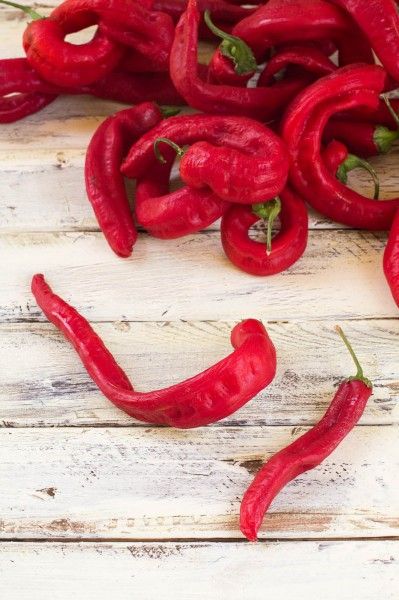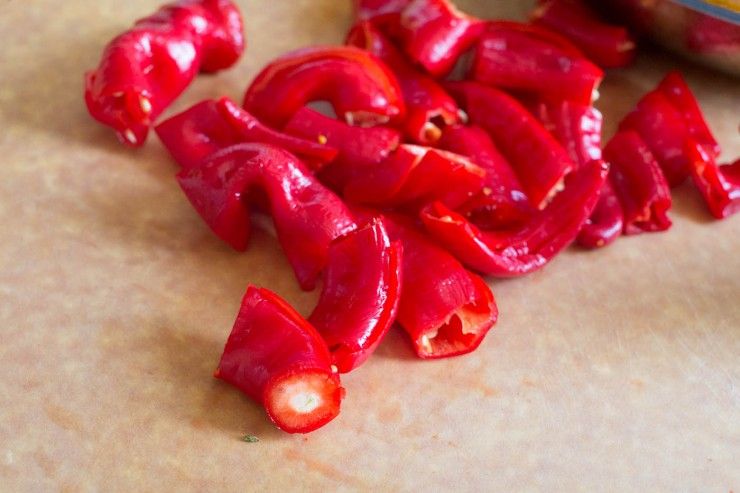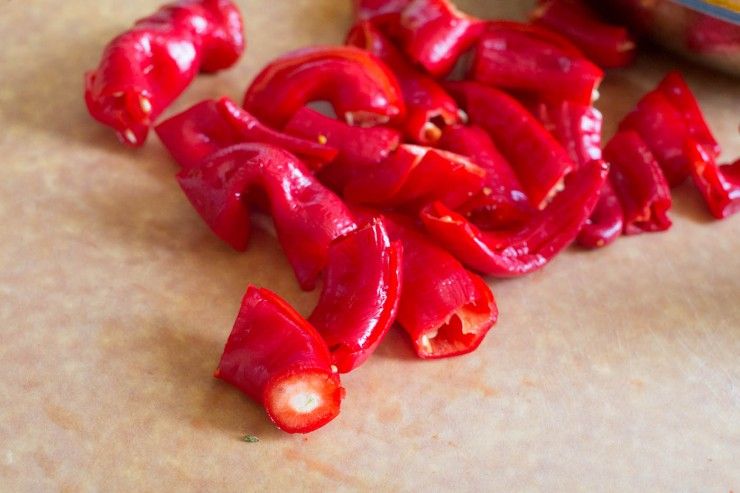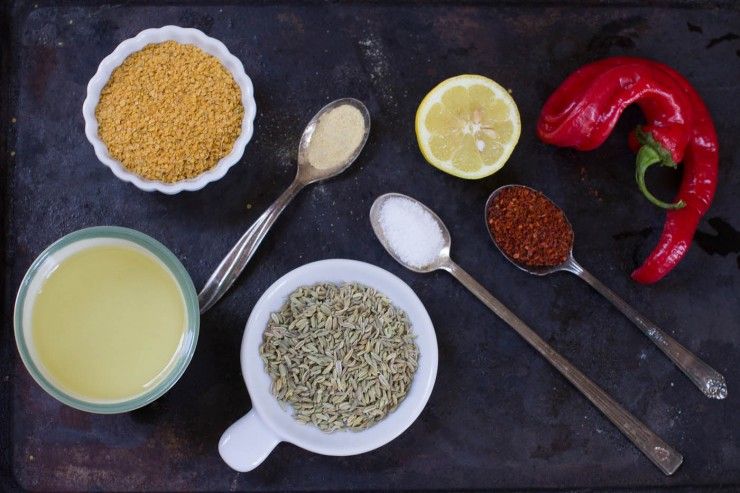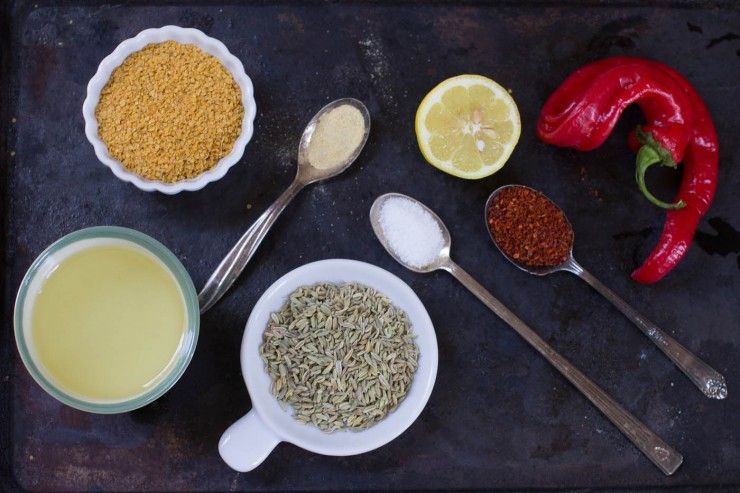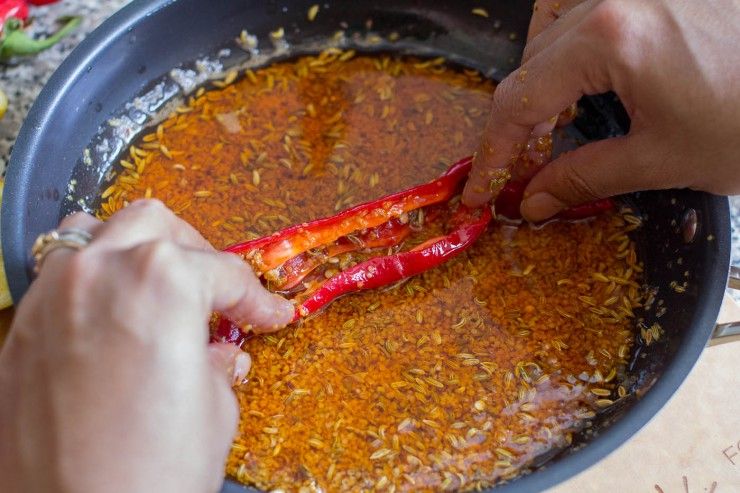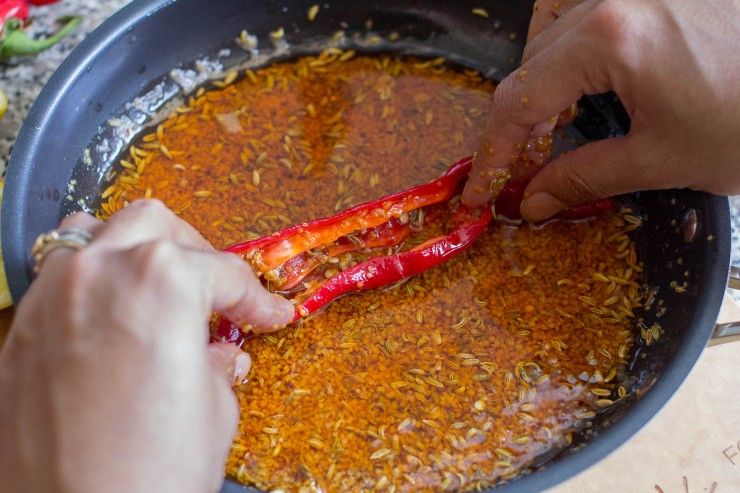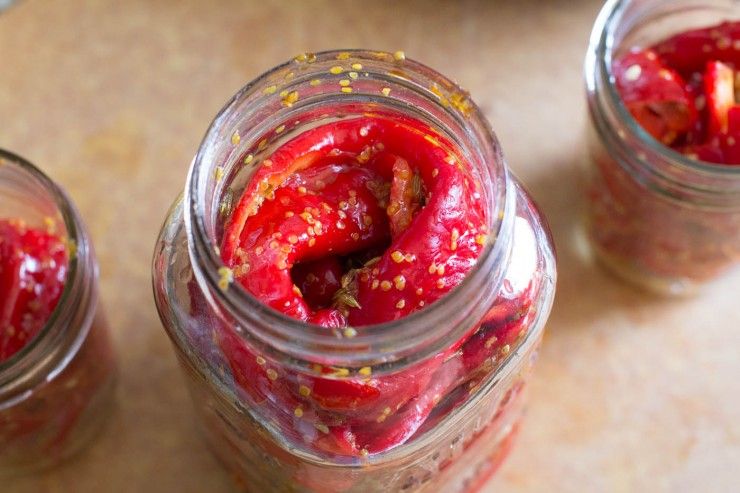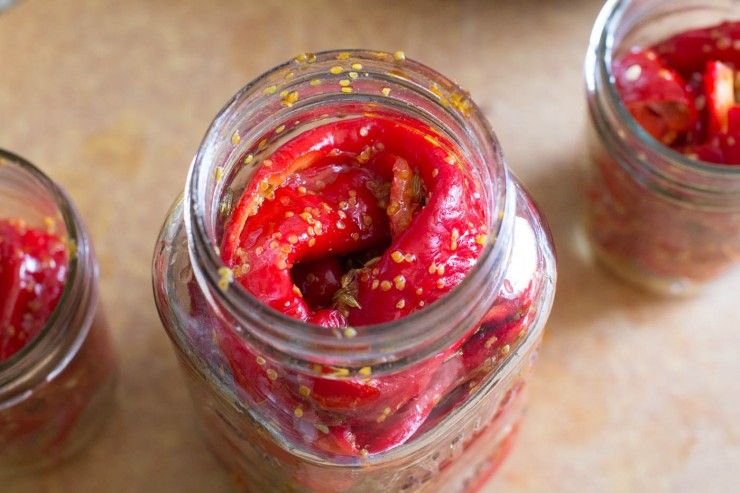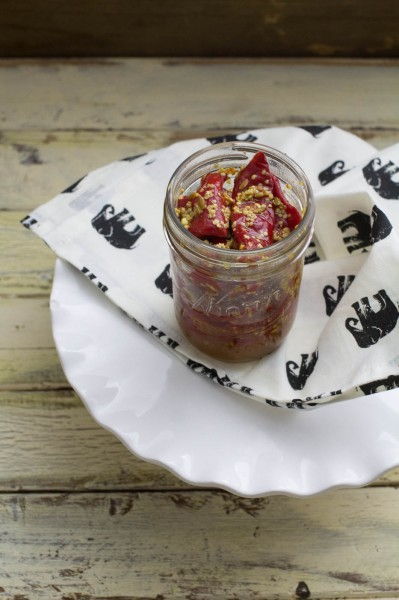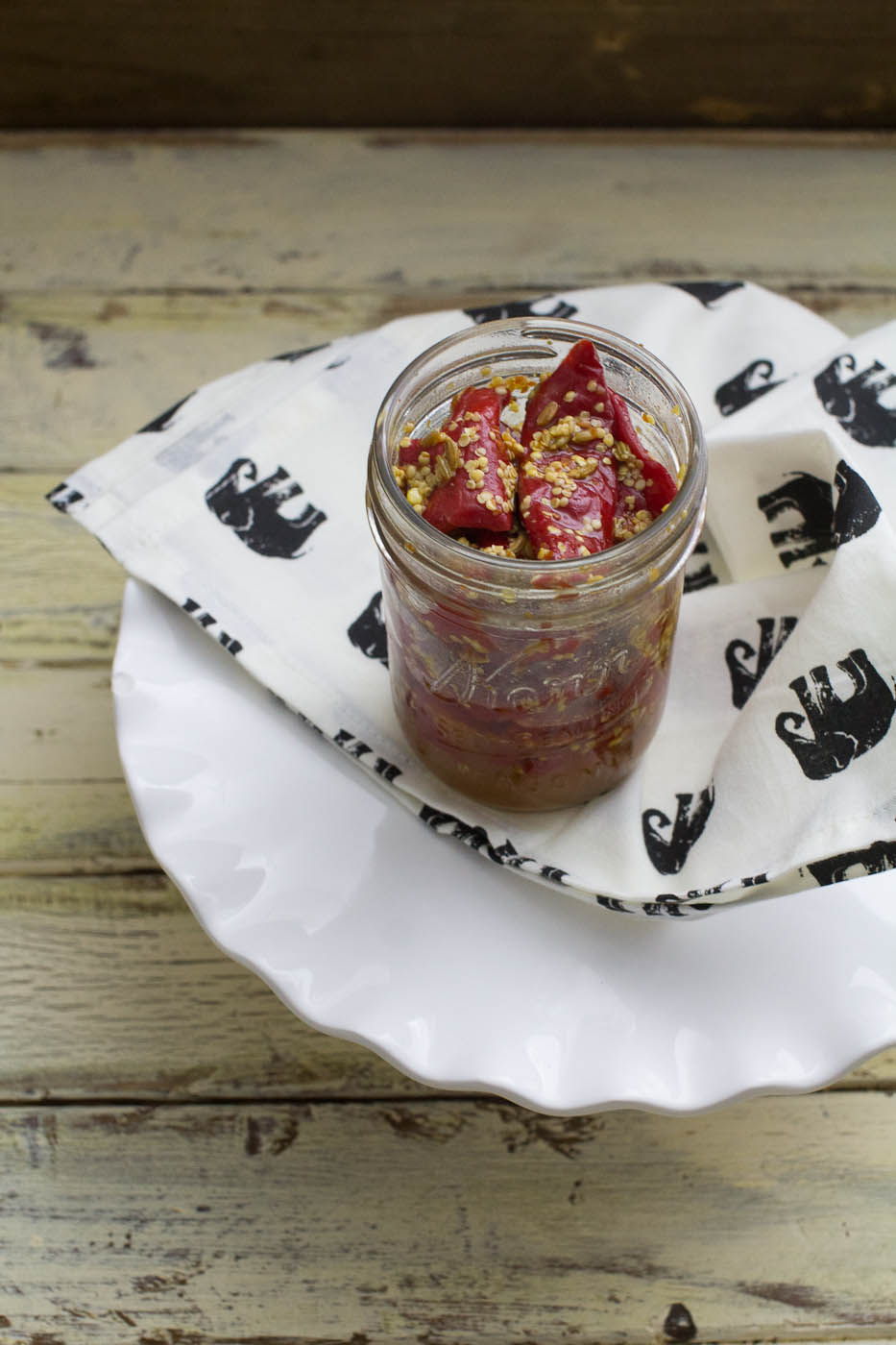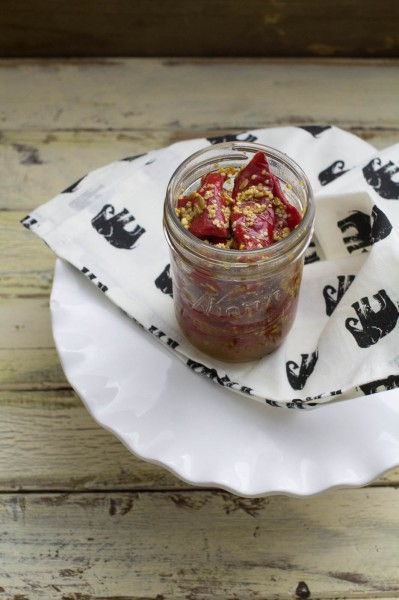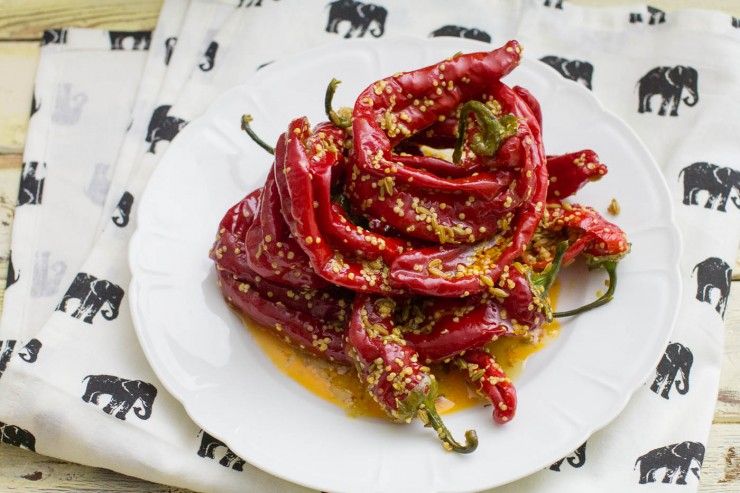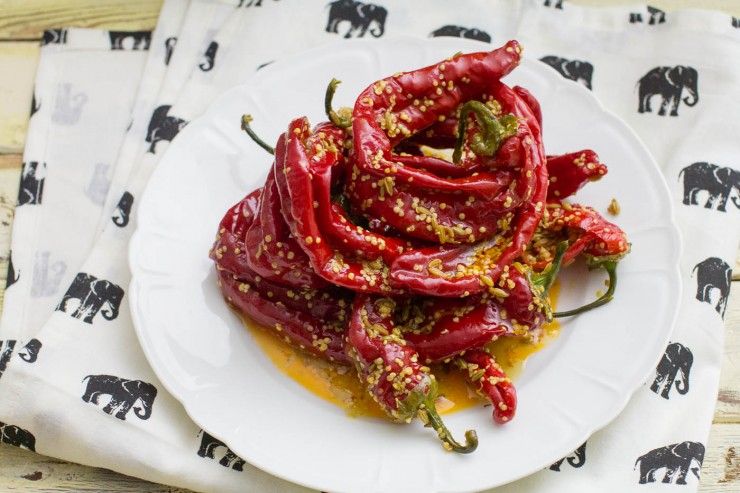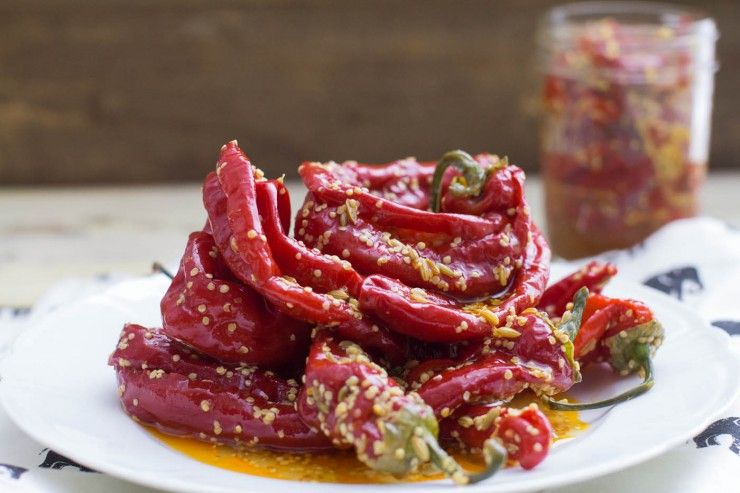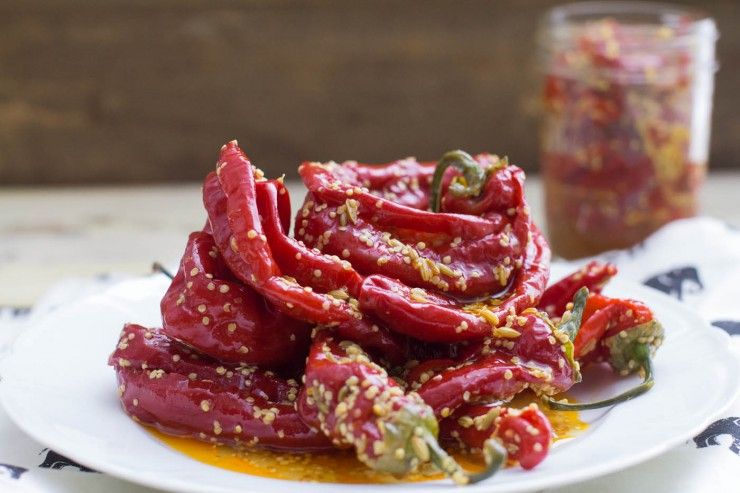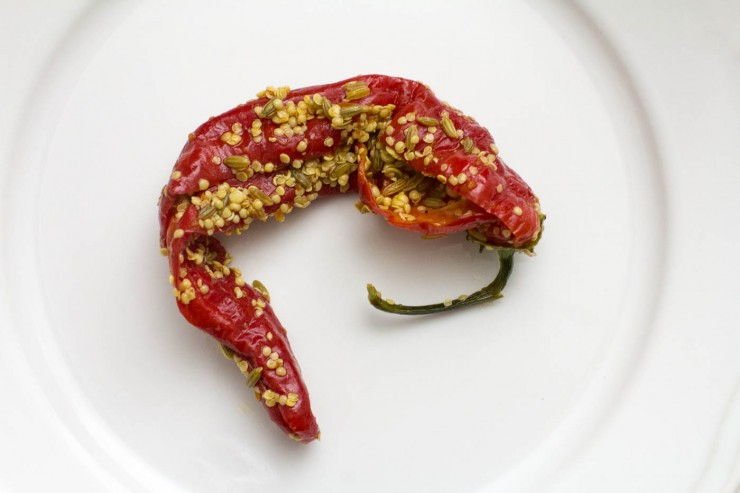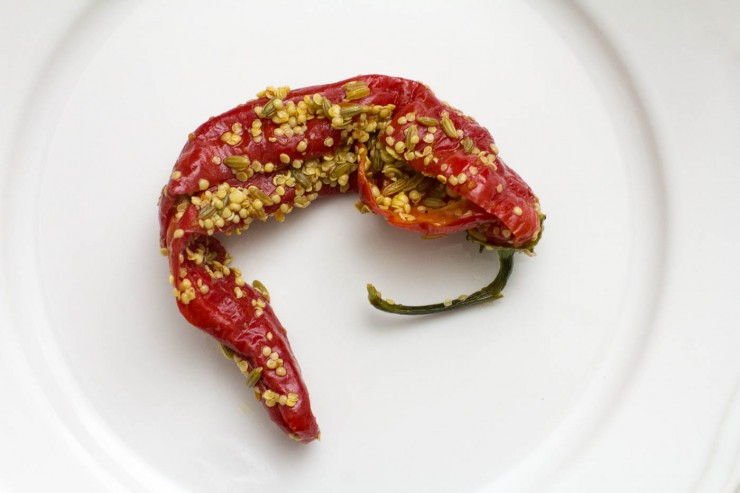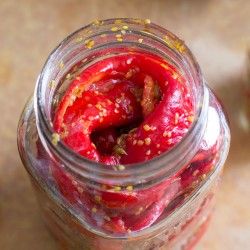 Ingredients
1/2

cup

olive or vegetable oil

1/4

cup

split mustard seed

rye na kuriya

2

tbsp

fennel seeds

1/4

tbsp

asafoetida

hing

1 1/2

tsp

salt

1

tbsp

chili powder

use a milder chili powder for less heat

1

tsp

sugar

3

tbsp

lemon juice

1

pound

red chilies
Instructions
Put all of the dry ingredients in a pan with the oil, cold. Heat until fragrant, but do not allow it to reach sizzling temperature.

Pour into a bowl, mix in sugar and lemon juice.

You can use either chopped chilies or whole chilies. If you are using whole chilies, split them open by slicing lengthwise along one side of the chili. Rub the mixture into the chilies.

Place the chilies and liquid in a jar. The liquid does not fill the jars.

Let the pickle sit at room temperature for 24-48 hours. Shake the jar a few times per day to distribute the mixture.

Refrigerate after that. It will be good to eat for at least 2 weeks.
Nutrition
Serving:
2
tbsp
|
Calories:
45
kcal
|
Carbohydrates:
2
g
|
Protein:
1
g
|
Fat:
4
g
|
Saturated Fat:
1
g
|
Polyunsaturated Fat:
2
g
|
Monounsaturated Fat:
1
g
|
Trans Fat:
1
g
|
Sodium:
115
mg
|
Potassium:
68
mg
|
Fiber:
1
g
|
Sugar:
1
g
|
Vitamin A:
210
IU
|
Vitamin C:
21
mg
|
Calcium:
11
mg
|
Iron:
1
mg
Note: The opinions expressed above in the post are entirely my own, however, CFWC provided me with travel and hotel for the tour.